Cigarbox by Aurora - Diecast, slot-cars or both?
by Doug Breithaupt
images by Doug Breithaupt and David Cook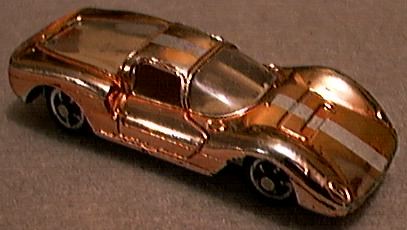 In 1968 I was 11 years old and I had a modest collection of 1:64 scale cars. They were almost all Matchbox and I liked the realism of these models. I remember seeing the first new Hot Wheels and then Topper's Johnny Lightning models followed. I remember one other toy car brand from 1968, one that is largely forgotten today, Aurora's Cigarbox.
'  
'  
Aurora 6102 - 62 Ferrari 250GTO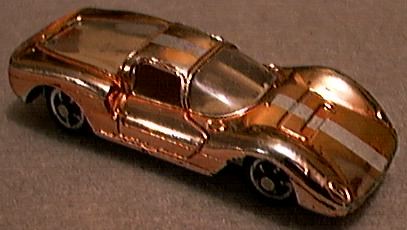 Aurora 6111 - Ferrari Dino 206SP
Any company attempting to introduce a new line of small-scale toy cars in 1968 was asking for trouble. Aurora, known best for their successful slot car models and sets, and plastic kit models, did just that. With Mattel's Hot Wheels overshadowing every other toy car in 1968, Aurora's Cigarbox models did not make much of a splash. Still, I did buy several. The metallic-colored bodies are easy to remember but I can't remember which models I had. This is curious because I do remember which Hot Wheel, Matchbox and Johnny Lightning cars were in my collection.
'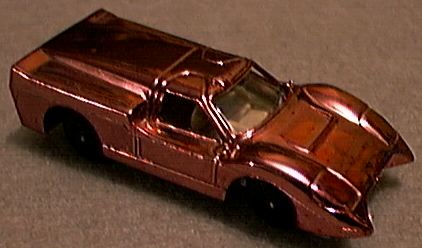 Aurora 6104 - Ford J-Car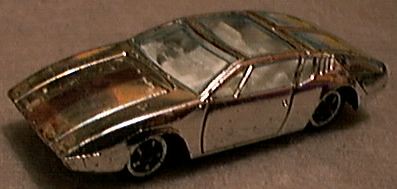 Aurora 6120 - DeTomaso Mangusta
The Cigarbox story actually started before Hot Wheels were offered but not by much. The name was an obvious attempt to be 'Matchbox-like' while later 'Speedline' was added to compete with the Hot Wheels name. Aurora already had castings for their successful slot cars models. It was a natural move to produce a new non-slot, metal base and offer many of the same models as toy cars. The Cigarbox models actually came in a miniature cigar box-like package. Some of the Cigarbox models have a screwed-on base that could allow for body swapping with the slot-cars, if the base matched. Other Cigarbox models have a fixed base. All Cigarbox models have plastic bodies and metal bases.
'  
Aurora 6107 - 67 Ford Galaxie XL500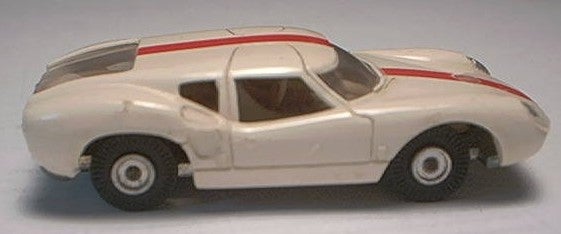 Aurora 6106 - Lola T-70

The first Cigarbox models were produced with standard colors for plastic bodies. They also had solid axles, aluminum wheels and plastic tires in a handsome arrangement. The Camaro shown here has these early wheels. This all changed when Hot Wheels stormed the market. The next Cigarbox models came with metallic colors, wire axles and speed wheels. Some of the wheels had silver spokes and rims painted on them while others were all black. some cars have a mix of both as with the Porsche 904 pictured here. Some models, like the Camaro in my collection have the early wheels but the new metallic colors.
'  
Aurora 6115 - '68 Chevrolet Camaro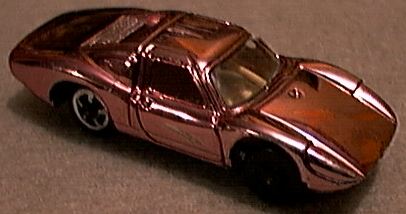 Aurora 6112 - Porsche 904
While it is un-clear how long Cigarbox models were produced by Aurora, they were certainly short-lived, perhaps through 1970. They are not common finds today and prices differ greatly depending on condition. Condition is a major problem for Cigarbox models. Kids who bought them played with them in the same way they used the Hot Wheels and Matchbox models. Unfortunately, the plastic bodies were far more fragile and most of the survivors today show scars of hard play. The thin, plastic 'A' pillars are especially delicate and are often broken as with my Porsche and Camaro examples. The plastic bodies also faded easily in regular sunlight as with my Mangusta. Perhaps the delicate nature of the Cigarbox models was a major contribution to their failure. Toy cars that broke easily are not appreciated by kids. Of course, that makes them even rarer today. Cigarbox tend to be collected more by slot car fans than by diecast fans and are valued much like the plastic-bodied Mini-Lindy cars of the same period.
'  
Aurora 6123 - Cooper-Maserati F1
The best thing about the Cigarbox models was the variety. No other manufacturer did a '63 Riviera, Porsche 904 or many of the other models offered. Cigarbox models represent some of the best cars of the 1960's and only now are we finally seeing new versions of many of these exciting automobiles.

Aurora 6109 - 63 Buick Riviera
Aurora Cigarbox Models
6101 - '63 Chevrolet Corvette
6102 - '62 Ferrari 250GTO
6103 - Corvette Mako Shark
6104 - Ford J-Car
6105 - Ford GT40
6106 - Lola T-70
6107 - '67 Ford Galaxie XL500
6108 - '66 Oldsmobile Toronado
6109 - '63 Buick Riviera
6110 - '67 Ford T-Bird
6111 - Ferrari Dino 206SP
6112 - Porsche 904
6113 - Cobra GT
6114 - Chaparral GT
6115 - '68 Chevrolet Camaro
6116 - '67 Mercury Cougar
6117 - McLaren-Elva
6118 - '65 Ford Mustang cvt.
6119 - Daytona Coupe
6120 - DeTomaso Mangusta
6121 - Lola-Ford F1
6122 - Ferrari F1
6123 - Cooper-Maserati F1
6124 - Lotus-Ford F1
6125 - Honda F1
6126 - BRM F1
6127 - Jaguar XKE
6128 - '65 Ford Mustang hdtp.
6129 - AC Cobra
6130 - '67 Pontiac Firebird
6133 - Cheetah
6153 - Volkswagen
6181 - Willys Gasser
'