Hamelin Plantagenet - Friedrich II - William de Toulouse
Frederick Ping 1902-77.The great thing about Pings is they are mostly scratch built, so collecting can be a lot of fun.. Its great feeling that the figure on your shelf may not have many copies. A slight draw back is that sheet lead was used for some the clothing and if its not cared for correctly can suffer with lead rot.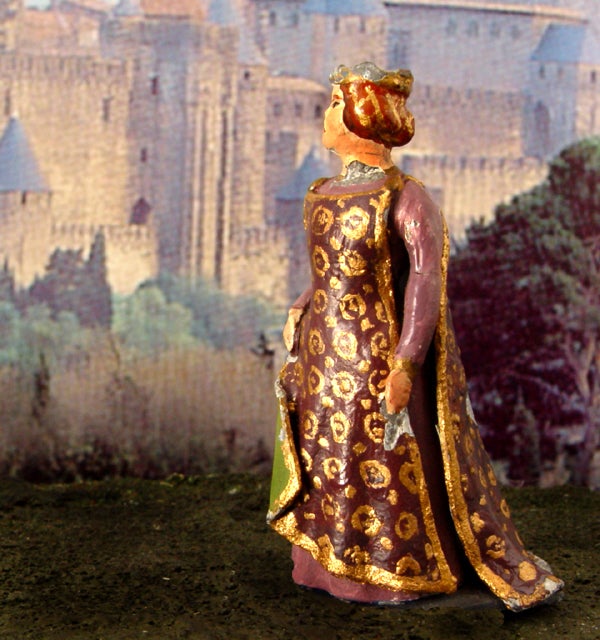 Elenor of Provence
They are wonderful figures and many great figures from the past were modeled in Pings own wonderful style.
Llewelyn Prince of Wales - Thiebould King of Navarre
Simon de Montfort the younger
Sir Geoffrey Luttrell and daughter-in-law
This scene from the 1345 Luttrell Psalter was used as Pings 1975 Christmas card. It shows Sir Geoffrey Luttrell and daughter-in-law Beatrice Scrope. As can been seen from the photos above, I found the model for sale in a sorry state, as well as missing Sir Geoffrey's wife.
Happily the figure has now been restored .Peter and Gilly Greenhill recreated Agness Sutton from a Courtenay casting and finished her in flat colour, but as a Greenhill. The two other figures were restored to match the original. Peter and Gilly did an excellent job, the picture does not do it justice.
I do hope Sir Geoffrey holds on to this Dame Agness Sutton this time.