Round 2 new Batmobile Snap Kit
The Bat-phone is ringing, and Commissioner Gordon needs you to answer! He wants the Dynamic Duo, and right away! How will they get to City Hall? Lucky for them, we've got the Batmobile Snap Kit, an easy snap-together pre-painted model kit, with all of its classic gadgets and even Batman and Robin themselves! Put it together quickly without any glue or paint, and help the Caped Crusader fight crime!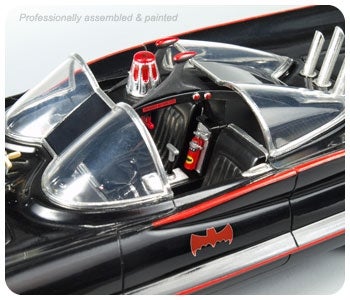 If that's not your speed, then you can zip around Gotham City in one of three 4Gear Batmobile slot cars! You can find these HO scale slot cars in black, black chrome, and a limited edition iWheels white. Two Ultra-G neodymium traction magnets make these dynamite racers grip the track for super high speed racing excitement! With your expert driving, Gotham City will be crime free in a jiffy!