Donald Kaufman collection Pt. IV grosses $1.6 million at Bertoia's
Date of Release:  Nov. 10, 2010
Pedal cars, pressed-steel and European toys maintain solid momentum
in Bertoia's Kaufman IV toy auction, Sept. 24-25, 2010
Auction series total now stands at $10.9 million
VINELAND, N.J. - Fully aware that Bertoia's auction series featuring the late Donald Kaufman's toy collection was nearing its conclusion, bidders were on point and eager to stake their claims at semiannual sale No. 4, held Sept. 24 and 25 at the company's New Jersey gallery.
"Everyone knew it was the last multiple-day Kaufman sale to be held, but for some, last-minute contingency plans had to be made before they could bid. It's a good thing the European collectors have become resilient to all natural disasters," Bertoia Auctions associate Rich Bertoia said with a laugh. "Last spring, right before the third Kaufman sale, they had to deal with widespread flight cancellations due to the volcanic eruption in Iceland. This time it was the ill-timed French airline strike that put a damper on many people's travel plans."
But it takes a lot to come between a collector and the types of rare toys Don Kaufman favored, Bertoia said. "They just shifted gears and made arrangements to bid by phone or the Internet. It reminded me of the movie Against All Odds. It had a happy ending."
The fourth sale of the series, which contained automotive and comic character toys from a storied collection built over 60 years by the co-founder of KB Toys, grossed $1.6 million (inclusive of 15% buyer's premium), pushing the cumulative total so far to $10.9 million. The top lot of the sale was a circa-1925 American National deluxe coupe pedal car with nickel-plated grille, electric headlights and an opening rear trunk. Against an estimate of $30,000-$35,000, it realized $46,000.
Throughout the auction series, there has been no shortage of interest in early pressed-steel vehicles. In addition to the top lot, September's highlights included a circa-1927 Toledo Buick, 30½ inches long and with a prototype bumper designed to absorb shock with a spring reinforcement. "This toy was never intended for play, and it was an exceptional example," Bertoia said. Estimated at $15,000-$20,000, it rumbled off to a new owner for $34,500.
Cast-iron toys also made a strong statement about their popularity, with the top lot of that particular category - a 1930s Kenton Morgan toy crane with collapsible trestle frame - selling for $20,700. It had been entered in the sale with a $2,500-$3,500 estimate.
Another popular cast-iron piece was the circa-1930s Hubley "Truk Mixer" with red Mack cab and elaborate frame design incorporating a green revolving cement drum. The 7¾-inch toy easily surpassed its $5,000-$6,000 estimate to settle at $9,775.
The demand for top-tier European tin automotive toys was quite evident by such prices realized as $18,400 for a 15½-inch, circa-1910 Gunthermann torpedo-style touring car; and $10,350 for a 19-inch Paya (Spain) Bugatti clockwork racer with driver and spoke wheels.
Leading the parade of American comic character entries, Louis Marx & Co.'s 9½-inch-long Popeye and Olive Oyl Jiggers, in excellent to pristine condition with original box, made three times the high estimate at $4,600.
Bertoia noted that there was excellent Internet participation throughout the sale. "When you view it overall, with phone, Internet and live bidders factored together, it was as busy a sale as we have ever seen," Bertoia said. Internet bidders claimed an average of 23% of the lots during the first session and 16.7% from the second session - in total, 277 lots.
The last of the Donald Kaufman toys - numbering approximately 1,000 pieces - will be auctioned in a no-reserve sale at Bertoia's gallery in April 2011, with all forms of bidding available, including live via the Internet.
Jeanne Bertoia, owner of Bertoia Auctions, said the final session will be "a final tribute to one of the greatest collectors ever. It will present the last opportunity for collectors to buy a toy and be able to say they have something on their shelf from the man who was the most highly regarded collector of their generation. You might have 20 wonderful toys on a shelf, but the one that came from the Kaufman collection will always have that extra conversation point attached to it."
Complete information regarding the fifth and final offering of toys from the Donald Kaufman collection will be available soon on Bertoia Auctions' website: www.BertoiaAuctions.com. For additional information, call 856-692-1881 or e-mail This e-mail address is being protected from spambots. You need JavaScript enabled to view it .
CAPTIONS:
Memo to Editors: "Truk" is cq on lot 4182.
4182 -


Circa-1930s Hubley 7¾-inch-long cast-iron "Truk Mixer" with white rubber wheels, $9,775. Bertoia Auctions image.
4843 -


Circa-1925 American National deluxe coupe pedal car, rare example with opening doors, upholstered door panels and many other luxury appointments, $46,000. Bertoia Auctions image.
3899 -


Louis Marx & Co. lithographed tin Popeye and Olive Oyl Jiggers with original box, $4,600. Bertoia Auctions image.
4171 -


1930s Kenton Morgan cast-iron toy crane, $20,700. Bertoia Auctions image.
4479 -


Paya (Spain) clockwork tinplate Bugatti with spoked wheels and driver, 19 inches long, $10,350. Bertoia Auctions image.
4632 -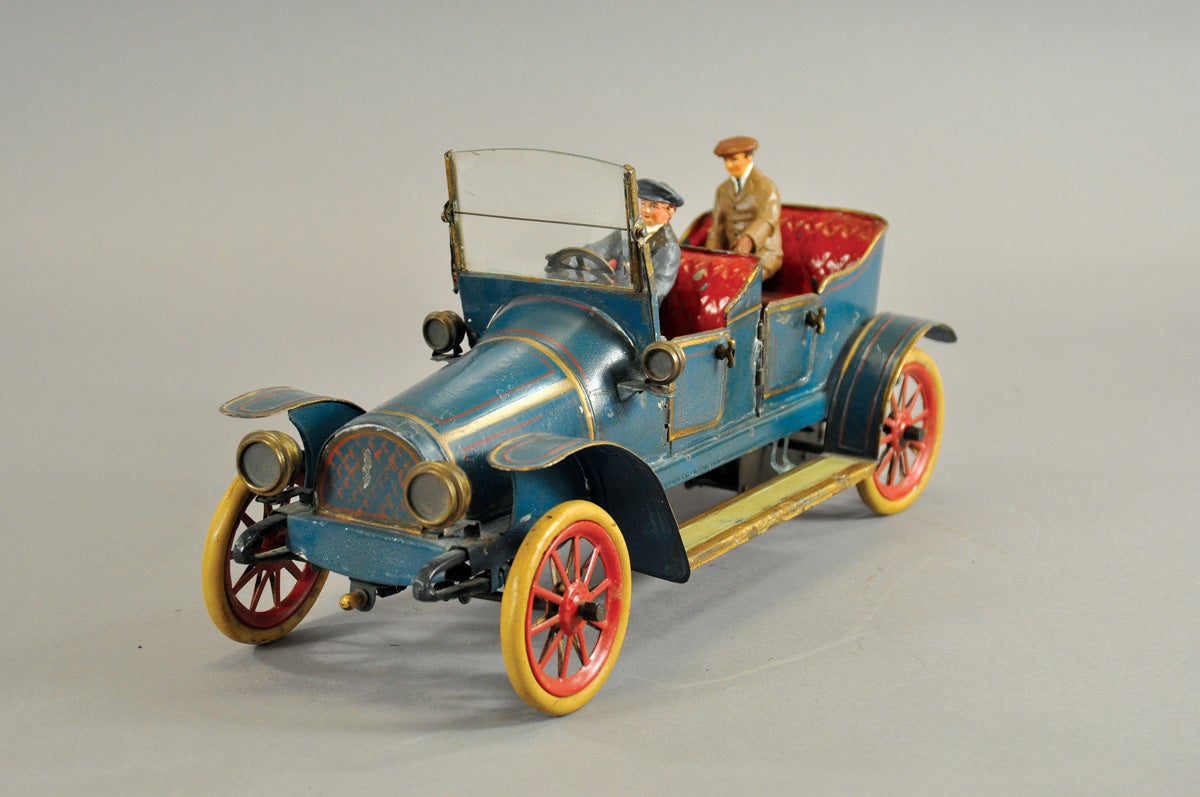 Circa-1910 Gunthermann (Germany) hand-painted tin, torpedo-style touring car, 15½ inches long with headlamps and side lanterns, $18,400. Bertoia Auctions image.
4739 -


Circa-1927 Kingsbury sedan with lights, white rubber tires, 12½ inches long, $3,163. Bertoia Auctions image.
4829 -


Circa-1927 Toledo Buick with special spring-reinforced, shock-resistant prototype bumper, 30½ inches long, $34,500. Bertoia Auctions image.