Grown-up prices paid for nostalgic Halloween novelties in Dan Morphy's $370,000 Holiday Auction
The festive colors of Halloween set a cheerful tone for Dan Morphy's Sept. 11 Holiday Auction, which opened with the 42-lot collection of Jay and Connie Lowe of Lancaster County, Pa. The 887-lot sale, which also contained a fine selection of Christmas antiques plus additional Halloween and holiday consignments, rang the register at $370,000 inclusive of 15% buyer's premium.
"The turnout for this sale definitely proved that Halloween and Christmas antiques are popular year-round collectibles," said Morphy's CEO Dan Morphy. "We had more than 250 unique buyers, with approximately 100 of them bidding in the room and another 150 on the phones at various times during the session. On top of that, there were approximately 400 Internet bidders."
Leading the parade of witty, beautifully crafted early German Halloween novelties was a 17½ inch veggie man with radish arms, zucchini legs, walnut feet and a watermelon head. The unusual inclusion of a clockwork mechanism enabled the character's eyes to "flirt" from side to side. Most likely the only known example of its type and probably used as an "attention grabber" in a store, the colorful piece finished as top lot of the day at $19,550. It had been estimated at $10,000-$20,000.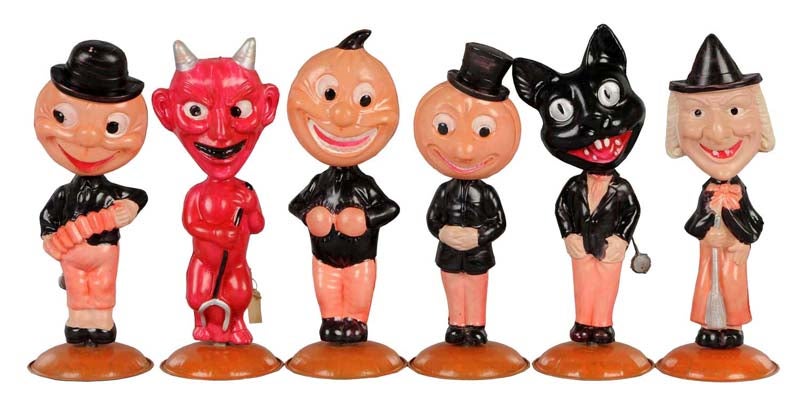 An amusing papier-mache Halloween lantern, 7½ inches high and crafted as a foot with a widely grinning mouth, incised eyes, and comical faces on each toe, retained its original interior candle and candle holder. In near-mint condition, the smile-provoking Halloween memento garnered $10,350 against an estimate of $2,500-$3,500.
Also reaching the $10,350 mark (estimate $4,000-$6,000) was a set of six rare celluloid nodders comprised of a witch, devil, cat and three pumpkin heads. "It's difficult to find a complete set of six," Dan Morphy noted. "They're made of celluloid, so they're fragile. This particular set was old store stock and had never been used. Remarkably, it was still in its original box with original paper label."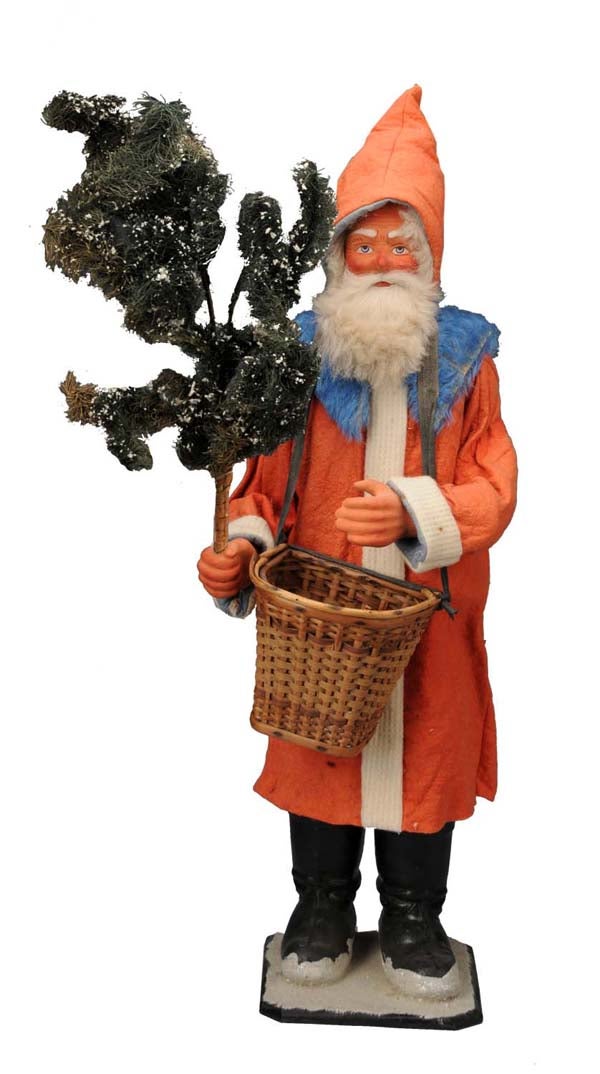 Christmas fans were excited over the opportunity to pick from hundreds of glass ornaments, including kugels and free-blown glass examples; Japanese and German Santas, celluloid Santas, chocolate molds, and German and Russian Dresdens.
Not surprisingly, the top lot within the Christmas section ended up being the 28-inch-tall Santa that doubled as a candy container and clockwork nodder. With an expressive painted-composition face and rabbit-fur beard, the figure was garbed in a long, hooded cloth coat and held a wicker basket and Christmas tree. It finished at the midpoint of its estimate at $10,350.
A superb 59½-inch store display of a cloth-dressed Santa in a sleigh pulled by four reindeer was described in Morphy's presale literature as "superb...similar to an item in the Rosalie Whyel Museum of Doll Arts" and "featured in the 1914 illustrated catalog and price list for the Schoenhut company...a grand attraction for the holidays." The holiday gift-giver and his entourage met their estimate handily, selling for $5,750.
Among the rarest of the Dresden designs was a German-made depiction of a Russian troika (sleigh pulled by three horses) with driver. All horses were intact, and the ornament was in excellent condition. Against an estimate of $1,000-$2,000, it dashed away to a new owner for $3,450.