The 16th year of Fan Expo Canada saw over 60,000 people crowd into the north building of the Toronto Convention Centre over three days (August 27th to the 29th). This event combines five conventions into one: Comics, Horror, Sci Fi, Gaming and Anime. Fans got a chance to meet their favourite celebrities and pop culture heroes, rub elbows with well known comic book artists and writers, sample upcoming video games, attend workshops and panels, and spend, spend, spend in the retail area that was 600 vendors strong.
'  
'  
'  
'  
'  
'  
To say the space was crowded would be mild. On Saturday, what is always the busiest day of the event, organizers were forced to lock the doors and keep patrons out, even those who'd prepaid weeks in advance, because the building had exceeded its capacity. People who left the convention centre for whatever reason, found the doors locked for three hours and had to line up and wait to reenter. This, among a few other complaints of mismanagement, gave the Expo a bit of black eye. Most attendees took things in stride, while others swore never to attend another Fan Expo. Organizers have said that they are indeed sorry for any inconvenience and will strive to ensure such things don't happen again.
When William Shatner speaks, people listen.
On a brighter note, the Expo offered a long list of top name celebrities topped by a few in particular. I did not venture into the long lines that cued up in front of such celebs as Stan Lee, William Shatner or David Cronenberg. But, many people did and considering the smiles on their faces, it was obviously worth the effort. Other big names in attendance were three people synonymous with Batman: Adam West, Burt Ward and Julie Newmar. The list truly was staggering: Summer Glau, James Marsters, Dean Stockwell, Gary Frank, John Romita Jr., and the list went on and on. Autographs and photo ops were a big draw for fans and some were even lucky enough to get a shot of themselves in a replica of the '66 Batmobile or were even luckier to have a photo taken with two men who rode in the original Batmobile, Adam West and Burt Ward.
Bruce Boxleitner signs autographs.
If you're camera shy then the Fan Expo may not be for you. Cameras were pointing in every direction since some of those attending were in costumes. It wasn't unusual to see The Mario Brothers chatting with Stretch Armstrong. Thanks to superheroes like Batman, Spider-man, Superman and Wonder Woman, to villains like The Joker, Two Face, Darth Vador and Zombies, there were photographs waiting to happen at every turn. Thanks to Hasbro, there was even an opportunity to be a life-sized Boba Fett action figure in your very own package, complete with helmet and gun. This intrepid reporter felt more like Cobra Commander (you can even see the likeness in the accompanying photo - I'm a dead ringer).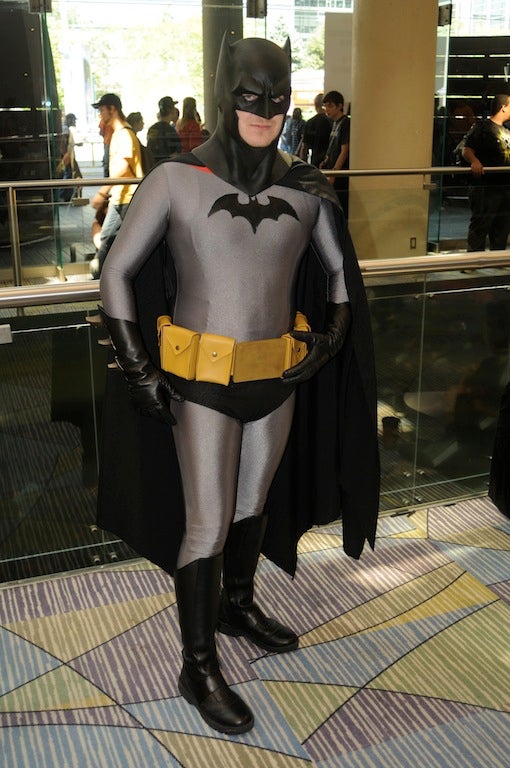 It was easy to fill up those cameras with digital images of all the amazing costumes, and equally easy to empty wallets of cash in the retail area. There were great deals to be had and many people could be seen carting around their purchases. Every statue, bobble head, action figure or collectible you could imagine was there for the buying and usually for a decent price. In fact, the experienced attendees waited until Sunday to part with their money since that was the day to get the best deals. One retailer was parting with 1/6th scale figures, most by Dragon, for ten dollars each or a dozen for a C-note.
Many a poster tube was spotted slung over the shoulders of the more seasoned fans because this, as it turns out, is a good way to buy art from Artist Alley and ensure it arrives home safely. There is always something new, exciting or different to see in the Alley thanks to a plethora of new and professional artists. As far as toy art was concerned, many artists put their spin on superheroes or pop culture figures in a variety of ways, some of which are shown in the accompanying video.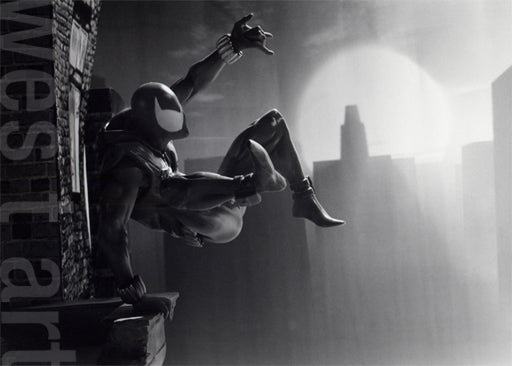 The work of Wesley Tsang jumped out thanks to his photography of toys,. (I couldn't resist buying the Scarlet Spider shot. Wish I'd had a poster tube!) Please visit www.WesleyTsang.com to view more of Wesley's amazing work.
There were definite 'heightened' areas of interest. Marvel and DC both had large booths and gave away free comics as well as presenting artist and writer autograph sessions. Hasbro's booth was two sided with one side offering action figures that had been available at the earlier San Diego Comic-Con. The other, larger side of their booth was a showcase of current toy offerings like Transformers and Star Wars. The large Star Wars diorama was an impressive draw (see video). Rogers G4 booth was one of the most relaxed places for Expoers to congregate; pillows were scattered in the corners to give people a place to relax and watch the taping of Reviews on the Run. There was a steady stream of people lining up for autographs and photos with hosts Victor Lucas and Scott C. Jones as well as on air personalities like Jose 'FUBAR' Sanchez.
One of the most impressive booths was by Disney to promote the release of Tron: Legacy on December 17th, the video game of the same name on December 7th and the October/November release of the movie merchandise. There is already a description of the toys here and you can view some footage in this video as well as in the accompanying video.
Panels and workshops are a mainstay at any convention and Fan Expo certainly did their part. Breaking into comics the Marvel way, Evolution of Vampires, Star Wars Masks, Costumes and Props, Steampunk 101 and Star Trek Phase II were just a few of the information sessions available to fans. Add the Q & A, photo op, autograph and Spotlight On sessions plus a masquerade, steampunk meet and greet, horror in the hammer mixer, anime karaoke party and lots more... and you can see how a fan would have a nonstop schedule to attend.
Even Darth Vader needs a vacation.
For the toy collector there was no shortage of retailers with a huge supply of collectibles for sale. There was a captive audience ready to eat up anything new and that is why companies, both attending and those who could have attended, dropped the ball at Fan Expo Canada 2010; there were no new collectibles introduced at the show. Plenty of movies coming out, lots of television shows to look out for, and a glut of new comic book titles on the horizon but other than a glass case filled with untouchable Tron: Legacy collectibles, it was dry on the toy collecting front.
Like most who lose out, all we toy collectors can say is, "Wait until next year."
My resemblance to Cobra Commander is uncanny!
'  
Tags: Action Figures, Other Stuff, Props Costumes and Weapons
---