When visiting Collect-Hit the other week I picked up a leaflet of the Le Musée du Jouet de Bruxelles and when going back for something else a week later I thought it would be good to go see it.

The museum is located in a beautiful 1900 family mansion and has toys from the 1830 to today. More than 30,000 items and as it seems increasing daily (donations of toys old and new were delivered by members of the public while I visited!). Toys are everywhere over three floors: in beautiful cabinets, on the walls, on the floor and whereever there is room!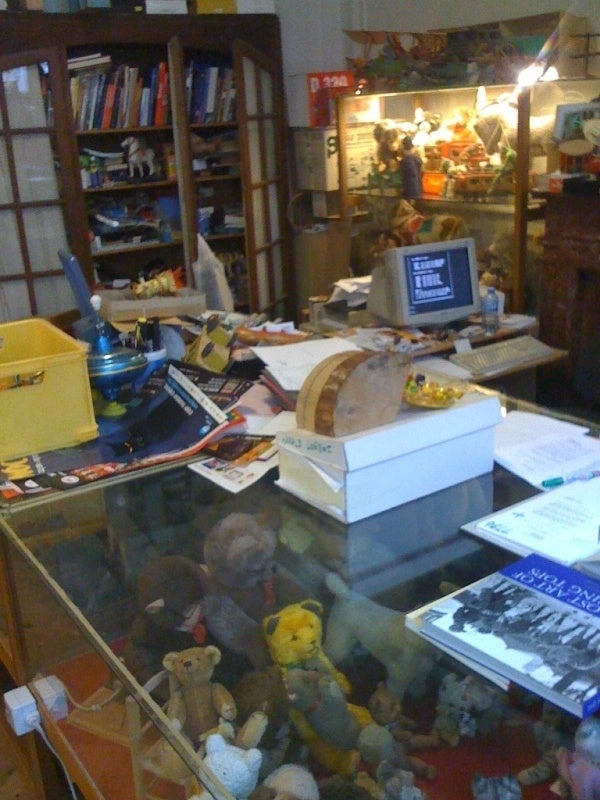 And despite being very large the museum feels so cozy. Partly because it is so full, partly because it has the charm of a museum that is not heavily curated ("we cannot show more than 3 toy castles at a time" - it shows 100 or more!) and partly because you cannot avoid the founder and his lovely team.

André Raemdonck has been collecting for forty years and runs the museum for 30. He is there 7 days a week and he says hello to everyone of his visitors. And of course the discussion is most of the times about toys, with 20,000 visitors p.a. coming from all over the world he just seems to know something about everything and often that something is quite a lot! We had a fantastic conversation and I have made it my aim to come by everytime I am in Brussels.

I will do some more reporting about the marvellous collection (and have now decided to buy a decent camera and stop relying on my phone), in the mean-time here some more images and here the link to the Museum's page in our Yellow Pages.

Tags: Figures and Toy Soldiers, Tin Toys, Tinplate Trains, Other Stuff
---