By Brian Willloughby
Majorette 261 Morgan Plus Eight (Earlier French Casting)
In the automotive world of today with all of its computers and robots, it would probably be difficult for most people to believe that at least one car is still built by hand in exactly the same manner it has been for over 60 years. Previously known for producing quick little three-wheelers which could be licensed as motorcycles, Morgan unveiled its first four-wheeled automobile during the mid-1930s. The car was powered by a proprietary engine and featured a frame constructed of wooden beams and a sliding pillar front suspension; today, "modern" Morgans are still precisely made to these time-honored traditions. Always known as very quick and agile sports cars, current Morgans with their Rover-sourced V8s are the fastest Moggies ever and it is with great delight that owners of these wonderful anachronisms embarrass drivers of so-called modern sports cars. The tiny Morgan factory has never been able catch up with demand for its products and to this day an interested customer must place his or her name on a waiting list or attempt to locate a second-hand car that is for sale. Fortunately for toy car collectors, a small number of diecast manufacturers have satisfied our desires to become Morgan owners.
Considering the numerous manufacturers of diecast toys in Great Britain, it is interesting to note that only one ever produced a small-scale model of one of England's most famous cars. Swansea-based Corgi made, for a very short period, two different Morgan Plus 8 castings: the Corgi Juniors version featured several minute details, attractive wheels and only a couple of accurate paint colors whereas the Rockets variation featured Corgi's novel interchangeable chassis and the black wheels and vacuumized finish that were unique to this short-lived range. As with most small-scale Corgis, this casting is another winner that captures the shape and flair of the real car; unfortunately, the limited production runs mean that both models are in short supply today.
Moving on to the continent, Germany's Siku provided the diecast world with what was for it a rare foray into modeling a non-German car by producing an outstanding Plus Eight. Another well-proportioned miniature, Siku's Morgan captured the classic lines of the car almost perfectly with its elongated bonnet, flowing wings and uniquely (as well as accurately) shaped roof. Although some color choices may seem questionable, the Siku Plus Eight managed to evoke better than most the spirit of Malvern Link in miniature.
By far the best small-scale Morgan ever produced was Tomica's outstanding model of the Plus Eight. Everything about this model is right: the stance, the wheel size to body proportion as well as the paint colors selected. Particularly nice touches include the delicate windscreen, accurate interior molding and the chromed wheel residing in the rear mounted spare tire. About the only criticism that can be levied against the model concerns the over-used #8 wheel type that has been employed by Tomica consistently for over 25 years on models ranging from Datsun Z Cars to Peterbilt dump trucks.
Majorette 261 Morgan Plus Eight (Later French Casting)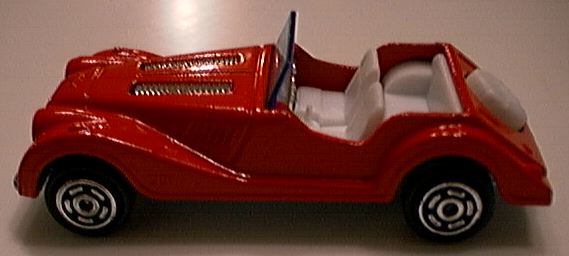 Majorette 261 Morgan Plus Eight (Current Casting)
Tomica F26 Morgan Plus Eight
Practicing what is perhaps in the diecast world the sincerest form of flattery, Zylmex pirated its Morgan model directly from the excellent Tomica casting. Of considerably lower quality than its Japanese-made counterpart, the Zylmex model is still a respectable model that features, yet again, a delicate windscreen and a nicely detailed (albeit copied) interior. Once more, most color schemes selected for these models by Zylmex were both tasteful and appropriate. Happily, the end of the Zylmex company a few years ago did not spell the end for this casting and Redbox, the toymaker now in possession of all the former Zylmex dies, has reissued this delightful little roadster.
While many of its models have been successful executions in miniature, Majorette's Morgan is, especially when compared to the Tomica and Siku castings, somewhat of a disappointment. Produced for over two decades in a wide variety of sometimes accurate (and sometimes not) colors and always horrid wheels, this model began life being made in France as a left-hand drive, closed roof car with several thoughtful details including rear bumperettes and a front registration plate. However, recent versions of this miniature made in Thailand have appeared as a open roadster minus its steering wheel, license plate and bumperettes. As with most dies that have seen long lifespans, Majorette's Morgan is also showing considerable wear with the once sharp detail lines highlighting the doors and side marker lights now largely obliterated.
Mirroring real life, miniature Morgans are a somewhat of a rare sight--just like the real cars. Nevertheless, and once more like the actual cars, they possess a great deal of charm and are simply fun. Yet perhaps the best feature that the models offer that their real counterparts don't is that you don't have to wait for two to three years to take delivery of them.
Zylmex D69 Morgan Plus Eight
Siku 836 Morgan Plus Eight (Courtesy of Remco Natrop)
NOT PICTURED
Corgi Juniors 64 Morgan Plus Eight
Corgi Rockets 921 Morgan Plus Eight
Original Source: Click Here
Tags: Vehicles, Tales of Toy Cars
---