Saw this on eBay (No. 130302655414) and copied it over here in the hope that somebody decides to buy it for me...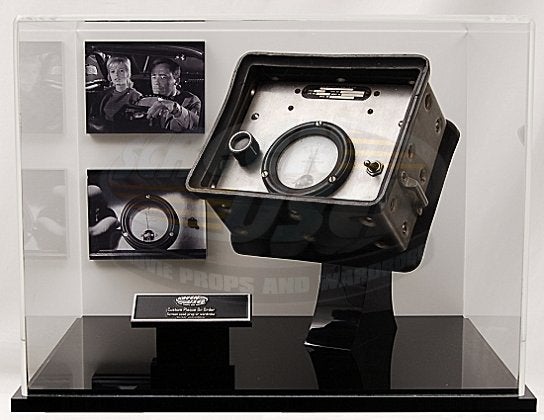 The world is filled with wannabes aching to take over the planet, employing whatever means necessary to wrest control from those who rightfully have it. Enter Illya Kuryakin (David McCallum) and Napoleon Solo (Robert Vaughn), two secret agents given the mission by the United Network Command for Law and Enforcement (U.N.C.L.E) to stop the nefarious plans of men and women with delusions of grandeur who are gunning for the top spot. James Bond creator Ian Fleming contributed to the show's creation.
This Phastron meter was used on screen in Season 1: Episodes titled "The Deadly Games Affair" and "The See-Paris-And-Die Affair". It can be seen on screen in when Napoleon (Robert Vaughn) uses it in his car to track a rogue scientist and again when Illya (David McCallum) is doing surveillance looking for hidden jewels. It is a square metal "Phastron" gauge meter with a rubberized covering on the top edge and bottom edge. There are little handles on each side and six screw holes on each of the four sides, some of the screws from those holes are missing.
The meter still functions as it did during filming, we replaced the antique Ray-o-Vac D sized batteries, however the original batteries will be supplied with this prop. Very few working props ever surface from this classic Spy-Fi television series, making this a very rare opportunity for collectors of "The Man from U.N.C.L.E.". As well, this prop may have been used in other episodes as well as many other television shows and movies during this era. This piece is presented in a custom display case that measures 17" wide x 13" tall x 12.5" deep.
There is a plate on the top that says "The Maxwell Smith Co." and spaces to fill in information such as type, part no., lot no., order no. and spec. no. There is a sticker on the underside with the name "Vectrex Corp." (the original prop house) and the numbers "11568" and "17" printed on it. Dr. Maxwell Smith was the person who owned the Vectrex prop company, and was the technical advisor on many science fiction films and television shows like Men Into Space, Science Fiction Theater, The Magnetic Monster, Gog, etc.
Is this not a must have?
---