In the best Italian diecast modelmaking traditions, Looksmart produce hand-made 1/43-scale cars including Alfa Romeos, Bugattis, Ferrraris, Lamborghinis, Porsches - and, of course, Audis. The company models both modern and classic vehicles, but as far as their Audi models go, there's something a little bit special. Looksmart is the only company licensed to make models of Audi's concept vehicles. Since these cars are designed to showcase technology and styling and preview future production cars, Audi has decided to limit them to one model each - and Looksmart's strictly-limited issues are the perfect fit!
Here are two of the most recent issues.
Audi A3 TDI clubsport quattro concept
The Audi A3 hatchback is a hot little car already, but the 2008 Audi A3 TDI clubsport quattro concept is even hotter!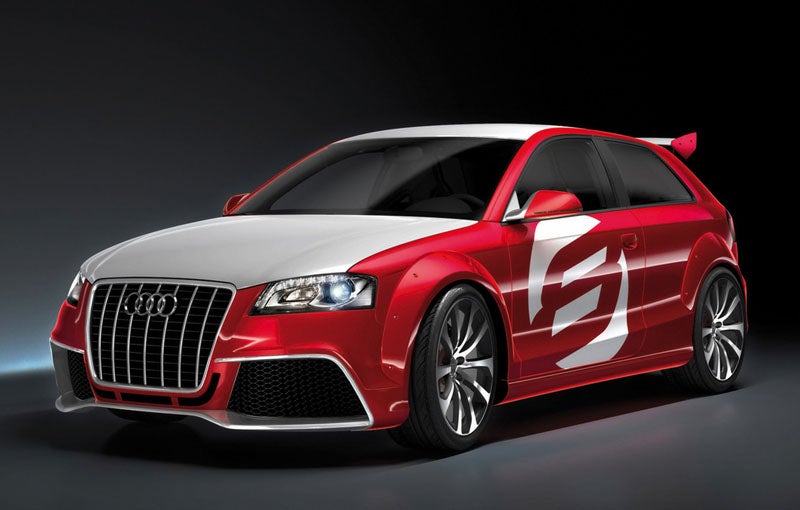 The full-size Audi A3 TDI clubsport quattro concept...
Taking inspiration from the R8 and Le Mans racing Audis, and designed to be both environmentally-friendly and super-fast, the clubsport is powered by a 221bhp 2.0 litre turbodiesel engine. This gives the car a 0-60 time of about 6.6 seconds and a top speed of 149mph - but it also does 48mpg and meets stringent Euro 5 diesel engine emission standards. As the name suggests, there's quattro four-wheel-drive, naturally, plus carbon-ceramic brake disks and "Select Driving Dynamics" systems, allowing you to tailor the dampers, steering, throttle sensitivity and ESP to your own specific requirements.
Outside, the car gets an equally-mean makeover, with an aggressive front grille flanked by large cooling vents, wheelarch extensions, 20-inch alloys, roof-mounted spoiler and twin exhausts. The car is finished in bright red, with a white roof and racing number "8" - to denote 2008, the year of its creation. The same story continues inside, where there's a racing-style flat-bottom steering wheel, a six-speed gearbox with exposed gate, racing seats and aluminium trim to complete the look and save weight (everything that can be hollowed out, has been - including even the door release handles!)
...and Looksmart's Audi A3 TDI clubsport quattro concept model in 1/43, limited to just 250 examples
Audi Metroproject quattro / A1 Project quattro
The Audi Metroproject quattro made its debut at the 2007 Tokyo Motor Show and then appeared again at the 2008 Leipzig Audo Show, with the slightly-different name of A1 Project quattro. The car previews the production-model Audi A1, which is expected to go into production in 2010 to compete with the MINI and Fiat 500 by providing a less-retro-styled alternative.
The full-size Audi Metroproject quattro / A1 Project quattro...
The A1 Project has a whole new type of four-wheel-drive system, incorporating a hybrid powertrain. The regular petrol-engine drives the front wheels, while a 40bhp electric motor powering the back ones. Both can be used simultaneously, and the rear electric motor reduces fuel consumption by up to 15%. The electric motor can be used to power the vehicle alone for up to 100km and its lithium-ion batteries are rechargeable from any power outlet. It's no slouch either, with a 0-60 time of about 7.8 seconds and a 125mph top speed.
The car's styling was designed to look like it "had been cast from a single mould," according to Audi, with the roof's aluminium arches accentuating the styling and providing a contrast to the body colour. Inside, it has four individual seats, a curving dashboard and dials reminiscent of the Audi TT's. There's also Audi's iPhone-like mobile-control-device, which allows some of the car's features to be accessed remotely and incorporates features like a mobile phone, sat-nav, audio and video player, plus some other nice finishing touches like an integral rear thermos flask with heating/cooling system!
...and Looksmart's 1/43 version - a limited edition of 500
To congratulate Audi on their Centenary, Looksmart have donated one each of the above two models to the Toy Collector/Audi charity forum auction in support of the Helen & Douglas House Hospice for Children and Young Adults. Bidding is now open in the Toy Collector forum here.
Tags: Vehicles, The Audi Centenary
---