The Kyosho Corporation was established in Tokyo, Japan, in 1963. In 1970, the company launched what is arguably the first radio-controlled car made in Japan, the DASH 1, which came with bodies styled after the Porsche 917, Lola T70 and McLaren Elva. This was followed by many other successful R/C cars in 1/8, 1/10 and 1/12, including the 1972 Dune Buggy, which kicked off the buggy racing craze. Kyosho has also made 4WD R/C Cars, as well as branching out into aircraft and boats. The best-known R/C models from Kyosho are likely the 1/8 Buggies, Mini-Z series and helicopters. It also makes the Manoi series of bipedal remote-controlled robots.
However, in 1992, Kyosho branched out into another area of modelling: diecast cars. Aimed squarely at collectors, Kyosho's cars compete at the top end of the market and, since their launch, have been highly successful, with over 1000 models and accessories currently listed. Kyosho models vehicles in 1/12, 1/18, 1/43, 1/64, 1/80 and 1/150 and its range includes cars, buses, trucks, racing cars and character vehicles. The vast catalogue caters to an equally vast spread of collecting tastes, as the models range from 1960's Japanese cars through modern buses, supercars and everyday road cars. All the models are highly detailed and the larger-scale cars have many opening features with fully-rendered interiors, engines, suspension components and drivetrains.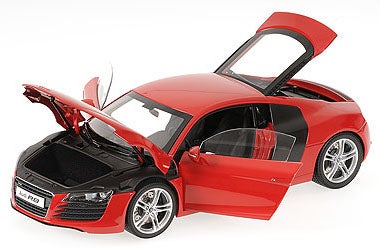 The Kyosho Audi R8 displays its opening parts
As one of the leading manufacturers of 1/18 models, Kyosho is one of the companies with whom Audi liaise in the vehicle development stage, in order that they can have large, fully-detailed replicas in the Kyosho range as soon as possible after the debut of the full-size vehicle. The 1/18 Kyosho Audi range includes the A3, A8, Q7 and R8. All models are available in several colour schemes including the striking red for the R8. Check out the amazing photos in the gallery below...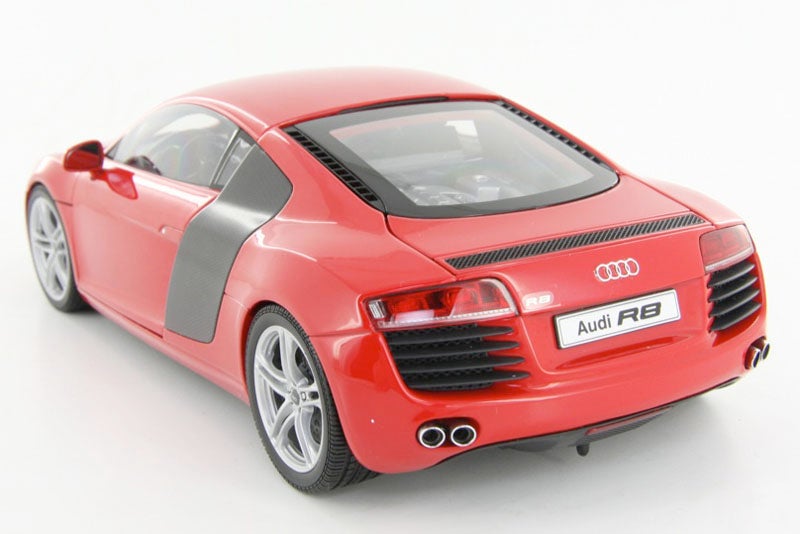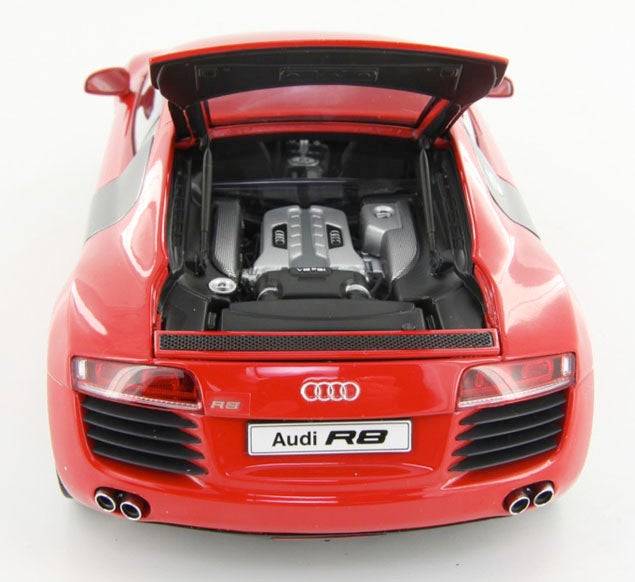 Just like the rest of the 1/18 Kyosho range, R8 features a fully detailed engine and chassis, opening front decklid, rear engine cover and doors, steerable front wheels, textured interior and full dashboard and interior, rendered in the minutest details.
To congratulate Audi on their Centenary, Kyosho have donated a red R8 as featured above to the Toy Collector/Audi charity forum auction in support of the Helen & Douglas House Hospice for Children and Young Adults. Bidding is now open in the Toy Collector forum here.
Tags: Vehicles, The Audi Centenary
---