Last Bank Holiday weekend we went to the Buxton Toy Fair, another great event from Barry Potter!
Taking place at the picturesque Pavilion Gardens in Derbyshire, the event has a great mixture of all sorts of collectable toys, and includes regular exhibitions by the Penketh Model Railway Centre from Warrington, and diecast from DM Promotional Models, Nigel Garth, Richard Barratt, John Littlewood, Andrew Clark Models and Dalesman diecast among many others. You'll also find Metrolpolis Toys with their selection of TV and film collectables, Loughborough Model Centre and lots else besides!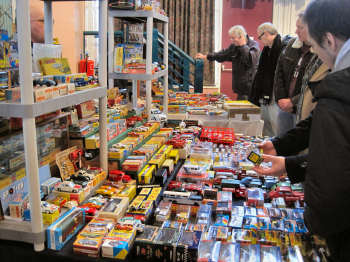 It was our first time there, and we met some great people, including Ruth, pictured below with her suitably-patriotic stall and a great selection of vintage Sindys, Barbies and bears! Ruth has kindly agreed to help us out with Pippa and Sindy listings for ToyPedia.
A great day out all round!
Tags: Vehicles, Dolls, Props Costumes and Weapons, Trains
---