Studebaker Brothers began making commercial vehicles in 1852 in South Bend, Indiana . Production included the famed Conestoga Wagons that were used to transport the pioneer families that traveled Westward . It was not until after Studebaker began producing automobiles at the beginning of te 20th Century, that their manufacture of trucks began .
1937 by Yat Ming 1954 by M2 Machines 1954 by M2 Machines
Above photos by Zach Morecraft
This activity subsequently led to the introduction of their light weight pickup trucks which began in 1937. Two types were introduced . The less expensive Express Delivery consisted of a beefed up car body and chassis that had the rear trunk lid removed so a metal box could be fitted into the open area. The more expensive vehicles were called Coupe Deliveries. These vehicles consisted of the front end of the car
which was joined to the rear portion of a pickup truck body. This design still resembles the pickup trucks that are produced at the present time.
Prior to the 1940s, production innovation led to the introduction of the K2 and M5 models . The latter is considered to be the first real Studebaker produced truck body . Studebaker continued providing pickup trucks after WWII . Some of their designs reverted back to the use of car bodies as well. These include the Scotsman , Starlight and subsequently introduced Champ that fit this category . But unfortunately , even with all their innovative designs and models , this firm ceased operations in 1966.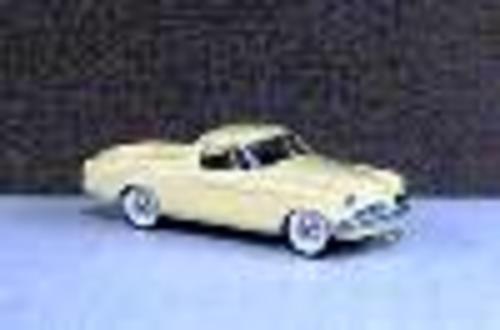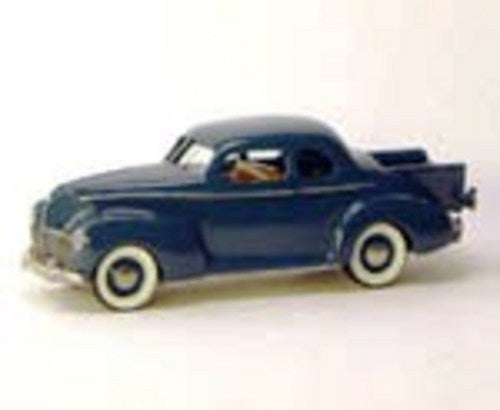 1953 Starlite express 1959 Scotsman 1940 Champion Express Delivery
Photos compliments of Shrock Brothers at shrockbrothers.com
Models in small scale being considered for this article range from the larger 1:55 to a slightly smaller size than 3 inches ; 1:72 scale. Until recently , models in this range were not plentiful for the collector ; except
the limited editions from Shrock Brothers which were cast in pewter. The Shrocks are located in Coalport, Pennsylvania (www.shrockbrothers.com) . The recent introduction of Studebaker truck models by Castline/ M2 Machines leads us to now provide a review of all known models replicating pickup trucks by Studebaker.

The following models/ toys are listed in chronological order beginning with 1937. We do not claim to have included all replicas in the above stated scale framework, But we have attempted to list all that are known by us to have been available; now or previously .
1937
* Shrock Brothers - Coupe Express
* Yat Ming - Coupe Express Pickup

1938
* Shrock Brothers - Coupe Express / K10 Pickup

1939
* Shrock Brothers - Coupe Express

1940
* Shrock Brothers - Champion Express Delivery / M5 Pickup

1941
* Shrock Brothers - Champ Coupe Delivery

1946
* Shrock Brothers - Express Delivery

1948
* Shrock Brothers - M5 Pickup

1949
* M2 Machines - Pickup Tow Truck "Flames" Exclusive from Milezone Toys
* Shrock Brothers - 2R5 Pickup

1950
* M2 Machines - Pickup with snowplow
1951
* Shrock Brothers - 2R5 Pickup

1953
* Shrock Brothers - Starlight Express
1954
* M2 Machines - Pickup / Tow Truck

1955
* Shrock Brothers - E7 Pickup

1956
* Shrock Brothers - E7 Pickup
1957
* Shrock Brothers - 3E7 4x4 Pickup

1958
* Shrock Brothers - 4x4 Pickup

1959
* Shrock Brothers - Scotsman

1960
* Johnny Lightning - Champ
* Shrock Brothers - Champ

1962
* Shrock Brothers - Champ Stepside
1963
* Hot Wheels - Champ: This has just been announced by Mattel for 2011. Unfortunately, this model is a Modified Hot Rod

1964 Shrock Brothers - Champ Fleetside


Tags: Vehicles, Tales of Toy Cars
---