I just saw this! Whatever next?!
KINDER SURPRISE EGGS TARGET COLLECTOR MARKET
Italian confectioners Ferrero have announced a new version of their Kinder Surprise Eggs which will target the vintage toy collector market.
Kinder eggs, which contain a plastic capsule with a toy inside have long been popular with children and some of the toys are now highly sought-after by collectors. But the new Collector Surprise Eggs will do things slightly differently.
Ferrero spokesman Fabrizio Moretti said, "We have realised that many collectors enjoy collecting the early Kinder Surprise Egg Toys. So we thought we would produce a special range of eggs for them."
However, the Collector Surprise Range won't, as you might imagine, feature re-issues of vintage Kinder Surprise toys. Instead, Moretti said, Ferrero plans to put antique collectable toys inside them.
"We will be sending our team out to antiques markets and collecting events all over Europe," he continued. "They will take with them one of our plastic egg capsules and look for old toys that will fit inside. When they find some, they will buy them and these are what collectors will get in a Collector Surprise Egg."
Moretti told us that the Ferrero team members would be sure to only select good-quality toys so collectors would be sure to be happy with what they find inside their eggs.
"It could be a tiny toy car or a toy soldier or... anything that fits," he said. "But we will be sure that it is an item worth having in every egg."
The Collector Surprise Eggs will be wrapped in black and gold foil to resemble the company's famous Ferrero Rocher Chocolate line and to make sure that they are not confused with the company's regular line. Pricing details for the new eggs have not yet been announced.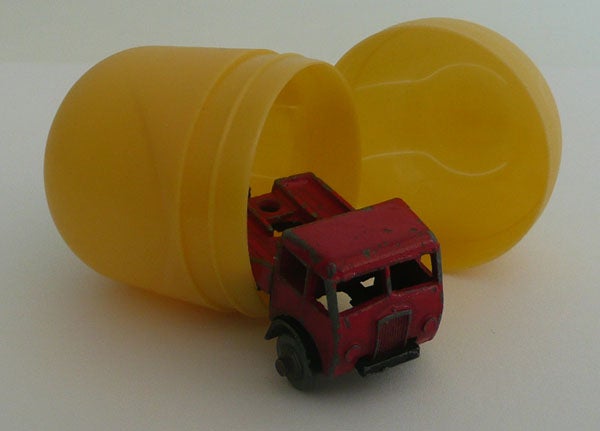 This photo released by Ferrero shows a vintage Benbros Lorry with one of the famous Kinder Egg capsules, as an example of the sort of antique toys that will be found in the new Collector Surprise Egg range.
Tags: Action Figures, Aviation, Bears and Soft Toys, Boats and Ships, Vehicles, Construction , Dolls, Figures and Toy Soldiers, Games and Puzzles, Kits, Other Stuff, Props Costumes and Weapons, Robots, Slot Cars, Trains
---