This article was published in 2004, story and images by Doug Breithaupt, Rob Gras and Craig Mueller


In the mid-1960's, Matchbox proved that the market for 'pocket-size' toy cars was well worth pursuing. Many established diecast firms expanded their lines to include what today are known as 1:64 scale vehicles. Actual scales varied as they do today, but most of the models were about 3 inches in length.
In England, Dinky, the dean of diecast, created Mini-Dinky while Corgi created Husky. Impy Lone Star offered their Roadmasters and later, Norev of France and Schuco of Germany presented the first of their pocket-sized lines.



Car with its trailer and boat
In Italy the models of Mercury were industry leaders and they created Speedy. A relative new-comer, A.P.S. Politoys, founded in 1960, offered a new line of 1:66 scale models and used the Penny name. Later the Politoys name was changed to Polistil to avoid potential confusion with a British firm named Palitoys.
By 1967, the first explosion of small-scale toy cars was well underway. These early years of 1:64 scale had a strong national flavor with most firms offering a primary selection of models based on the cars and trucks of their native country with a lesser selection of models based on vehicles from other countries.
Often, these models were initially offered for sale in the home country as well although the North American market provided a sales opportunity that could not be ignored.


Black Berline
1967 was the initial year for Penny 'micromodelli' and the series only lasted until late 1969 or early 1970 when, like the whole toy car world, a response to Mattel's Hot Wheels was seen essential for survival. As the packaging shows, a penny and checkered stripe was part of the box art along with illustrations of the model enclosed. In just 3 short years, Penny produced less than 50 models but among them are some that have become favorites of collectors world-wide.


Penny boxes from the 0/200-0/201 series

Penny sorted their models into three categories.
The first was 'Corse', a series of Formula 1 race cars. They created the F1 racing grid for 1967 with models 0/1 through 0/10. New F1 cars for 1968 were offered as 0/11 through 0/15. The rising success of F1 racing and the release of movies like Grand Prix were certainly an inspiration for these models, just as they were for Matchbox, Best Box of Holland and others. The Penny F1 models seem a bit more toy-like than some with large tires. Still, they offer correct colors and must have provided hours of play-time for the junior racing crowd. Polistil continued to offer grand prix cars in small-scale with more realistic models of the 1975, 1976 and 1982 F1 grid, in the later RJ series.
The second series of models were identified as 'Berlina' and represented a mix of production and concept cars. The remainder of this article will focus on these 'Berlina' models.
The third category was 'Veicoli Industriali' and included a variety of trucks a snowplow, minibus and tractor shovel in the series. These were numbered 0/110 to 0/122.


Penny Set (courtesy of e-bay)
While all the racing and industrial models are worthy of a future review, it is cars of the 'Berlina' series that have generated the most collector interest. They begin with 0/21 and conclude with 0/205 although many numbers were never used for actual models.


Penny model lists - reverse of the 0/53 Iso Rivolta and Motor Boat package shown above
0/21 Ferrari 250 GT


The first Penny model seems to be one of the hardest to find. Also done by Matchbox, the Ferrari 250 GT Lusso features engine detail.

0/34 Mercedes-Benz 230 SL


One of only two German cars produced in the Penny series is this 230 SL. The trunk opens and the headlights are painted.

0/22 Alfa Romeo Giulia Canguro (concept)


This lovely casting of Bertone's Canguro concept features an opening engine bay and doors. The blue color on this example is very nice.

0/35 Alfa Romeo 2600 Sprint Bertone police


The Penny series offered two Alfa Police cars. The 2600 looks somber in olive but reflects actual Italian police markings.

0/22 Alfa Romeo Giulia Canguro (concept)


In silver, the lines of the Cangaro are easy to see. These early Penny models featured solid wheels with a wire-like pattern.

0/24 Porsche 912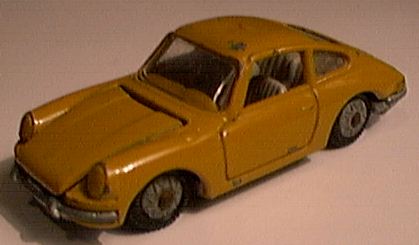 Penny produced the only known 1:64 scale model of the 4-cylinder Porsche 912. Even a rough example is welcome as examples are scarce. Some of the models slated for production with the first-year cars actually appeared in the later 0/200 and 0/201 series.

0/24 Porsche 912


This has become a must find for Porsche collectors. The front storage area opens but like the real car, has limited space.

0/53 Iso Rivolta, Motor Boat and Trailer


As shown in the package above, Penny offered a stylish motorboat and trailer in a twin-pack with the Iso Rivolta.

0/25 Alfa Romeo 2600 Sprint Bertone


Alfa Romeo was the best represented marque in the Penny line. This is the civilian version of the 2600 model.

0/54 Romeo Minibus


This bus with 'scuderia corse' (racing team) on the side, represents a model that was a likely workhorse at racing events

0/26 Alfa Romeo Guilia SS


The Alfa SS was based on the earlier Disco Volante concept car. This lovely car features jeweled headlights and opening doors.

0/200A Ferrari P4


Yellow wheels were used on the P4 and Marzel concept. The P4 did race in yellow for a Belgian racing team.

0/27 Lancia Flavia Zagato Sport


The Flavia Zagato is not the styling equal of the Lancia Fulvia but it was the one that Penny actually produced.

0/200B Lamborghini Marzal Bertone


The Marzal led to the production of the Espada. It is curious that Penny did not do the far prettier Miura from Lamborghini.

0/28 Alfa Romeo Guilia 1300 Junior GT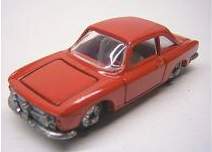 The 1300 Junior was also offered as a police car but no image was available. Engine detail is offered on this model.

0/200C Ferrari Dino Pininfarina


This Pininfarina model was junior P4 with wings. The Dino 206 did race but not with great success. Why did Penny offer two Dinos and miss the 250LM or 275 GTB

0/29 Maserati 3500 GT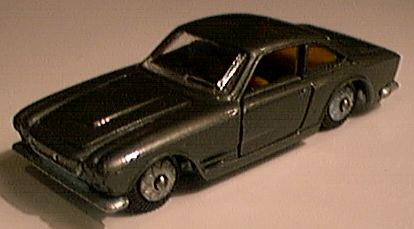 The 3500 GT was the first Maserati to really succeed as a road car. Penny produced a good likeness that captures the car's style.

0/200D Osi Bisiluro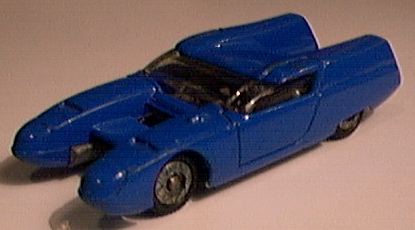 This unique twin-boom concept car is easily the most unique model in the Penny line. While this design has advantages for a sailboat, it's hard to justify on a car.

0/29 Maserati 3500 GT


The opening doors on this model were a common feature on early Penny cars. They fit well and open smoothly.

0/201A Alfa Romeo Giulia TA


One of two four-door models in the Penny line, the Giulia TA was actually quite sporty in it's day.

0/30 Fiat 850 Coupe


If you want a Fiat 850 for your collection, Penny is the only choice. With it's jeweled headlights and opening doors it is a charmer.

0/201B Maserati Frua


While Penny calls this a Maserati Frua it is actually a Maserati Mistral by Frua. The casting is superior to the Hot Wheels version.

0/30 Fiat 850 Coupe


A second color for the Fiat 850 is shown here. Again, Penny selected this lesser model over the Fiat Dino.

0201C Ferrari Dino


This model represents the original Dino 206, the Ferrari name was not used. The styling influenced many later Ferrari models.

0/32 Iso Rivolta


Selecting the Rivolta over the sexier Grifo, Penny offered this rarely seen model. Powered by a Chevrolet V8, the Rivolta could do 140 mph.

0/201D Fiat 124


The Fiat 124 was copied by many car companies but here is the original, It is the second four-door sedan in the Penny line.

0/32 Iso Rivolta


The Rivolta was selected by Penny as a companion for their motorboat and trailer. I doubt many were used this way.

0/205 Caravan Trailer


This tear-drop caravan was the last of the Penny line. After that, all models carried the Polistil name.
Three images showing the Penny and Polistil model collection of Craig Mueller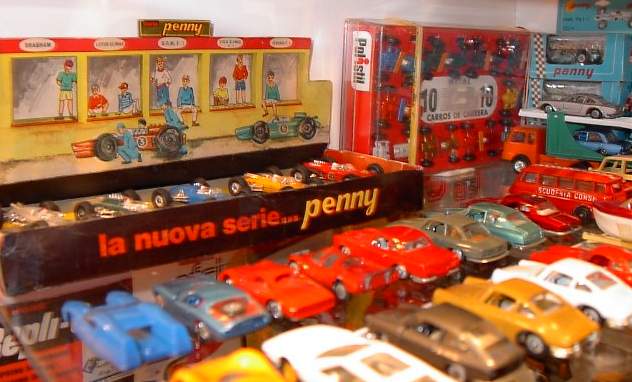 A variety of Penny models were planned but not produced. Some, like the Jaguar 'E' type actually appeared in the catalogs (see below). One wonders if prototypes exist for any of these lost Pennys.

Tags: Vehicles, Tales of Toy Cars
---