The following editorial reflects the personal thoughts of Doug Breithaupt relating to our common hobby of miniature cars.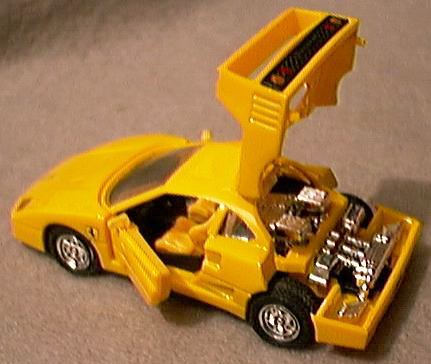 Ferrari F40 Deluxe Collection - Majorette

In the story of every automaker there are moments where they have achieved a high point in their history. In the case of some marques, this pinnacle of success has also been their last great ray of hope before the downhill slide into the automotive scrapyard. Other companies continue to see their fortunes move in and out like the tides. Cars produced in those moments of greatest success are often some of the most innovative and unique. It's easier to allow the designers and engineers the freedom to do something truly special when the money is good and the future looks bright.
My personal car collection has focused on some of these models. The Citroen SM was produced in a period such as this. Citroen was following their strong sales success of the 1960's, including the purchase of Maserati, with production of a halo car. Unfortunately, in just five years, a variety of factors, including the slow sales for the SM, resulted in Citroen's purchase by Peugeot.
The Cadillac image by 1967, dominated American luxury markets and the front-wheel drive Eldorado was intended as a halo car to bring new levels of success. While the 1967-68 Eldorado was successful, Cadillacs just became bigger and their owner demographics became older. Finally, 35 years later, Cadillac is just beginning to recover the market share they once enjoyed.
In 1955, Rolls Royce and Bentley were still the cream of British motorcars. With the introduction of the Silver Cloud and S3 models, a new statement of tradition and luxury were offered to the world. A new V8 was finally put into production. Even 40 years later, these two models are still seen as some of the most elegant of luxury cars. Now under new owners BMW and VW, a revival of 'England's best' may be on the way.
These are just three examples out of many. The models produced from these halcyon moments might be labeled 'consummate cars' that would have been unlikely to ever reach production in any other time. I only selected these specific examples from my personal experience. Identifying these consummate cars and having the opportunity to enjoy their company, can be both personally and financially rewarding.
Toy car manufacturers often operate just like their bigger brothers. When times are good, they are willing to take chances on products that would not otherwise be considered. When the future looks bright, better models with more detail, features and colors are presented to consumers. In bad times it's back to basics and try to soldier through. The 'good times' toy car models are much like the consummate cars of the big boys and often as brief in their lifespan. For collectors, these 'good times' models can become the most desirable and valuable.
For many toy car makers the good times have been the first few years before economic reality brings an end to luxuries like jeweled headlights, opening doors, engine detail or realistic wheels and tires. The models from these early years become the favorites and are valued accordingly. Later models with fewer features become less attractive to collectors. Sometimes, a toy car company can rebound to find future success but the failures are far more common. Companies like Impy Lone Star, Topper, Playart, Schuco and Buby had their moments of success before they started their downward slide. Some names like Schuco, Norev, Polistil and Corgi are again seen on toy cars and the revival of the Johnny Lightning name is the example that led the way.
Some companies like Matchbox have regularly visited the peaks and valleys of success, managing to continue with new owners and marketing plans. For Matchbox, 1967 would have been just such a peak, before Hot Wheels turned the toy car world upside down. Those last years of the regular wheel models are some of the favorites of collectors today. By the mid 1990's under Tyco, Matchbox had managed to regain much of the lost success, only to be bought by Mattel and once again sent into a downward spiral that could be terminal. It is telling that re-releases of the last of the Tyco castings, in new colors or series, are still some of the most popular models in the current Matchbox line, a sure sign of consummate cars. I just bought my 13th example of the 1970 Pontiac GTO from a 2004 collector series.
Racing Champions/Ertl gained steady success that led to the production of the Mint Edition series and American Muscle 1:64 scale models. It has now been some time since we have seen that level of quality and those earlier models may become the consummate cars for RC/Ertl. Will RC/E remain a significant player in the 1:64 scale markets outside of their NASCAR models?
After strong success in the 1980's, Majorette produced their Deluxe Edition models in the 1990's, the best models yet seen from this toy car maker. Withdrawal from the North American markets and limited new models have caused concern for the survival of this famous French company. A recent purchase of Majorette by Smoby and expansion of the product line is a positive sign for collectors.
Some companies like Tomica and Siku just seem to move along at a steady pace. The are able to avoid the temptations to follow every lowrider or tuner fad. Their products are solid, sensible and sell in consistent numbers to support continued operations and reasonable profits. One would be hard pressed to identify consummate cars for either although Tomica's short-lived 'foreign' line of the 1970's might be considered. If so, it was a lesson that Tomica learned well.
Is Hot Wheels at a peak today with hundreds of new regular and collector castings? Johnny Lightning has had much success but the modest response to some recent series like the Ford Thunderbirds, Original Toppers and others have brought changes in strategy. Norev is expanding rapidly but are sales justifying the cost of so many new castings? Certainly as collectors we are hoping for the best for all these companies. Still, just in case some of these models end up being consummate cars, I'm adding as many different examples to my collection as I can. You just never know.
Tags: Vehicles, Tales of Toy Cars
---