Technopark is a Russian brand of diecast, which is being supplied by Chinese factories. I am not 100% sure which factories are their suppliers, to the Technopark logo seems a bit like a Motormax-logo. The range features Russian vehicles only, but that makes their line-up so interesting. It seems that up to now, all small scale diecast cars of Russian cars are made for the Russian market (with the exception of Grell). For example, Welly too is marketing a series of Russian diecast, under the banner Autotime. Hongwell is doing the same using the Bauer-brand.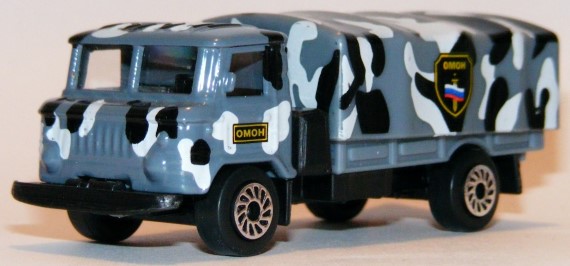 GAZ 66 - GAZ is the Gorki Automobile Plant and is located in Gorki. The 66 is a a truck made from 1966 up to 1999. Quite interesting Technopark decided to take a vehicle on sale that in real life is out of production for 15 years. We will see more surprise though!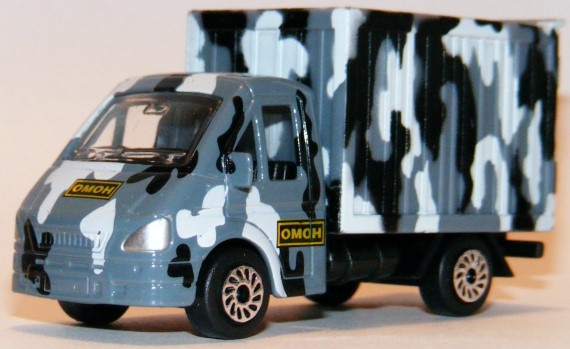 This is the GAZ Gazelle, a van that is made in several versions. Both the 66 and the Gazelle are printed with OMON-lettering: Omon is a special forces ops.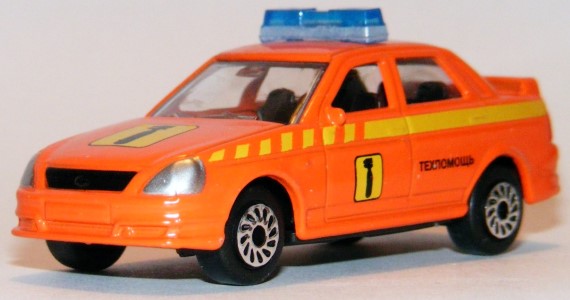 Third is the Lada Priora. This is the first Lada Priora in small scale diecast.

The last vehicle that I acquired is the ZIL 115. ZIL was the brand of vehicles that was making limousines and was only used by heads of state, ministers or senior ranking military officers. It was an armored car. The scale model is quite crude, quite a shame for an upper class vehicle, the top of what the Soviet Union had to offer. Also, the cast seems a bit skewed. It is the first ZIL being offered in small scale.
Tags: Vehicles, Tales of Toy Cars
---