This article was initially published in April 2004.





1964 1/2 Mustang Fastback (with turning wheels)
For 40 years, Matchbox has been producing toy Mustangs. Ford's famous pony car has been a staple in the Matchbox line for all 40 years and 2004 is no different. From the first Mustang of 1964 1/2 to the new 2004 model, Matchbox has produced 15 different castings. True, some of these castings were just revisions of earlier models but all 15 offer something different to the collector. From stock to hot rod to custom to concept, a variety of Mustangs have carried the Matchbox name. One casting, the 1979 model, was originally a Kenner Fast 111 model that became part of the Matchbox line when Universal bought the remains of Lesney. In more recent years, Matchbox has offered new castings of classic Mustangs from 1965, 1968 and 1970. Johnny Lightning has done more Mustangs and other models may be more accurate but the Matchbox Mustangs represent the fads and fancies of the decades in which they were produced. They also reflect the highs and lows of Matchbox history. While each model has many colors, I have selected my favorites variations. Here they are.
1964 1/2 Mustang Fastback (see above) is the original Mustang and one prized by collectors today.


1965 Shelby Mustang GT350
Adding Superfast wheels, Shelby graphics and an exposed V8 gave the original casting new life.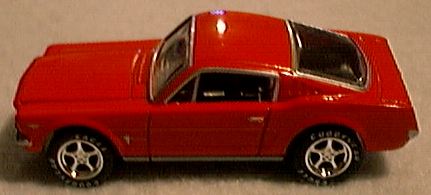 1965 Mustang Fastback (collector model)
This recent retro-cast is a re-make of the original Mustang with a shorter nose and rear deck.


1968 Mustang Fastback (collector model)
Another recent model, the '68 'Stang' influenced the new 2004 model.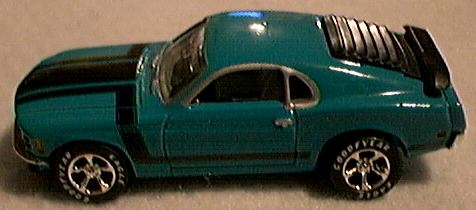 1970 Boss Mustang (collector model)
This recent casting has seen limited use considering it's popularity and excellent detail.


1971 Mustang Cobra
This is the second Mustang produced by Matchbox and features an opening hood.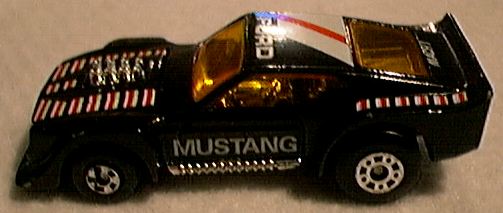 1971 Mustang GT Racer
This casting revision was done by Universal to extend the life of the model.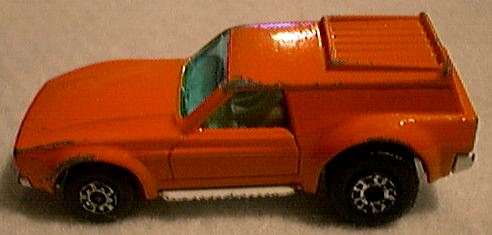 1971 Mustang Van custom
The hood is closed and a van body appeared in this variation but the look is realistic.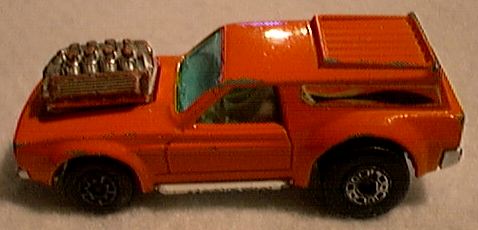 1971 Mustang Van custom hot rod
Reality is replaced with fantasy as the hood has now sprouted a massive V8 motor.


1979 Mustang GT
This casting was borrowed from Kenner with huge rear tires and an exposed, blown V8 added.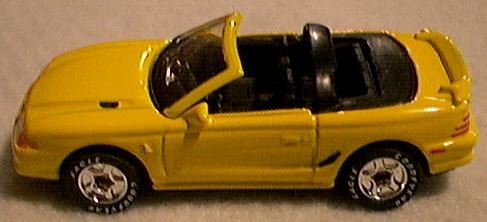 1995 Mustang Convertible (collector model)
This pretty convertible was offered in a wide variety of colors and graphics.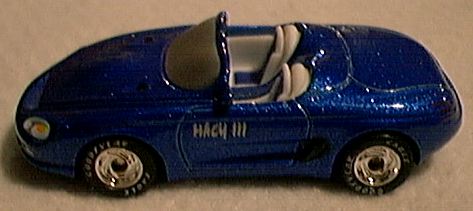 Mustang Mach III concept (collector model)
The Mach III concept has a diecast front window, an odd and unfortunate idea.


1999 Mustang Coupe
Matchbox produced both coupe and convertible versions of this Mustang.


1999 Mustang Convertible
This open version would improve with some paint on the windshield like the model above.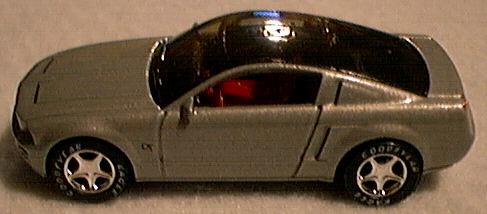 2004 Mustang Coupe concept (collector model)
Matchbox moved quickly to be the first to offer the new Mustang, here in concept form.
Tags: Vehicles, Tales of Toy Cars
---