Article initially published in Aug 2003 by Dave Weber and Kimmo Sahakangas, images by Kimmo Sahakangas.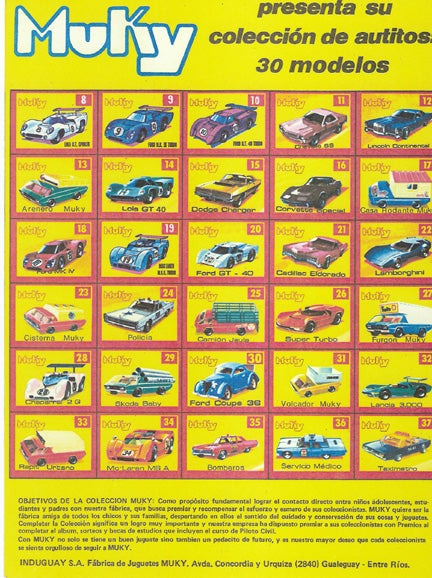 The country of Argentina has provided many small diecast models. Brands and their derivatives such as Aguti, Loden, Rapitoy, Buby, Collectors Classics (larger than 1/64 scale), Galgo, Reno, Renno, and Jet (by Gillette) have all originated within this South American nation. In addition, the MUKY models were produced there during the 1970s and 1980s.
It appears that the manufacturing firm Induguay was the producer of the MUKY brand models. This firm used the address of "Induguay S.A. Frabrica de Juguetes MUKY, Avda, Concordia y Urguiza (2840) Gualeguay - Entre Rios" on their sales brochure dated 1988-89. They produced over thirty "modelos" in their "Colleccion" line. The above-mentioned brochure advertised a contest for collectors to acquire all the models. One of the prizes was the promise of a ride in the company single-engine propeller airplane.
An alternative name for Induguay was ESDESCO. Some of the models were released with this name in Argentina. There are some that were available under this name in Brazil. The latter were always fitted with a plastic baseplate.
According to collector Mariano Garcia, MUKY were the cars that you did not want, as they were rough. Argentine children always wanted the popular Buby models. This may be one reason why MUKY models appear to be less scarce than most Buby models, especially before 1980. MUKY was probably a fantasy name to sell toy cars. In the case of the well-known competitor Buby, the owner Haroldo Mahler was called "Buby" as a child.
MUKY has been called the "Hot Wheels of Argentina". Many of the products in approximately 1/64 scale closely resemble formerly issued castings from Mattel. This situation presents many questions that need answering. How were these castings able to be produced?
Were the models based on obsolete dies that were legitimately sold or given to this firm? Or as some collectors suspect, were they stolen from within the confines of the Mattel organization over thirty years ago? Please be advised however, no positive proof has been presented to support this allegation to date A third possibility exists that possibly these castings are just good copies of the originals. These are what collectors refer to as "knockoffs". Additional investigation to confirm or refute these suppositions is necessary! Perhaps a reader of this article can provide the true picture?
MUKY has not made their presence known for the past ten or more years. It is questionable as to if they are still in business. Very recently, I sent an email inquiry to the Buenos Aires Toy Museum in Argentina (www.ba-toymuseum.com.ar) that is operated by Roberto Dario Frassinetti asking the above questions.
The above-mentioned two-page brochure lists the following models from #8-37. It is unknown if models #1-7 exist. Perhaps this was an advertising strategy to create some kind of mystery! Many of the engine hoods and doors are hinged. These castings have simple paint schemes and many are applied with decorative adhesive labels. The wheel designs appear to be general "run of the mill" creations and do not resemble the Hot Wheels versions. Models were available on blister cards and inside both window boxes and enclosed printed boxes in addition to three pack containers. Some were advertised as "Super Veloz" which translates to "super fast". The vast majority of models appear to have dark amber window glazing. Thus the interior detailing is nonexistent. This condition causes a loss of quality and presents a cheap appearance. However, the detailing of the actual casting is superb in spite of the less desirable paint process and labeling. Castings are fitted with metal and sometimes plastic baseplates.
Some of the models listed below contain the MUKY brand name as part of the title identification. One example even uses the name "Skoda", a Czechoslovakian car manufacturer, except that it is clearly the Deora. It is apparent that some of the models use the same basic casting or a modification of the tool to offer another separate model. They are as follows:
#1-7 (unknown)
#8 Lola GT Spoiler
#9 Ford MK IV Turbo (also called MK N Turbo, similar to #18 w/ spoiler)
#10 Ford GT 40 Turbo (similar to #20 w/spoiler)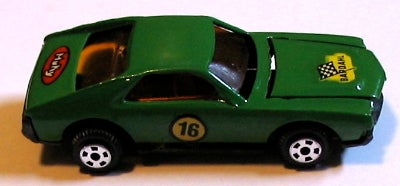 #11 Chevelle SS (based on Hot Wheels Custom AMX)

#12 Lincoln Continental
#13 Arenero MUKY (based on Hot Wheels Deora)
#14 Lola GT 40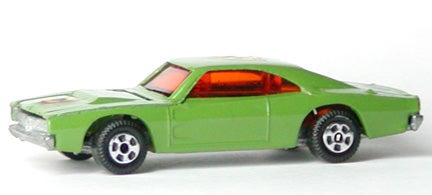 #15 Dodge Charger
#16 Corvette Special
#17 Casa Rodante MUKY (camper based on Hot Wheels Deora)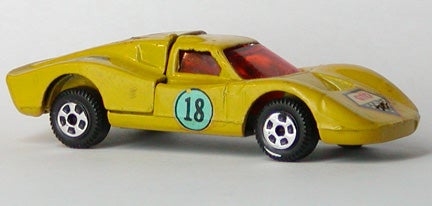 #18 Ford MK IV
#19 "Mac Laren" M.G.A. Turbo (similar to #34 w/ spoiler)
#20 Ford GT 40
#21 Cadillac Eldorado
#22 Lamborghini Special (based on Hot Wheels Torero)
#23 Cisterna MUKY (P/up with cap based on Hot Wheels Deora)
#24 Policia (68 Plymouth Fury)
#25 Camion Jaula (stake bodied P/up based on Hot Wheels Deora)
#26 Super Turbo
#27 Furgon MUKY (van bodied P/up based on Hot Wheels Deora)
#28 Chapparal 2 G
#29 Skoda Baby (pipe loaded P/up based on Hot Wheels Deora)
#30 Ford Coupe 36 (with hinged rumbleseat)
#31 Volcador MUKY (dump truck based on Hot Wheels Deora)
#32 Lancia 3000 (Super Turbo w/ spoiler)
#33 Rapit Urbano (similar to #27)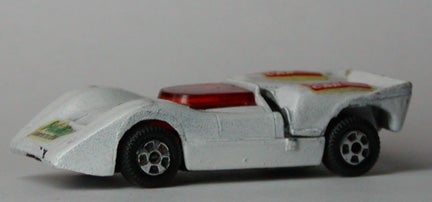 #34 "Mc Laren" MGA
#35 Bomberos ( #24 fire chief car)
#36 Servicio Medico (#24 paramedic car)
#37 Taximetro (#24 taxi)
Additional models have appeared that are not part of the above "collection of the thirty". They are:
#38? (unknown)
#39? Ferrari 308
#40? VW (Beetle)
#41? Ford 41 (coupe)
Most of these models were popular and available over ten years ago from toy show vendors and mail order dealers. Some can still be occasionally obtained on eBay. We encourage collectors to provide the names of models listed above as unknowns and any others missed by these authors. In addition, we like to thank Argentine collector Mariano Garcia for answering some of our questions that made this article possible. He also provided us with additional information about collecting MUKY.
Tags: Vehicles, Tales of Toy Cars
---