While I have not been for a while (so it is partly my fault), this article that I copied from the Yorkshire Post. shocked me since it is what is inevitably happening with the hobby as the internet becomes a more and more important part of the hobby:
It caters for a traditional hobby and The Model Shop has itself become one of Hull's traditions with premises that have barely changed for generations.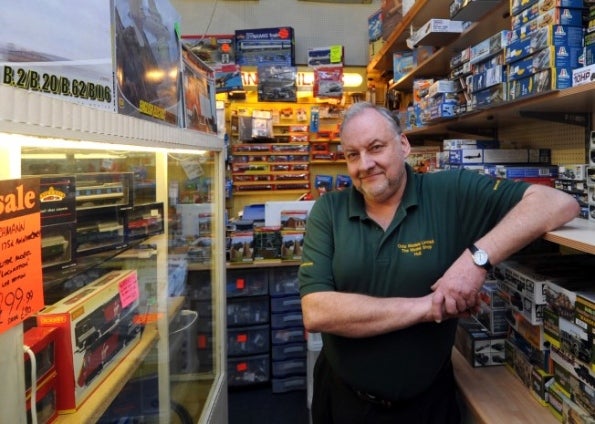 But a combination of the internet era and the recent recession have proved too much for its owners to endure and after a lifespan of 65 years it will close for the last time next month (in the photo Model Shop co-owner Nigel Park).
The shop first opened on Holderness Road in 1946, then moved onto Whitefriargate and finally the city centre in 1962, and its layout today would still be instantly recognisable to customers from that era.
Every available inch of space is given over to models, with shelves groaning under boxes of kits. Gurkhas rub shoulders with the French Light Infantry, German Panzers with British Scimitar tanks.
Over the doorway are cardboard boxes marked "Humbrol 2004" – relating to the famous Hull factory on Hedon Road which once mixed and made tinlets of paint for the models.
In the shop's heyday, its customers would be used to test products from Humbrol before they officially went on sale.
Now nearly everything in the shop – from the plastic model kits to the diecast cars and trucks, radio-controlled boats and aircraft and modellers' materials and tools – is made in China and India.
Director Alan Thompson said he and business partner Nigel Park had decided to call it a day for a number of reasons.
Mr Thompson, who will now be concentrating on a marketing business, said: "The recession, increased internet competition and various personal issues have brought about our decision.
"We thought it would continue but the recession has hit us hard and we have an option on the lease so we are taking that. "Most of the people have stopped coming in – there are less and less people about town. It's not as if you can eat anything we can sell.
"People are buying online and there's less money available for discretionary spending.
"We get three types of people here – there's the enthusiasts who know that they can buy stuff on the internet, so you have to match them or lose them. There are the guys who are interested and the grandma and granddad who are charged with buying Johnny a Flying Scotsman for Christmas.
"The people we have probably lost through the recession are the families who would come in on a Saturday or a Sunday to buy a kit for their son."
Despite the passage of years, Second World War models are still the top sellers, including Spitfires, first introduced as a model by Airfix in 1953,.
The business was established by Campbell Morgan, who decided to start off on his own after coming out of the RAF in 1945. His son John ran the shop until retiring in 2006.
Mr Morgan said: "He was a close friend of Gerald Barton, who owned the Humbrol factory and we often tested products, passing them onto the appropriate customer who would give us their opinions. The really good years were in the 70s and 80s, but nevertheless it was very healthy into the 2000s.
"It's shame it's going, it's a passing of an era, but I think there will always be interest in model-making. You get a bit of the feeling of the inventors in the 1800s when they came up with Stephenson's Rocket.
Zoe Lill, who has worked in the shop for 12 years, said: "We have long-standing and regular customers and it will be sad to close. It's an institution, but all good things have to come to an end."
Taking a look round the shop was modelmaker Anthony Bentley, who said: "I'm 66. I've been coming in for 40 years. "This has been my hobby since school. It's a marvellous shop and it's a shame it's closing."
Sad!

---