Auto experts predict that the future of urban transportation lies with mini or microcars. Usually with less than 1,000 cc engines and weighing no more than 2,000 pounds, these smallest of cars offer economy, reduced parking or storage requirements and reasonable price. The Ford Ka and Mercedes sponsored Swatch are some of the latest examples of tiny forms of transport.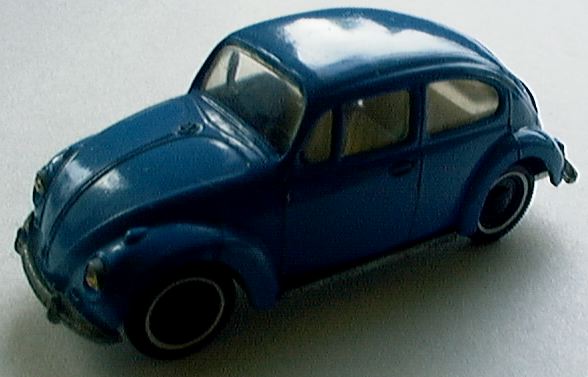 Microcars are not new. The Volkswagon Beetle and Citroen 2CV were designed before WWII to provide the masses with small efficient automobiles. With the variety of microcars over the past 50 years it would seem natural for 1:64 scale diecast car producers to have reproduced these minicars in miniature. With the exception of the Beetle, this is not the case. Few microcars have been offered in the popular 3-inch toy scale. From my collection of several thousand 1:55-1:64th scale toy cars, I've selected an baker's dozen that qualify.
The Volkswagon 1200/1300 or 'Beetle' as it is popularly known, is both the earliest and most common microcar reproduced in diecast. While earlier examples exist, a stock, oval windowed model, circa 1960 is currently available in the Hot Wheels line (1988 #293). Offered in a variety of colors, the only one without wild graphics is the metallic rose example shown here. Hot Wheels did include the Beetle in their 1968 releases but far from stock with a hot-rod front engine. Later examples of the Beetle are prolific however, two of my favorites are Siku's model 1200 (1964 #230) and 1300 (1975 #1022) both in blue and Tomica's delightful 1300 Cabriolet (1977 #F20) in red. Best of all, the new Volkswagon Beetle Concept 1 has been released by Matchbox (1995 #49) in red, purple, green and orange.
The very French Citroen 2CV dates back as far as the Beetle and many toy examples exist. One of the best is
offered by Tomica (1979 #F39), shown here in a very authentic orange with grey top. Siku and Maisto also offer the 2CV in their current 1:64th lines. Following the Beetle and 2CV, England's Mini provided Brits with their own microcar in the early 60's. The Mini was done by Matchbox (1970 #29) in orange, with the Mini Cooper S Mk III offered by Tomica (1979 #F8) in blue.
The Japanese brought new microcars to world attention in the 1970's and one of the most successful was the Honda Civic. Tomica's Civic GL (1974 #83),shown in orange is the only example of this car. Renault had much less success with the poorly made Renault 5 or 'Le Car' as it was known in the States. Majorette offered an early stock version (1980 #257) and was joined by Hot Wheels who offered the second-generation Renault 5 Turbo (1990 #9749A), shown in blue.
More recent microcars are few. Tomica has done the Honda Beat (1991 #72) in yellow, a mini roadster little known outside Japan. Renault's Twingo is now available from Majorette (1994 #206) in blue, and along with the new Beetle, best represents the modern microcar.
It is curious that some of the better known microcars have not been done in 3-inch scale. The Fiat Topolino of the 1950's would be a natural as would the Isetta or Messerschmit? These have all been done in 1:43rd scale. With new microcars on schedule for production from many automakers world-wide, we can expect to see toy car makers follow suit. It's a small thing to ask.
Diecast Microcar Values
model, yr. mfg., number, color, value
Hot Wheels
Volkswagon Beetle 1988 #293 met. rose $2.00
Renault 5 Turbo 1990 #9749A blue $8.00
Matchbox
Racing Mini 1970 #29 orange $10.00
Volkswagon Concept 1 (Beetle) 1995 #49 red $2.00
Majorette
Renault 5 1978 #257 orange $8.00
Renault Twingo 1994 #206 blue $3.00
Siku
Volkswagon 1200 1964 #230 lt. blue $50.00
Volkswagon 1300 1975 #1022 blue $15.00
Tomica
Honda Civic GL 1974 #63 orange $7.00
Volkswagon 1300 Cabriolet 1977 #F20 red $10.00
Citroen 2CV 1979 #F39 orange $7.00
Mini Cooper S Mk III 1979 #F8 blue $7.00
Honda Beat 1991 #72 yellow $7.00
All values are for cars loose in mint condition.
Tags: Tales of Toy Cars, Vehicles
---