Meccano has announced its first-ever movie tie-in, with three fantastic new models from the much-anticipated upcoming Tintin movie.
The models are a 320-piece sea plane, a 270-piece 4x4 Jeep and the largest set, a 630-piece model of the sailing ship Unicorn, around which much of the film's plot revolves. The Jeep sells for around £26.99 in the UK, the plane for £33.99 and the ship for £54.99. Meccano say they have "paid very close attention to the detail of the replica vehicles from the film." And that the sets are suitable for age 8 and over – although adult collectors and Tintin fans are expected to be the best customers. The models will be available in the UK, France and Benelux countries.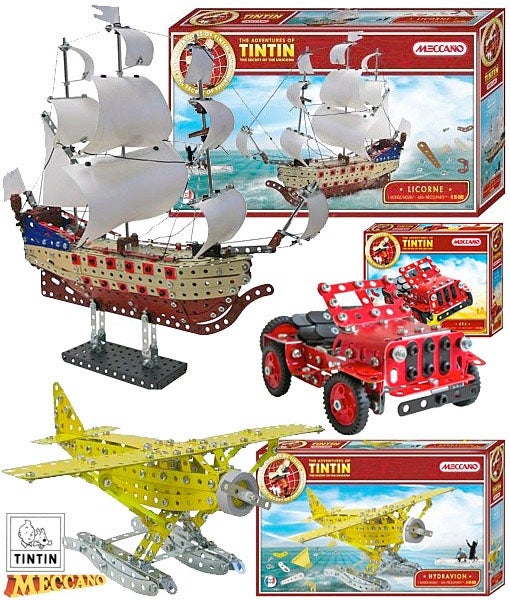 Diected by Steven Spielberg and produced by Peter Jackson, the film, which comes out in Europe on October 26, will be in 3D and uses synthetic imaging and motion capture to give it a comic-book look designed to replicate the original artwork. The story follows Tintin's (Jame Bell) first meeting with Captain Haddock (Andy Serkis) and their discovery of a clue to the treasure belonging to the Captain's ancestor Sir Francis Haddock, with James Bond star Daniel Craig as Red Rackham, the pirate who attacked Sir Francis.
Sharp-eyed Tintin fans have pointed out that the red jeep and seaplane are actually featured in different Tintin book; it's not known yet whether the producers decided to "borrow" them to feature in the film or if Meccano decided to reach beyond the scope of the movie for models to include in the range. Tintin has, of course, been around since 1929, when the first book about him, Tintin in the land of the Soviets, was released. Since then, over 350 million copies of the 24 titles featuring him, his dog Snowy and friends including Captain Haddock and Professor Cuthbert Calculus. Tintin was created by Belgian Gorges Remi, under the pseudonym Herge.
Unsurprisingly, both Tintin and Herge are national treasures in Belgium, with a Tintin museum in Brussels hugely successful. Many other tie-in toys and models have been made over the years, of course, including successful partworks depicting many of the vehicles from the series (depicting a mixture of both real vehicles and Herge's own creations), figures and soft toy versions of Snowy as well as high-end models of the cars and trucks. This is, however, the first time any sort of construction toy has been released to tie-in with the series, making the sets a double first!
Tags: Construction
---