How can a manufacturer sell the same product for twice or three times the price? Automakers have long known that a deluxe edition car can command a deluxe price, with minimal increases in production cost. At the same time, deluxe editions are usually slower to sell than their standard siblings and economies of scale can make or break the bottom line.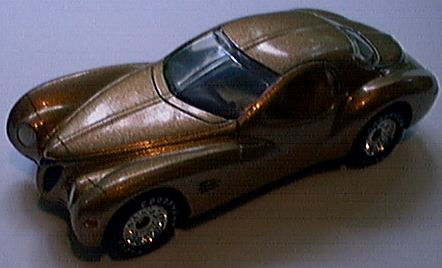 Small scale automakers have been slow to capitalize on the diecast carriage trade by producing fancier editions of their regular offerings. In 1989, Matchbox, then owned by Matchbox International Ltd., introduced 'Matchbox World Class' diecast cars in their three-inch scale range. Eight cars were offered, all examples currently available in their 1-75 range, but now at three times the price. For about $2.50, Matchbox offered realistic paint colors and authentic styling, real rubber tires, fully detailed tail lights and license plates and metalized windows. The Matchbox catalogue stated: "Our World Class vehicles are the ultimate in miniature diecast vehicles." Special packaging for the World Class cars featured display boxes with full-color automotive insignias and reflective high-rise backdrops. To emphasize the 'World Class' concept, different national flags were displayed on the blister-card, with the catch-phrase "The Elite of Diecast Vehicles!"
Series I cars offered in 1989 were all sports cars and included a heavy German contingent with three Porsches, a 982S, 944 Turbo and a 959, and a Mercedes AMG 500 SEC. Three Italians, a Lamborghini Countach and two Ferraris, a 308 GTB and Testarossa, were offset by one American car, a Corvette Roadster. (A full list of all World Class cars with colors, numbers and values accompanies this article.)
The response to the World Class cars was mostly positive. Two primary concerns were voiced. First, the metalized windows eliminated any view of the interiors on the closed cars and looked decidedly unrealistic. Second, the real rubber tires were all stamped with 'Goodyear Eagle' in white letters and looked out of place on these modern sports cars. One simple solution to this problem was to carefully pull off the rubber tire and put it on reverse side out. It then became a regular blackwall, without damaging the car in any way.
A new and un-welcome change occurred with Series III in 1991, repeat cars. Two cars that had appeared in Series I were repeated in Series III, albeit with new colors. The Lamborghini Countach and Ferrari Testarossa were repeated with the remaining six cars offering new World Class models. Three of the new cars were Chevrolets, a 1957 Chevy and two Corvettes, a 1962 and a 1975 T-Top. Two more German cars, a Porsche 935 and Mercedes 500 SEL , were provided. The first Japanese car, a Nissan 300ZX made its World Class debut. No Collector's Display Stand was offered for Series III, most likely discontinued due to slow sales.In 1990, Series II of Matchbox World Class cars were offered. While the eight new cars had the same feature upgrades offered in Series I, several changes occurred to the overall line. Only four of the cars represented were recent model sports cars, a Ferrari F40, BMW M1, Thunderbird Turbo Coupe and Cadillac Allante. A modern luxury sedan was included, the Lincoln Town Car, and instead of Goodyear Eagle tires, rubber whitewall tires were featured. The remaining three cars represented much older models and included a 1962 Corvette Grand Sport, 1948 Jaguar XK120 Roadster and 1955 Rolls Royce Silver Cloud. The Jaguar and Rolls Royce also sported rubber whitewall tires. Also available in 1990 was a Collector's Display Stand for the World Class cars. It stood 11" high with eight removable clear platforms, each decorated with gold lettering and insignia, recognizing each vehicle. Displays for Series I and II were available and retailed for about $15 each.
By 1992, World Class was listed as 'Best of World Class' and dropped from eight to six cars. Even worse, only one of the six was a new World Class offering, a Lamborghini Diablo. The remaining five cars were repeat cars in new colors, four from Series III, a Porsche 935, Nissan 300ZX, Mercedes 500 SEL and Corvette T-Top. A Ferrari F40 from Series II rounded out the diminished offerings. It appeared World Class was no longer a Matchbox favorite.
The big change for 1993 went far beyond World Class cars. Universal sold Matchbox to Tyco and Matchbox cars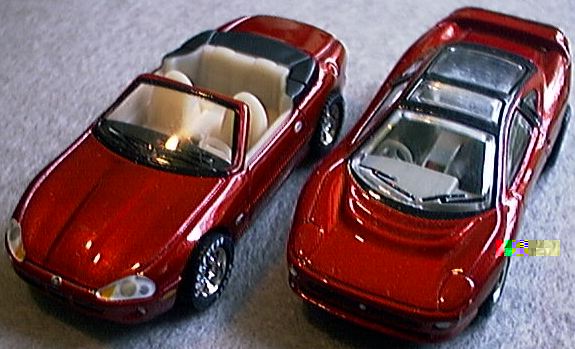 appeared in the 1993 Tyco catalogue. World Class remained at six cars and was advertised as "A limited edition of the 5th series of elite diecast vehicles featuring six stunners from around the World." Three of the six were again repeat offerings, a Lamborghini Diablo, Cadillac Allante and Corvette Roadster. Two new vehicles, a Jaguar XJ220 and BMW 850i were welcome additions. The sixth car, according to the catalogue, was not a car at all. The Ford F-150 pick-up in red and white was shown with rubber tires and metalized windows. The first World Class truck however, failed to appear on the toy shelves, replaced by the Jaguar XJ6 Saloon. Why this change was made is unknown, but it is likely the Ford F-150 was simply not ready for the 1993 year as it was not offered in the 1-75 line until 1995. One other change occurred. The display boxes included with each car were downgraded, with the full-color insignias reduced to all-gold, matching the lettering.
Series VI of World Class cars provided new hope. All six cars were new offerings. All six were also new offerings in the 1-75 line. Two of the cars were experimental cars, the Corvette Stingray III and the Mustang Mach III, with a third, the Dodge Viper, a dream car only recently approved for actual production. A Camaro Z-28, Aston martin DB7 and Mazda RX-7 completed the selection. Packaging was again changed and now advertised as 'SUPER' World Class. The well-detailed card of earlier series was replaced with a look much more like regular blister cards. The display box was still included but now dropped the insignia completely. These obvious cost-cutting changes were unfortunate but in exchange for six new cars and an apparently revitalized series, not too troubling.
The new 1995 Tyco catalogue carried the greatest disappointment to World Class collectors. No changes had been made to the Series VI cars, they were just carried over for the next year. The copy gave no clue as to why new cars had not been selected. Was World Class on a two-year cycle now? The answer arrived with the 1996 Tyco catalogue and appeared in stores at the same time.
For 1996, World Class continues but takes second billing to a new 'Premiere Collection' title. Officially it becomes Premiere Collection - World Class, Series 1-6. Even more interesting, on each blister card it is stated that each series is "Limited to only 25,000 of each vehicle." It is clear that Tyco is hoping to replicate the success of Mattel's 'limited edition' Hot Wheels Treasure Hunt series. The cars have also changed. The best news is that the metalized windows are gone and now the wheels are plated instead. Rubber Goodyear Eagle tires remain and colors are realistic with detail superior to the 1-75 line. Of the 6 series, 4, 5 and 6 are repeats of 1, 2 and 3 with color changes. Two of the Series 1 & 3 cars are repeats, the Dodge Viper and Mazda RX-7. New cars are a Plymouth Prowler, Mitsubishi Spyder, Toyota Supra and Audi Avus. The six Series 2 & 4 cars include four repeats, a T-Bird Turbo Coupe, Lamborghini Diablo, Camaro Z-28 and Corvette Stingray III. The new cars are a Mustang Cobra and Mercedes 600SEL. For Series 3 & 6, two more new cars, a '57 T-Bird and 1970 Pontiac GTO Judge share the Premiere Collection with a 1962 Corvette, a Corvette Grand Sport, a '57 Chevy and a Jaguar XK120. It is interesting that all the Series 3 cars represent older models and that according to the Tyco catalogue, the Corvette Grand Sport and 57 Chevy have the same colors in both series. One final change, a display box is still included but has new graphics and is the same size as traditional Matchbox boxes, and as such, no longer lends itself as well to display. The new cars still retail for less than $3.00.
After Series I-VI of the original World Class cars and Series 1-6 of the new Premiere Collection - World Class cars, a total of 78 cars have been offered. The complete collection will undoubtedly be sought after in years to come. Tyco competitors have introduced deluxe edition cars with the Hot Wheels Treasure Hunt series and the new Racing Champion Mint Edition releases highly sought-after. As with full-size autos, deluxe edition cars are always more collectible than regular models. With 36 new 'limited edition' variations for 1996, Tyco is betting big on these Matchbox cars for the carriage trade.
Matchbox World Class 1989-1995 and Premiere Collection World Class 1996
1989 - Series I -$8.00 - 10.00 value
Porsche 928S dk. silver #1
Lamborghini Countach yellow #2
Mercedes AMG 500 SEC white #3
Corvette Roadster blue #4
Porsche 944 Turbo black #5
Ferrari Testarossa red #6
Ferrari 308GTB red #7
Porsche 959 silver #8
1990 - Series II - $7.00 - 9.00 value
Rolls Royce Silver Cloud gold #9
Ferrari F40 red #10
Ford Thunderbird Turbo Cp. silver #11
Cadillac Allante dk. silver #12
BMW M1 yellow #13
Lincoln Town Car black #14
Jaguar XK120 white #15
Corvette Grand Sport burgundy #16
1991 Series III - $6.00 - 8.00 value
1957 Chevy burgundy #17
1962 Corvette turquoise #18
1975 Corvette T-Top orange #19
Nissan 300ZX mt. white #20
Mercedes 500SL Convertible black #21
Porsche 935 yellow #22
Lamborghini Countach red #23
Ferrari Testarossa white #24
1992 Series VI - $5.00 - 7.00 value
Lamborghini Diablo red #25
Mercedes 500SL Convertible silver #26
1975 Corvette T-Top blue #27
Nissan 300ZX burgundy #28
Porsche 935 white #29
Ferrari F40 yellow #30
1993 Series V - $4.00 - 6.00 value
Jaguar XJ220 purple #31
Lamborghini Diablo black #32
Cadillac Allante burgundy #33
Jaguar XJ6 Saloon blue #34
Corvette Roadster white #35
BMW 850i silver #36
1994 and 1995 Series VI $3.00 - 5.00 value
Aston Martin DB7 dk. silver #37
Chevrolet Camaro Z-28 white #38
Corvette Sting Ray III purple #39
Dodge Viper RT10 red #40
Mazda RX-7 black #41
Mustang Mach III red #42
1996 Premiere Collection - price $3.00
Series 1
Mazda RX-7 red #1
Dodge Viper RT10 yellow #2
Mitsubishi 3000GT Spyder red #3
Toyota Supra white #4
Audi Avus chrome #5
Plymouth Prowler purple #6
Series 2
Ford Thunderbird Turbo Cp. gold #1
Lamborghini Diablo purple #2
Mercedes 600SEL black #3
Chevrolet Camaro Z-28 black #4
Corvette Sting Ray III blue #5
Mustang Cobra red #6
Series 3
1957 Thunderbird black #1
1962 Corvette burgundy #2
Corvette Grand Sport mt. blue #3
1957 Chevy black #4
Jaguar XK120 green #5
1970 Pontiac GTO Judge silver #6
Series 4
Mazda RX-7 yellow #1
Dodge Viper RT10 red #2
Mitsubishi 3000GT Spyder green #3
Toyota Supra dk. silver #4
Audi Avus white #5
Plymouth Prowler silver #6
Series 5
Ford Thunderbird Turbo Cp. black #1
Lamborghini Diablo silver #2
Mercedes 600SEL blue #3
Chevrolet Camaro Z-28 red #4
Corvette Sting Ray III yellow #5
Mustang Cobra white #6
Series 6
1957 Thunderbird mt. red #1
1962 Corvette gold #2
Corvette Grand Sport mt. blue #3
1957 Chevy black #4
Jaguar XK120 red #5
1970 Pontiac GTO Judge white #6
NOTE: top values reflect cars in original package with low value for loose mint examples.
Source: Matchbox catalogues 1989-1996 and author's collection.
Tags: Tales of Toy Cars, Vehicles
---