This can be a problem for some as it requires good eyesite and hand eye coodination. Thin Masking tape made by Tamiya is what I use and I have three sizes as well as a good green painter's masking tape for the larger areas. I use a metal dental tool to press down the edges of the Tamiya tape at the jucture of the two colors. It is important to get his down well. A wooden tool works just as well and reduces the chance of marking the model. Best used to start with. Even so, expect a little bleed in a few small areas. This is easy to touch up and I will show how later on.

I use the thin tape for around the edges of the details and to go around corners, as long as the are not to sharp. Wider tape is used to mask off a greater area before applying the green tape to finish off. Here is a series of photos of the process, set by step. I will add the painting of the Black, as that is what I am adding to this Dinky Plymouth Belvedere, French Dinky 24d.

Here we go....
First is masking off the edges of the detail area with the thin/narrow Tamiya Masking Tape.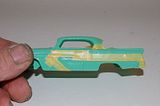 Then we fill in the remainder of the top.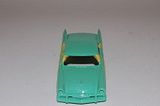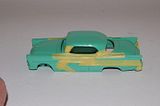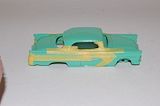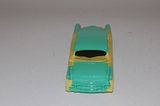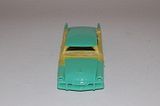 Then I finish off the outside with the Green Painters Masking tape, much cheaper than the Tamiya Tape.





The finishing touch is the inside of the model. This keeps the over spray to a minimum on the inside as this is a darker color than the base color.
One Cardinal Rule in Painting, Always put Dark Colors over Light Colors, They cover much better that way.
Hope you enjoyed my latest tip for making your modeling experience better.
Diecast Toyguy




Tags:
---