LONE STAR PRODUCTS LTD manufactured diecast toy pistols and rifles, among other things, over a period from 1949 to October 1983 at which time the company sadly sent into Receivership. Fortunately a buyer for the company, Wicke GmbH & Co. of Wuppertal, Germany, took it over as a going concern. The significance of this was that Wicke (pronounced Vicker) had, for many years, been suppliers to Lone Star and so it made perfect sense that a manufacturer of explosive caps should purchase a company that mass produced cap firing guns. During Wicke's brief stewardship, while it clung to its last remaining foothold at Hatfield, Hertfordshire, the company was renamed Lone Star Toys plc until its eventual closure in June 1988.
'At our peak we employed roughly 360 people at Hatfield, 200 at Welham Green [near Hatfield] and 150 people at Palmers Green [north London]. Of course, guns were our business and these along with their ancillary items were responsible for 75% of our turnover,' said Mr A (Stanley) Perrin, former MD. 'Whereas we had limited overseas markets for our model trains and cars, we had 'the world' for guns, even Hong Kong was a reasonable market! We never lost sight of this and whilst we were always prepared to invest and develop new items, we never neglected guns.' It should be emphasised that Lone Star's zinc-alloy metal and plastic guns, which totalled 239 different types and styles over the years, were intended as children's playthings bearing only a reasonable representation of pistols and rifles. They were not replica copies of the real thing nor, due to their construction and nature of the material used, could they be converted to fire live ammunition. In deciding the 'Top 10 Guns' produced by Lone Star, we need to consider the overall duration of availability which gives a fairly reliable indication of the popularity of an item, so here we go!

No. 10 - at 18 years, we have the Frontier Scout Rifle, described as a 100-shot cap repeating rifle with break-open action. The metal firing action and its casing had a Buffalo's head engraving on it, is finished in 'gleam' silver. It is fitted with a metal barrel and black plastic simulated wood grain, butt and stock grip. Overall length 76cm, the model rifle was obtainable between 1963 and 1981.

No. 9 - at 18 years, we have the Buckeroo Pistol, a Western gun of 22cm long. Firing 100-shot cap rolls, with stag antler butt grips and finish in either 'gleam' silver or gunmetal, this model was obtainable between 1965 and 1983.

No. 8 - at 19 years, is the Stampede Pistol, being yet another Western coyboy-style 'repeater', firing 100-shot cap rolls. Overall length 20cm with 'gleam' or gunmetal finishes, it has wrap-around butt grips with stag antler finish. It was obtainable from 1969 to 1988.

No. 7 - at 21 years, is the James Bond 007 Pistol with silencer. This fired 100-shot cap rolls, was otherwise known as the P.38 automatic pistol and its shape is very similar to that of the Luger pistol. It had a gunmetal finish from 1965 to 1986 and a gold finish from 1975 to 1984 to coincide with the screening of The Man With the Golden Gun.

No. 6 - at 23 years, is the Pony Express Rifle available with or without a shoulder sling, overall length 65cm, it also fired 100-shot cap rolls, had diecast metal working mechanism and casing with the barrel, butt and stock in tough plastic. Available between 1965 and 1988.
No. 5 and No. 4 - at 24 years each, are the Spudmatic Pistol, described as a '4-in-1' fun gun. In diecast metal, it fired caps, potato pellets, corks and water. Examples of this gun are most often found sprayed brownish red although at times it appeared in black, bronze, blue and green finishes. The Scout Pistol is a Western-style gun with break-open action and firing 100-shot cap rolls. Both were obtainable from 1964 to 1988.
No. 3 - at 26 years, is the Gambler Pistol, a diecast metal pistol supplied with a patented cap loading cartridge for firing potato pellets. It featured in catalogues from 1962 to 1988.

No. 2 - at 27 years, we have the Super Sharp Shooter Rifle. This had a removable telescopic sight and could be fired either from the shoulder or hip by an original 'flip' lever action. It was a repeater that fired 100-shot cap rolls and had a spring-loading mechanism. Overall length was 70cm, it was available with or without shoulder sling. Whilst the stock and shoulder butt of most Lone Star toy rifles were made of plastic, the magazine and firing mechanism casing were invariably of diecast metal and its external surfaces usually finished in 'gleam' silver. The rifle remained in the catalogues from 1960 to 1987 with the exception of 1961 when it is thought no trade catalogue was published.
And finally, at No. 1 - is the outright winner at 38 years, the Captain Cutlass Buccaneer Pistol which first made an appearance around 1950 and continued to feature in Lone Star trade catalogues until 1988. It was described as 'a double-barrelled flintlock pistol with twin hammers and separate firing action for each barrel, a diecast metal pistol in antique finish with contrasting plastic butt grips.'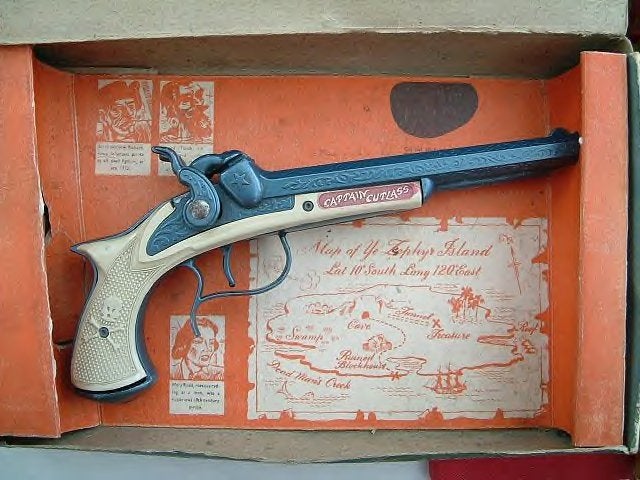 '  
This boy had won a competition in the monthly 'Lone Star' Comic magazine, the prize for which was the opportunity for the winner to spend a day at the factory, i.e. The River Works, Palmers Green, north London, where the toys were made.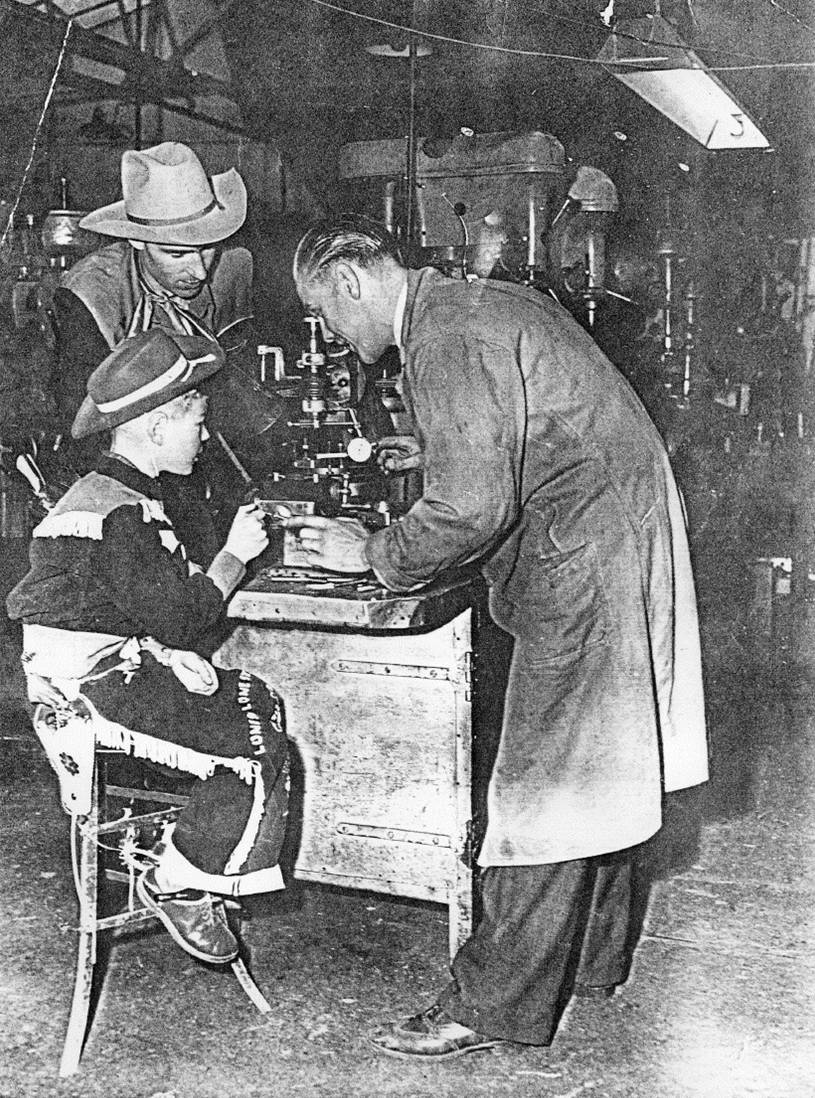 The man furthest from the camera and wearing authentic Cowboy costume, was Roy Green who had been employed by the firm in 1952 to act the role of a heroic fictional character whom the company had decided to create and they named: "Steve Larrabee" 'The Lone Star Rider'. Artistically illustrated stories about "Steve" featured in the 'Lone Star' comic magazine produced and distributed by the company. Even Roy's own real-life Alsatian dog "Pagan" was also pictured and written into the stories where appropriate.
The other man (right) in the photo, wearing an overall work coat, was William "Bill" Buckman, Toolroom Foreman at the 'River Works'. In the picture, Bill is showing the boy how to operate a pantographic milling machine, which is used to produce a miniaturised impression of a toy, cut into steel, of the exact shape of a larger wooden or resin-composite 'master' sample clamped to the machine.
---