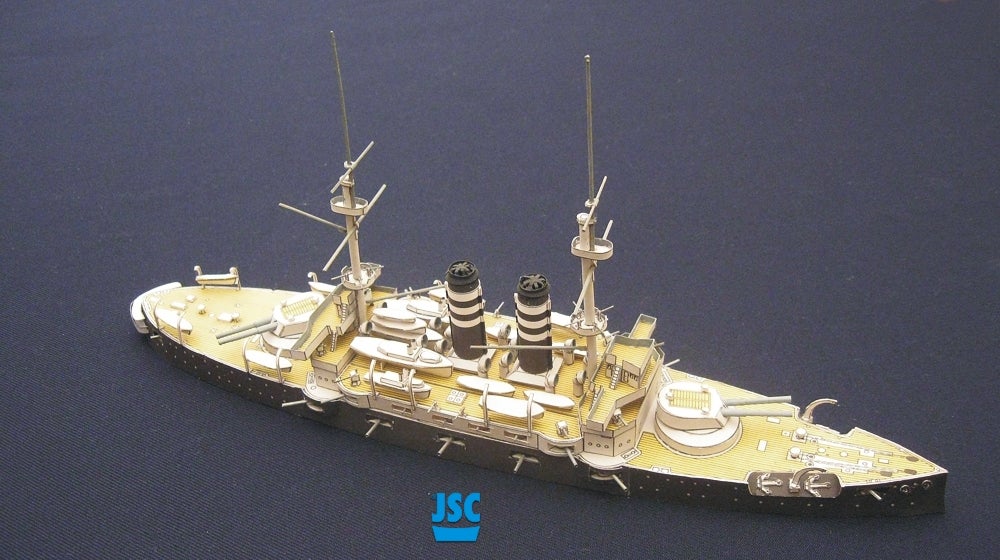 Battleship Mikasa was launched and christened in 1900. She was christen by baroness Hayashi, wife of Japanese ambassador in Great Britain.



At the end of May 1905 Mikasa as the flag ship of Vice-Admiral Togo took a part in the Tsushima battle. There were one hundred dead and injured, Admiral Togo was little wounded too. Russian fleet was destroyed. 20 ships were sunk, a lot of Russian ships were captured. 4830 of Russian seamen were killed, about 10000 were wounded. Japanese had 117 people dead and about 900 wounded.
In 1926 Mikasa was being maintained as a Admiral Togo monument in Yokosuka. Mikasa is now on permanent display, the last surviving pre-Dreadnought battleship.
The model presents ship as completed in 1902, when she enter service.


Wodowanie i chrzest okr""¢tu odby…€šo si""¢ w roku 1900. Chrztu dokona…€ša baronowa Hayashi, … ¼ona ambasadora Japonii przy rz"€¦dzie Wielkiej Brytanii.
Pod koniec maja 1905 roku, okr""¢t b""¢d"€¦cy flagow"€¦ jednostk"€¦ admira…€ša Togo uczestniczy…€š w bitwie pod Cuszim"€¦. gdzie lekko ranny zosta…€š admira…€š Togo. Bitwa zako…€žczy…€ša si""¢ totaln"€¦ kl""¢sk"€¦ floty rosyjskiej, zatopionych zosta…€šo 20 okr""¢tów, wiele z nich dosta…€šo si""¢ do niewoli. 4830 rosyjskich marynarzy zgin""¢…€šo, oko…€šo 10000 zosta…€šo rannych. Straty japo…€žskie wynios…€šy 177 zabitych i oko…€šo 900 rannych.
W 1926 roku Mikasa zosta…€š zadokowany w porcie Yokosuka jako okr""¢t muzeum ku czci admira…€ša Togo. Funkcj""¢ t""¢ pe…€šni do dzi…€º. Obecnie jest jedynym istniej"€¦cym pancernikiem okresu poprzedzaj"€¦cego budow""¢ Dreadnoughta.
Model przedstawia okr""¢t w stanie z 1902 r. bezpo…€ºrednio po wej…€ºciu do s…€šu… ¼by.
Tags: Boats and Ships, Kits, Military
---