I have come across this great article and is WORTH the read. Mr. William "Bill" Brown makes amazing custom-built pedal cars. I have taken some images and would like to credit the author of this article. I am highly recommending that you continue reading this. Please read more.
His creations include the following projects:
The original rocking horse and wagon for his wife

Yellow metal car with no name

1930 Ford Model A roadster

1930 Ford Model A station wagon

1914 Ford Model T speedster

1923 Ford Mercury Indy race car

1912 Stanley Steamer

Three 1930 Ford hot rod baby strollers in red, green and pink

1912 Ford Sedan Delivery

1903 Runabout

1930 Fire truck with tender

1926-33 Ford Tri-motor airplane

Space Shuttle

1908 Ford Model T touring

1930 Mack tractor and trailer

1930 Packard boat tail roadster

1930 Ford pickup with trailer

The first pedal car made of wood.
The first metal pedal car was not built to represent any particular car. It did have a lot of appeal to kids and adults and he found it really fun to build, so he just kept going from there.
1930 Ford baby stroller is Bill's own design. The convertible top folds and there are hand brakes on the handlebars for the "driver." A flame paint job finishes off the hotrod theme. Note also the three-spoke mag wheels.
1930 Packard boat tail roadster with soft top, mirrors, hood ornament and lots of chrome trim. The second shot shows Bill at a car show with a full-size Packard in the background. The final shot shows why it is called a "boat tail" roadster.
1903 Ford Model A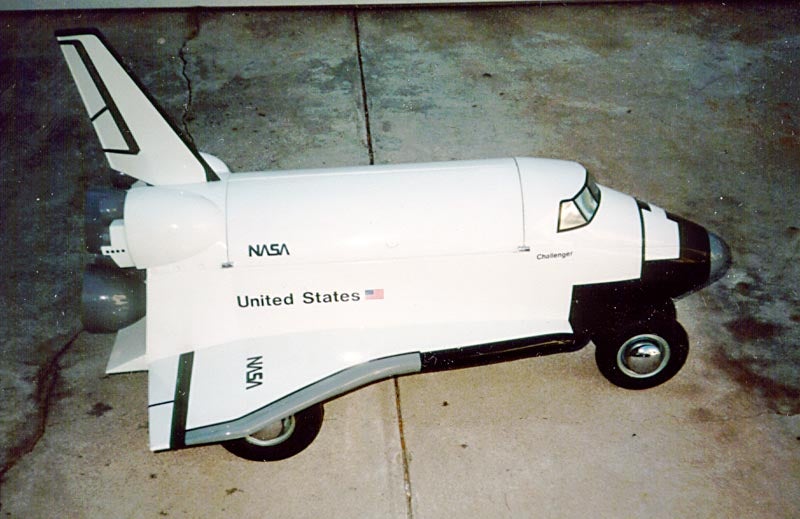 Here's one the early manufactures never even could have conceived of...the Challenger space shuttle. The bay doors open to expose a cockpit complete with an extendable arm for hauling in stray satellites.
Tags: Vehicles
---