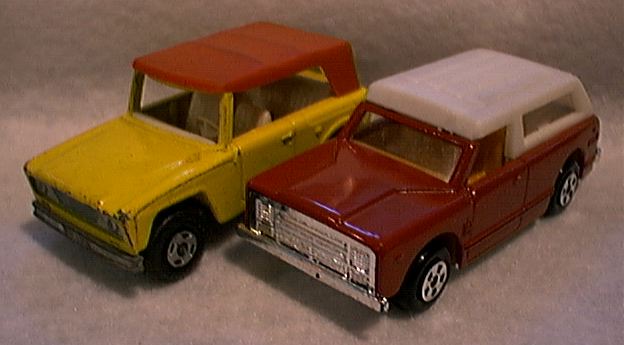 Article initially published in Jun 2004 by Dave Weber and Christian Falkensteiner, images by Doug Breithaupt
IFA (GDR) 1948-1956
When all car production was nationalized in East Germany after WW II, all car and truck factories were united under the name of IFA. This name was to be found on many different vehicles and continued until the end of the GDR in 1990, but it was used as an actual car brand only until the mid-fifties. IFA cars were produced in the former DKW factory at Zschopau, and they were based on pre-war DKW designs. The brand name DKW could no longer be used as it belonged to the Auto Union company which had been resurrected in West Germany. Eventually IFA cars gave way to the famous East German people's car called Trabant.
H0 scale models of IFA cars were made by the German companies of Brekina (in plastic) and Kehi (in pewter).
IKA (RA) 1958-1981
Industrias Kaiser Argentina was established when the former US manufacturer Kaiser-Willys Corp shipped their body dies to Buenos Aires after shutting down all US operations. IKA was formed in conjunction with the local government. Their first model was called the Carabela and closely resembled the former US made Kaiser Manhatten . In 1962 production was begun on an Argentinian AMC Rambler, called the Torino and the Carabela was discontinued. In 1967 Renault of France gained a controling interest in this firm and finally acquired the company outright. Renaults are still being produced in Argentina. A good representative model of the Torino was made by Buby and can be found occasionally at toy shows on the secondary market.
IMPERIAL (US) 1954-1975
Chrysler Corp began producing their top line Chrysler Imperial model in 1926. But in 1954 they decided to produce this car as a separate marque as their top of the line make to compete with Cadillac and Lincoln. But by 1975, the marque was discontinued due to financial difficulties suffered by the parent corporation. Only 2 models of this car have been produced. A 1958 Imperial was made by Hubley in its "Real Types" range, and Impy Road Masters by Lone Star produced a 1963 version. However Johnny Lightning also produced a model of the Barris "Black Beauty" which originated from the Imperial.
INFINITI (JA) 1990- PRESENT
Nissan Motor Co introduced this brand for the US market and some other countries as their high end marque. It was designed to compete with the Acura by Honda and Lexus by Toyota. However this marque name is not used in the manufacturing homeland! The same basic cars in Japan are identified as Nissans. The Skyline has been recognized by collector Rob Gras to be representative of an Infiniti. Tomica has produced numerous models of this car in 1/64 scale.
INNOCENTI (IT) 1961-1995
Having become famous for its Lambretta motorscooters, this company from Milan started into car production using BMC licenses. Most of its initial products were basically Austin and Morris models with only small modifications, but a Ghia-designed sports car called 950 Sport was also manufactured. In 1972 Innocenti became a part of British Leyland, but soon thereafter the parent company gave up its Italian branch, and it was taken over by De Tomaso in 1976. At the same time a new variation of the Mini was introduced with an entirely new body designed by Bertone. This car was later equipped with Daihatsu engines and continued on until 1990, when the company was passed on to Fiat. From then on the Innocenti brand was only used to distribute products of the Yugoslavian Zastava company and of the Brazilian Fiat factory on the Italian market. This venture was not very successful, and eventually the brand was discontinued.
The closest you can get to a small-scale model of an individually bodied Innocenti is Mercury's 950 Sport, which is 1:48 scale. Besides several models of Austin and Morris cars, particularly the Mini and 1100, might be regarded as Innocenti models as well.
INTERNATIONAL - IHC (US) 1907-1911, 1961-1980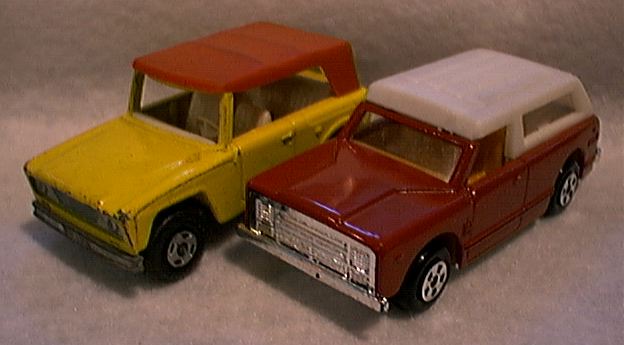 The International- Harvester Co began manufacture of a "High- wheeler" 2 seat self propelled surrey in the beginning of the 20th Century. But only trucks were produced after 1911. The company waited almost 50 years before reentering the automobile manufacturing arena. In 1961 the Scout, identified as a " cross country" (utility type) vehicle was introduced to compete with the Jeep of that era and other similar vehicles. Also available at that time was a companion station wagon type vehicle called the Travelall. But after 1980, the company again decided to concentrate on large size truck production. Models of the Scout have been made by Ertl and Matchbox.
ISO RIVOLTA (IT) 1953-1958, 1962-1974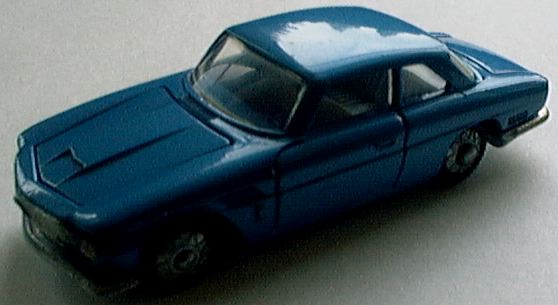 Here is yet another company from Milan; this one had started out producing refrigerators and motorcycles. It entered motorcar production with the Isetta microcar, which was to be made under license by several foreign companies, most notably BMW, but was not as successful in its Fiat-dominated home country. It came as a surprise when the IR 5300 sports car was introduced which combined Italian styling with American mechanics by Chevrolet. Several similar models followed, including the two-seater Grifo and the four-door sedan called Fidia, but eventually the financial difficulties could not be overcome.
A model of the original IR 5300 was made by Polistil in its Penny range, and the Grifo was modeled by Matchbox.
ISOTTA-FRASCHINI (IT) 1900-1949
This is the third company from Milan in this article. It was Italy's top luxury car marque for several decades, comparable with Rolls-Royce, Hispano-Suiza and Maybach in other countries. Heavy and powerful cars with custom bodywork were made for the very rich only. Financial difficulties started troubling the company already in the early 1930s, and a new rear-engined car called Monterosa which was introduced after WW II did not manage to reach production. A resurrection attempt in the mid-1990s proved unsuccessful as well.
The only small-scale model of an Isotta-Fraschini we are aware of was made by Tintoys of Hong Kong, probably copied from one of the 1:43 scale Isotta-Fraschini models in existence.
ISUZU (JA) 1961- PRESENT
Isuzu Motors LTD developed from the merger of Jidosha Kogyo ( Ishikawajima-DAT) with Tokyo Gas and Electric (TGE) to form Tokyo Jidosha Kogyo (TJK) in 1937. Hino Motors was a part of this truck and bus manufacturing conglomerate until 1942. Occasionally the Isuzu name had been applied to special products. In 1949 TJK officially became Isuzu Motors. In 1953 Isuzu acquired a license to produce the Hillman Minx in Japan. This venture succeeded until 1961 when Isuzu replaced the Hillman with a car of their own design. This first venture into automobile manufacture was called the Bellel. It was joined in 1966 by the Bellett and was replaced in 1967 by the Florian model . By 1972 GM had acquired a 33 % ownership of this company. The Gemini model was introduced in 1976 and cars were later marketed in Australia by Holden. Models of this marque have been made by Tomica, Hot Wheels and Matchbox among other companies.
Tags: Vehicles, Tales of Toy Cars
---