by Doug Breithaupt
Hot Wheels 67 Chevrolet Camaro
It takes a while for some people to catch on. Just five year's ago, Mattel offered a Muscle Car five-pack for Hot Wheels fans. Remember, Hot Wheels captured the hearts of American boys in the late 1960's by offering examples of home-grown muscle cars. by the mid-1990's, the Muscle Car five-pack could only be assembled by including a Shelby Cobra and a '63 Corvette. These are clearly sports cars, albeit with big-block muscle motors, but still sports cars.
Meanwhile, Johnny Lightning and Racing Champions were taking wheel-barrows full of money to the bank from the sale of 1:64 scale muscle cars, at $3-4:00 a pop. Since 1996, five new Hot Wheel muscle cars have been added to the standard line. Hot Wheels has also added collector series muscle cars for about $10 each.
While only two of the eight muscle cars in the current Hot Wheels line are different than models offered by other toy car makers, all possess a certain charm. Curiously, five are from the same year, 1970. Of these the most interesting is the Hemi Cuda convertible. Originally offered in lime green with black accents, this is a car not done by any other manufacturer in small-scale. The Road Runner is also a seldom-seen muscle car in 1:64. The Charger, Mach I, and 442 have all been done far better by the competition.
The Mustang Convertible is much less common in this scale than the hard-top version. The Camaro is a 1982 re-casting of the very first Hot Wheel Custom Camaro and has been in production in either version for over 30 years. This is certainly a 1:64 scale record. The newest addition, the '70 Chevelle SS is a pleasant surprise. With a metal body and base it is a heavy model and the blue with white stripes looks just right. The casting is good but still more toy-like than the Johnny Lightning or Racing Champions versions of the same car. Of course it is also one-third the price.
So where is the Muscle Car five-pack now that a good variety of choices are available for inclusion? I guess we'll just have to assemble our own.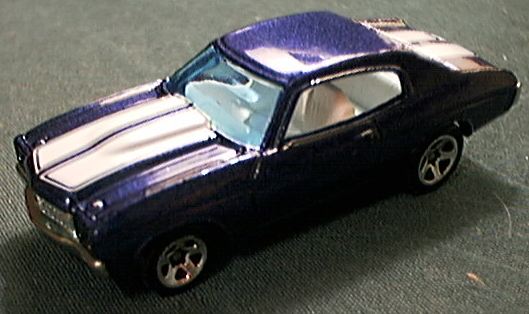 Hot Wheels 70 Chevrolet Chevelle SS
Hot Wheels 65 Ford Mustang Convertible
Hot Wheels 70 Ford Mustang Mach 1
Hot Wheels 70 Plymouth Road Runner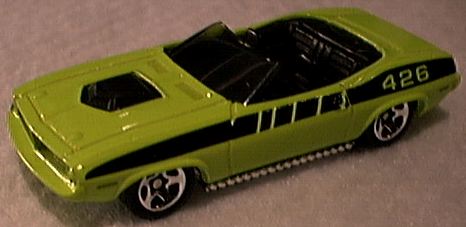 Hot Wheels 70 Plymouth Hemi Cuda
Hot Wheels 69 Dodge Charger Daytona

Original Source: Click Here
Tags: Vehicles, Tales of Toy Cars
---