Article first issued in Scalextric Club N0.72
With Scalextric now well into its 53rd year it is worth remembering how it all started. We know that three of the Scalex and Startex tinplate keyless clockwork cars were modified and converted to electricity and to run on a slotted rubber track but how much do we know about the designer, Fred Francis.

He left his London school at the age of 14 and took employment learning his trade and developing his skills. Just before the 2nd world war and aged just 20 he was capable and ambitious enough to start his own engineering company, the war started soon after and the company prospered on government military contracts. When the war ceased he founded Minimodels Ltd but still in London and produced a variety of metal clockwork toys later including cars. Business prospered and a move to a larger factory was necessary, suitable premises being found in 1954 at Havant, Hampshire. Fred Francis now lived relatively close to the Goodwood motor race circuit in Sussex and his association with the circuit and race drivers fired his love of cars and modelling in miniature.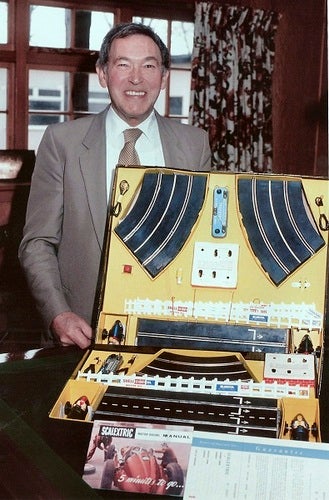 Fred displaying two of his early sets

Fred probably realised that the future of his clockwork cars was waning especially as the new craze was small scale electric racing cars, at the time using a rail track on a wood base installed in many club locations throughout the country, Fred also realised that rail racing was not that realistic. There had already been experiments by others with various designs of slotted track but none were suitable for large scale production and importantly none for use in the home. His existing tinplate racing cars were relatively easy to modify to electric propulsion and his engineering experience and ingenuity enabled him to design the slotted track that in essence is still the same today.

Scalextric, the new table top racing system was such a success that Tri-ang saw further expansion possibilities but using cars moulded in plastic, Fred capitalised on his investment and sold out to Lines Bros Ltd (Tri-ang) in 1958.In my 7th edition book the personal interests and other business activities of Fred Francis are well documented but little is known about his continuing passion for slot racing systems. He never lost his interest in electric slot cars and continued to work on a design for what he considered an improved type of track system.

In 1964 an opportunity arose to join Victory Industries Ltd of Guildford (a competitor to Scalextric with its VIP Roadways system) as a development engineer also handing over his further ideas for track and cars. His expertise led to a number of advanced and novel ideas that were introduced by VIP such as an independent and steerable front suspension system, kit cars and electric motors with ball race bearings. VIP was actually ahead of Scalextric in as much that the VIP cars utilised a double pin guide in 1961 and the now universal blade type in 1963.
Some VIP early models
They also marketed 'Stock Cars' with a spring car overturning system in 1967, the same year as Scalextric's 007 James Bond set with the overturning Mercedes 190SL –whose original idea was it ? It is apparent that Fred wanted to set up in serious opposition to Scalextric as his ideas would possibly have meant technically more advanced cars. In 1967 Fred made his move to take control of VIP and formulated an offer to purchase the company, this was refused which resulted in his resignation and subsequent devotion of his energies to other projects. VIP ceased trading in 1969. An interesting thought, where would Scalextric be now had Fred Francis succeeded in owning VIP Raceways.
Tags: Slot Cars
---