AA32618 Avro Lancaster B MkI LM220, RAF 9 Sqn., 'Getting Younger Every Day'. Flight Recorder hears from Mr George Tweddle, brother of the late Douglas Tweddle, DFC - one of the crew of this particular WWII aircraft, with some amazing and heroic memories. His account brings our forthcoming model to life in a truly inspiring fashion.
It was with surprise and pleasure that on opening the March edition of FlyPast magazine, I saw the Corgi Aviation Archive announcement regarding the forthcoming release of the Lancaster from RAF 9 Sqn. This is the very aircraft that one of my elder brothers, Flt. Lt William Douglas Tweddle and his crew flew on the majority of their thirty-seven operations. To my knowledge, as of last year, there were three of the crew still with us, though now all very elderly and frail.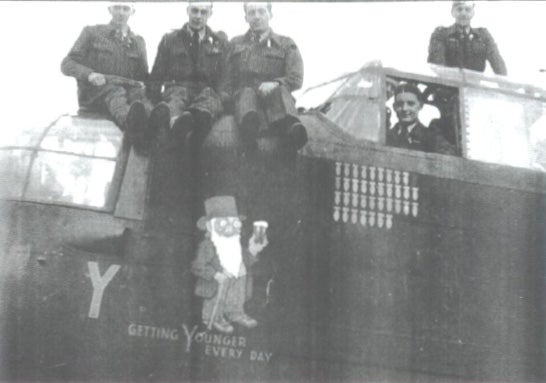 Douglas was the pilot, who had spent over two and a half years in training - some in Rhodesia on the Empire Training Scheme. The navigator, Edward Shields was an accountant from Yorkshire and, as you would expect, a very thorough and exact man. Teenager Jack Singer was a Canadian, who would complete his thirty operations before being returned home. Charles Field, the Flight Engineer, was the oldest crew member in his late twenties. Alan Foot, another Yorkshireman, was the youngest at just eighteen and he manned the mid upper turret. Last, but certainly not least, was Ken Mallinson, who according to Douglas, never left his rear turret, however long the duration of theoperation.
Douglas and his crew were posted to 9 Squadron within 5 Group in June 1944, to begin flying out of Bardney in Lincolnshire a month later, following the usual orientation flights. New crews were allocated any available aircraft and if they survived the first few operations, it was then possible to request a specific regular one. WS-Y (LM220) was a comparatively new Lancaster, with only about twelve operations completed when the previous crew ended their tour of operations. At that stage, it became Doug's crew's aircraft to which they became very attached. From 9th August, after completing eleven missions in a variety of Squadron aircraft, they started operating in WS-Y and that day bombed La Pallice.
Douglas Tweddle DFC

Of the next twenty - five operations, all but one would be carried out in Y, the exception being the first attack on the Battleship 'Tirpitz', when Y was having a regular checkout and overhaul. She would then take them back again to the great ship on 29th October and finally to the sinking on 12th November. However, because of the distance to the target, plus the heavy load of the Tallboy bomb, the mid upper turret was taken out, with the result that Alan Foot would miss these attacks. On the November raid, Jack Singer was declared sick and so the Air Bomber's task was taken over by P/O Dennis Nolan, who was not down to fly but volunteered to make up the crew. Dennis was to 'dine out' on this odd twist of fate for the rest of his life, as the man who dropped the final bomb which capsized the battleship.
Doug's crew were used mainly for the Tallboy raids but because 9 Squadron also took part in main force operations with 5 Group, they now shared the aircraft with an Australian crew captained by a pilot, whose name I believe was Ayrton. On completion of Doug's thirty-operation tour, the crew decided to carry on for a second tour together, as they had become such a good team. I recall Douglas telling me that another reason was he did not fancy taking on the task of Instructor Pilot, in the light of the statistically high rate of accidents with training establishments.
In Spring 1945, the crew acquired a replacement Air Bomber, Douglas Jennings, to take the place of Jack Singer now returning to Canada. Doug Jennings was what was termed as 'an evader', having been shot down when operating with 57 Squadron out of East Kirkby. Following the event, from 21st June 1944 he was moved about by the Dutch and Belgian Resistance and stayed undercover until the British 11th Armoured Division liberated Brussels. From there he emerged, returned home, was debriefed and sent to Training Command - much to his disgust, as he had been determined to return to an operational squadron. After much persistence, he got his wish. In 2005, Doug Jennings had his wartime adventures published by Tucann Books of Lincoln under the title 'Jump or Die' (ISBN 9781873257500). Within the last chapters, he described his time with WS-Y and includes photographs of both the aircraft and various members of the ground and aircrew, including all the peacetime tasks they undertook up to demobilisation.
Crew with some of the ground crew (kneeling)

As a teenage schoolboy, I was to see WS-Y twice - the first time when Dougie and crew were returning from RAF Lossiemouth when he did what I believe was termed 'beat up the town', flying low over Carlisle city centre at about two hundred feet. This happened one Saturday morning when I was walking down English Street with a friend. WS-Y was so low, I could read the squadron markings and with a deafening roar from the four Merlins, it caused much excitement. I rushed home to tell my mother. My father - a serving Police Sergeant - would no doubt be already aware! She put it down to youthful enthusiasm. Two hours later, he walked in through the door in his flying kit. They had put down at one of the local RAF bases and whilst his crew were being entertained, Douglas had got a lift into the city.
In the late summer of either 1946 of 1947, a number of 9 Squadron Lancasters were flown into RAF Silloth, having been converted into a Maintenance Unit. I was spending the day nearby with a school friend and we would spend considerable time observing the aircraft on the former Coastal Command airfield, which used to operate the large four-engined Liberators, flying out over the North Atlantic to protect the Allied convoys. On this particular day, I was to see WS-Y lined up with a number of other 9 Squadron aircraft, being stripped of certain pieces of equipment before being flown on for subsequent scrapping. Returning home, I told Douglas who was now a ­civilian Post Office telephonic engineer. He used the opportunity to travel the 20 miles to see that most reliable Avro aircraft that had brought him and his crew home safely on so many occasions.
In post war years, Douglas returned to the RAF as a weekend member with 607 City of Durham Auxiliary Squadron although I am sure he was never to feel the same about any of the subsequent aircraft - even jets - that he had experienced with WS-Y. Douglas did not, as we used to say 'make old bones' dying of a coronary at the age of 69 whilst working in his garden in company with his wife Margaret. At the Church service, I was privileged to meet his former crew members who had travelled from far and wide. Jack Singer came all the way from Canada. The Bomber crews became as close as natural brothers, so reliant on each other in times of great stress and danger.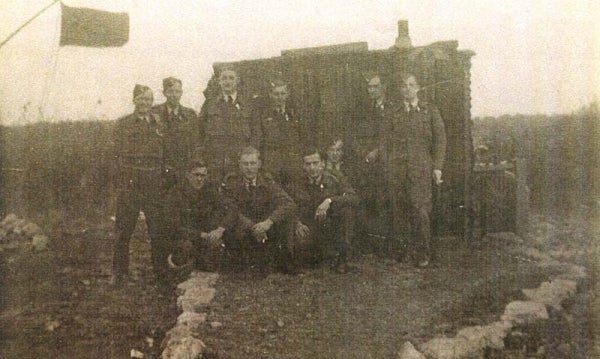 The ground crews' little hut on the perimeter's dispersal, it would give them some shelter from the inclement wather, when working outside on the aircraft


I celebrate my 80th birthday this year and fortunately still have a retentive memory. I just have to close my eyes to visualize our old family Victorian style home during those most exciting and interesting days of WWII. Along with my brother Robert, I subsequently became active in the Royal British Legion, having clocked up nearly fifty-six years of involvement in the Poppy Appeal. It helps me to remember, respect and salute the efforts of the men and women of all ages who have given and continue to give their all for the freedom of our country.
Thank you, Corgi, for selecting Doug's aircraft as the example of the Lancaster. Knowing him well, I'm sure he and all his mates would have been proud to see you 'Keeping their Memory Bright'.
As a postscript, readers may be interested to know that Doug's daughter, Dr Maggie Tweddle who moved to Canada in 1983, officially opened the Lancaster Museum's display 'Sinking of the Tirpitz' on 12th November, 1994, the fiftieth anniversary of the final raid, for which her father was awarded the DFC for his part in the sinking.
The Corgi Collector
http://www.corgi.co.uk/
Corgi's famous model vehicles captured the imagination of millions of baby boomers and, what were once simply toys for boys, are highly sought-after in the expanding collectables market.
Some models, in mint condition and complete with box, which originally sold for a few shillings are now fetching hundreds of pounds. Today, the majority of Corgi cars, trucks and buses are produced as once-only Limited Editions and are often sold out within weeks of release.
Although top prices grab the headlines, diecast scale model collecting is an easy hobby to start and many vehicles, both old and new, can be acquired for a few pounds.
The Corgi brand was created by the Mettoy Company of Northampton which first started to produce colourful, pressed metal toys in the 1930s. The name Corgi (after the Welsh dog) was chosen for three reasons: first, because it was short and catchy; secondly because the models were to be produced in Swansea and thirdly because of its strong association with the Royal Family.
The first Corgi models appeared in 1956 and covered British-built saloon cars of the period. Names redolent with nostalgia including the Ford Consul, Austin Cambridge, Morris Cowley, Riley Pathfinder, Vauxhall Velox, Rover 90 and Hillman Husky were among the first to be produced. Each model sold for 3/- (15p).
Always at the forefront and to ensure a point of difference from other die-cast vehicles, Corgis were sold as the ones with windows. Other later innovations included Glidamatic spring suspension, opening bonnets and boots and diamond jewelled headlights.
Without doubt, Corgi's best known model is James Bond's Aston Martin DB5. First produced in 1965 and featuring ejector seat and front-mounted machine guns, it was an instant success earning the UK Toy of the Year Award. Priced at around 10/- (50p), by 1968 more than 3.9 million had been sold. At an auction, a rare gold-plated version given only to visiting VIPs to the Corgi factory made £1,300.
One of the top selling models of all time, reaching five million units, is the 1966 Batmobile. Other best sellers include the John Player Special Lotus Formula 1 racing car and the Ghia L 6.4 (which had a moulded Corgi dog lying on the rear parcel shelf).
In 50 years, Corgi has produced models of virtually every type of car, bus and truck. Some of the most sought-after model cars include the 1965 Monte Carlo Rally Mini Cooper S (£300 to £400); the 1966 The Man from U.N.C.L.E's 'Thrushbuster' Oldsmobile (£250-£300) and the 1959-61 Ford Thunderbird Hardtop, pale green body (£175-£200). If you have got the right Noddy car, produced in 1969, lurking in the attic it could be worth an amazing £700 or even more!


Tags: Corgi
---