It is hard to make money from running a plastic kit business it would seem. Since the very first injection moulded kits were introduced into the UK in 1936, many companies have come and gone. On paper the business model does not look attractive. Invest heavily in expensive steel tools, heavy marketing and promotion to sell a low-cost product with unattractive margins to a public that at best is nit-picking and can even be downright hostile. If you can sell 8-10,000 of each model you will recoup your tooling costs…
Airfix Type 1 box art for their largest kit at the time – the Vickers Wellington
Airfix, Kitmaster, Revell GB, Merit, Kleeware, Comet, Lindbergh, Faller, Lincoln, Aurora, KielKraft, Gowland, and FROG have all come and, in most cases, gone again over the past fifty years. Some have changed ownership, some have merged with competitors whilst others have simply disappeared; all of them tried to develop their own range of injection-moulded plastic kits.
So it seems slightly ironic that Hornby Hobbies, one-time owner of Tri-ang Model Land and FROG kits should now be the proprietor of perhaps the most famous kit line of all – Airfix Products. Both companies had dabbled in each other's markets with Airfix introducing model racing cars as early as 1961 and ready-to-run model railways in 1977. These competed directly with Hornby Hobbies' mighty Scalectrix and Hornby Railways brands, whilst Airfix kits took on Hornby's FROG construction kits up to 1976.
Directly competing against Lines Brothers' Scalectrix, Airfix Model Roads & Racing lives on in Jersey as MRRC
The history of the two organizations is inextricably interwoven as tools are bartered, sold, swapped, exchanged and even lost between the two protagonists. To try to unravel the story, let's go back the early 1950s…
Airfix Products was founded by Hungarian refugee Nicolas Kove to make cheap plastic combs by the revolutionary new method of plastic injection moulding. He chose the name "Airfix" as he believed successful companies should have names that put them at the beginning of trade directories. By 1948, Airfix was the country's largest producer of combs and was approached by Harry Fergusson, the tractor manufacturer, to see if Airfix could produce a cheap plastic model of one of his tractors for use by Fergusson salesmen. The limitations of the early low pressure and rather small injection moulding machines, most of which were hand-operated, meant that the Fergusson tractor had to be moulded as a series of smaller parts which were then assembled by a team of skilled workers into finished models. Fergusson pronounced himself very pleased with the model tractors and allowed Airfix to market them as a new toy under their own brand name "Airfix – Products in Plastics"
Soon it became obvious that more tractors could be sold if the price were lower and the best way to achieve this was not to assemble them, but to supply them as a kit of parts with a set of assembly instructions. Samples were made up in presentation boxes and approved by the Airfix board. However, when the boxed samples were shown to buyers at High Street retailer Woolworths, they were thought to be too expensive and a suggestion was made that the kit be supplied in a simple polyethylene bag with a printed paper "Header Card" which would double as an instruction sheet. Thus was born the very first bagged Airfix kit. It was an instant success and Woolworths buyers began to ask for different subjects to be modeled in the same way.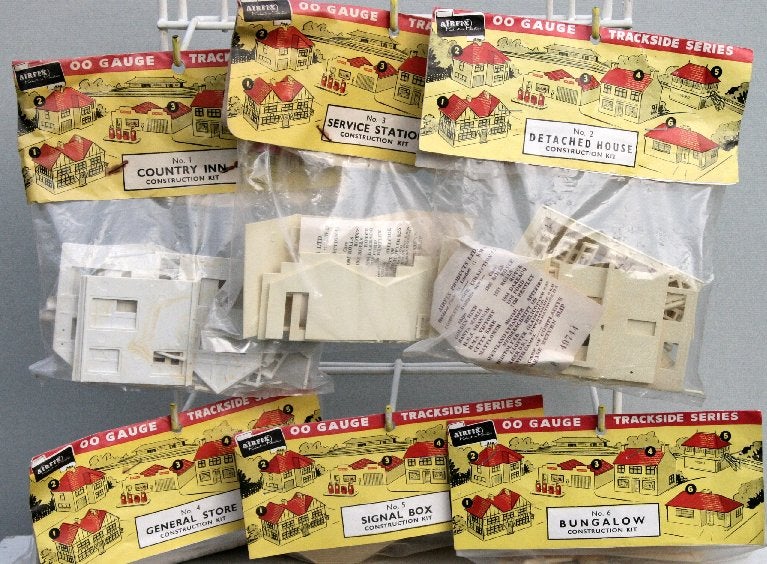 Early Trackside range kits gave Airfix a slice of the lucrative model railway market
Tooling began for a small sailing ship, the Santa Maria, and a model of the 4.5 Litre Bentley in 1/32nd scale. However, before these could be issued, another special commission was received, this time from the Shaw Savill shipping line. To promote their two new luxury cruise ships, the Northern Star and the Southern Cross, they wanted a plastic scale model to be available in the on board shop. Airfix rose to the occasion with a respectable, if somewhat simplistic, 1/600th scale model of the liner Southern Cross, issued in 1955.
The range of poly-bagged kits now included eight galleons, four cars and numerous aircraft, the earliest of which was the Spitfire, coded BT-K, an Me109G, Gloster Gladiator and Westland Lysander. In 1956 a rather good model of the Westland S55 in full BEA markings joined the range, the first of many helicopters. That year also saw the introduction of an entirely new series of Trackside Accessories "for use with OO/HO scale model railways", although in fact they were all 4mm/ft scale. The first six kits featured a Detached House, Country Inn, Thatched Cottage, Service Station, Bungalow and a Signal Box. This later was an accurate external model of the Midland Railway box controlling Oakham Level Crossing in Rutland. Although there was no interior the Signal Box was heralded by the model railway press of the time as a revolution in structure modeling. Several kits were re-packaged for the US & Canadian markets, the Booking Hall becoming "Railroad Station", the Shop & Flat became Store & Apartment, Signal Box became "Signal Tower",whilst Telegraph Poles became "Telephone Poles". The Trackside series eventually ran to more than twenty different models and remained in production with Airfix until their demise in 1980. From 1982, the range became part of the Dapol stable and is still in production today, some fifty years later!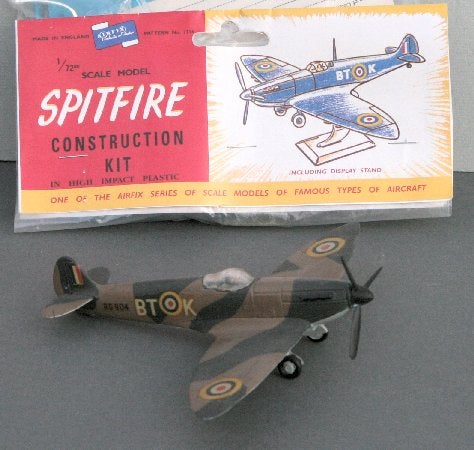 A The first Spitfire kit – BT-K from 1955
Meanwhile, Airfix diversified into more and more subjects. In the late 1950s Armoured Fighting Vehicles joined the kit line and polythene ready-made versions of the same joined the Toy Division (always kept separate by Airfix managers). 1960 saw the famous 1/12th scale figures introduced such as Napoleon, Joan of Arc and Henry VIII. Later still came life-size birds, a range of dinosaurs and science fiction subjects. By 1980 there were over 800 tools in the factory although not all of them were in use at once, as subjects came and went from the brightly-illustrated annual catalogues. Indeed some models such as the excellent Scammel Scarab, introduced to the Trackside Series in 1960, exited the catalogue by 1963 never to return, whilst stable mates such as the Mineral Wagon and Brake Van remained in near-continuous production from 1959-1980. The model trains section was boosted enormously by the acquisition during 1962 of the Rosebud Kitmaster range of locomotives and coaches. Eventually nine locomotives from the original 34 issued by Kitmaster entered the Airfix range.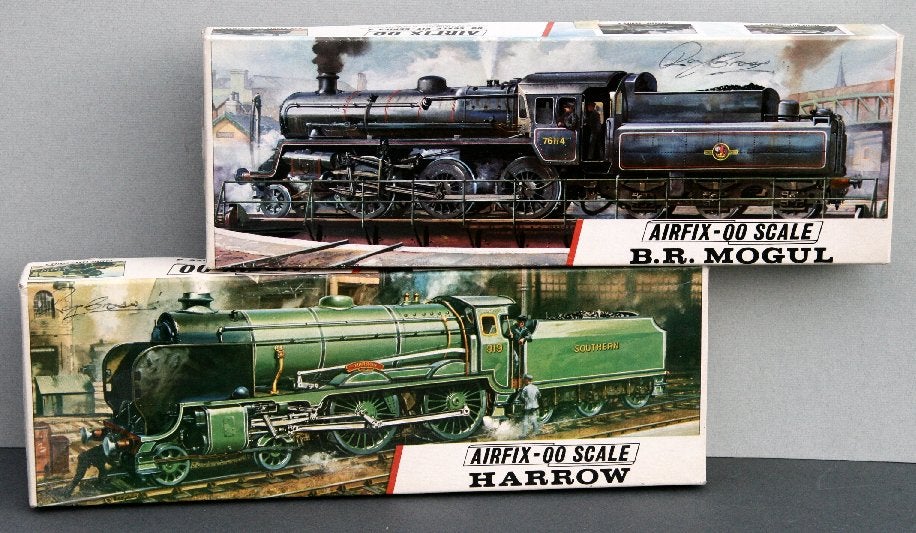 Two of the new Locomotive Range
The ex-Kitmaster tooling also gave Airfix their first motorcycle kit, the Ariel Arrow Super Sports in 1/16th, forerunner of an entire series in this scale.Airfix began to produce licensed products in the 1960s. The earliest was the Fireball XL5 model for Lyons Maid in 1963, although this was only a promotion and you could not buy the kit in the shops. It was followed by another Lyons Maid kit for Stingray in 1964. The 1965 introduction of the Angel Interceptor, Monkeemobile, James Bond & Odd Job figures and Bond's Aston Martin DB6 showed that Airfix could successfully licence and market film and TV related product. In today's TV obsessed world licensed products will be a key part of Airfix' sales strategy with subjects such as Wallace & Grommet already proving popular.
Airfix had plenty of experience with licensed products in the 60s; James Bond accounting for five kits
With interests in plastic shoes, storage containers and children's toys, Airfix was a diverse group. When Mecanno and Dinky Toys were purchased from the Receiver of Dumbee Combex Marx (owner of Tri-ang Hornby Railways) in the early 1970s the group was at its most diverse. It was also financially at its most stretched. The 1977 introduction of an entirely new ready-to-run model train system, Airfix Model Railways (Later "GMR"), was a severe financial burden on the company, with enormous tooling and launch marketing costs. The choice of a Class 31 diesel as the launch locomotive was unfortunate. The model was only slightly better than that already marketed by Hornby and the Mark 2 coaches, whilst well received, were limited in the liveries they could carry. In addition, equal numbers of each type of coach were ordered from the Chinese factory, leading to massive overstocks which persisted long after the demise of Airfix Products Ltd. Indeed, when Palitoy pulled out of the European market in 1982, pallet loads of Mark II brake coaches, which they had inherited as part of the Airfix Railways business, were literally bulldozed into a large pit outside the Coalville factory!
The financial pressure on Airfix led to its first collapse in 1981. A very nice OO scale assembly kit of a London taxi and Leyland Titan bus had been drawn up. They were not to see the light of day. The assets of Airfix were bought by Palitoy, owned by US conglomerate General Mills. Kit production was moved to the Heller factory at Trun in France, whilst model trains were consolidated at the Mainline plant in Coalville.. Unfortunately, General Mills decided to abandon toy production in Europe in 1984, resulting in Airfix coming back onto the market. Tooling for a ready to run "Schools" class loco and a range of Bullied coaches was in preparation at Coalville

but never issued. This time it was bought by the group which owned Humbrol and Heller, Bordon International. Kit production remained with Heller, but design management moved from Coalville in Leicestershire to Humbrol's HQ at Marfleet, Hull, the trade name Humbrol being an acronym for "HUMBeR OiL company"

It was very tempting for new owners of Airfix to work through the tool store rather than try to develop new models and there was certainly a lack of good new tools until very recently. Only in the last 10 years has Airfix been able to once again develop modern tooling to extend the range. A whole series of superb 1/48th scale models heralded the new era including a Blackburn Buccaneer and a de Haviland Mosquito. These were very well received and the future for Airfix as they passed their 50th Anniversary looked bright. However, Bordon had financially split the group into separate operating companies. Whilst Airfix appeared healthy and was launching fast-selling new products such as the ill-fated, but highly regarded, British Aircraft Corporation TSR-2 in 1/72nd scale, Heller was moribund. As Heller were still producing the mouldings for Airfix, this caused a major headache when in July 2006 Heller suddenly called in the French Receiver. Production was immediately halted in France and try as they might, Airfix could not get hold of kits made from their own tools! Unfortunately, with no end in sight to this dispute, Airfix lost the confidence of their own bankers, who called in their overdraft. This forced the UK company into liquidation as well. Two new moulds, the 1/48th scale Nimrod and a 1/72nd scale Lifeboat were in advanced stages of development, but not actually in the country or under Airfix control.

This was the situation that Hornby Hobbies found towards the close of 2006 and from which they have now successfully extricated the Humbrol and Airfix businesses. Hornby are well placed to run these as their Chief Executive, Frank Martin, is a former CEO of Humbrol. In addition, Hornby have always had an association with plastic kits ever since 1936. In that year, Lines Brothers, owner of Tri-ang, took an interest in a small company called IMA, International Model Aircraft. Earlier, they had developed a flying scale model aeroplane powered by a patented geared elastic band system with a novel winding handle. The name of this new product was "Flies Right Off the Ground", or FROG for short.

The idea caught on rapidly in the UK and overseas and every boy wanted a FROG for Christmas. Cheaper versions were produced as well as different models attempting to portray other prototypes. In 1936 FROG decided to introduce smaller, more accurate, but static scale model aircraft. They had been experimenting with a machine for making propellers for the flying models by injection moulding in cellulose acetate. It was suggested that this same, rather primitive,

moulding machine could be used to produce the new smaller aircraft models. To distinguish them from the flying models these would be known as FROG Penguins (a non-flying bird). Production was halted by the war, but at that time there were roughly 20 designs in production ranging from a Percival Mew Gull to a large Short Singapore flying boat. Numbers were limited and the cost was still very high by later standards, but post-war improvements in production techniques and polymers meant that by 1950 FROG was a leading manufacturer of injection-moulded polystyrene kits.

Throughout the 1950s and 1960s FROG kits sold well, eventually counting some 200 subjects in the catalogue including the R-100 Airship (pictured) airliners such as the Jersey Airlines Dart Herald and Quantas 707, together with the latest military planes such as the V-Bombers, represented here by the Handley Page Victor. The company was fully a part of Rovex Ltd and as such production moved to Margate in 1962. The parent company was Dumbee-Combex-Marx, a wide ranging and poorly managed combine with interests in several sectors of the toy market. When Dumbee Combex Marx was approached by a Russian trade delegation to discuss licensing its old tools, it was FROG kits which made the biggest impression on the men from Moscow. From 1972 until 1976 more and more FROG tools were sent to Russia until eventually there were none left in the UK. The idea was that the Russians would pay for the tools by sending back completed mouldings that could be marketed as cheaper kits in the West. Unfortunately the appalling quality of the polystyrene in use, the over-pressure running of the tools and unfeasibly long delivery times from the inefficient Russian factories all conspired to produce a wholly unsaleable product. Thus ended major kit production at Margate. But not every plastic kit tool had gone to Russia.

Tri-ang Railways had themselves developed a range of plastic assembly kits during 1960 called Real Estate. These were made by IMA at Merton for Tri-ang Railways and depicted a very nice range of buildings for OO and TT model railways (according to the catalogue). As the range grew and more buildings were added, production was transferred to Margate in 1964. This was the height of the range, which was re-launched as Tri-ang Model Land and now ran to more than twenty different models. The self-coloured plastic kits were easy to assemble and combined traditional dwellings such as thatched cottages and country inns with ultra-modern offices and shops. A church was included in the range and a fine model of an electricity pylon (based on one outside the Margate factory) was introduced. These two kits were to become the last items of Model Land to stay in production, with both marketed by Hornby Hobbies up until the late 1990s.
Hornby still have one Model Land kit in their catalogue – the set of three Pylons, modelled on the one outside the Margate factory

In 1972 Hornby had licensed a series of trackside structures from German kit company Pola. These included an operating lifting bridge and a coaling stage – both to Continental scale and pattern. Several of the subjects chosen to join the Hornby range had previously been licenced to both Jouef and Playcraft Railways, so had really done the rounds! The rest of the Tri-ang Model Land tools were shipped to Hong Kong at some point in the complicated history of DCM and got separated from the bulk of the Hornby Railways business when it underwent a management buy-out.
The tools eventually returned to the UK only to find their way to Dapol Model Railways in Winsford Cheshire (later at Llangollen in Clywd), who had also purchased from Palitoy the Airfix Trackside kits together with Mainline and Airfix GMR trains. Dapol put the former Model Land tools into production as Dapol Land (Imaginative!) although they did re-name some of the kits. When in 1998 Dapol was approached to sell the Airfix GMR and Mainline tools to Hornby, the circle was completed. However, the plastic kit tools remain with Dapol to this day.
So today we have Airfix construction kits being made by Hornby, together with Airfix GMR trains, but not the Airfix trackside kits, which are controlled by Dapol along with the original Tri-ang Model land tools. And what of FROG? Some of their tools were sold off to Revell and Matchbox as the Russians did not want models of "fascist aircraft" whilst others are with Eastern Express and still in production.
After such a long and convoluted history, one wonders what the future holds now for the famous Airfix brand? At least today Hornby Hobbies is flying high with good financial results, sound management and a broad distribution network. Airfix fits well into their portfolio and Hornby may be just the right company to give it the stability it needs to develop and launch the products that will once again make it the most famous kit manufacturer of them all!
Tags: Kits
---