Over the course of the many years the motor car has been build brands have come and gone. Some existed for only a few months, where others existed for over 100 years, like Mercedes-Benz, Renault or Ford. This blog post is trying to focus on brands that do not exist any more. From well known to lesser known. Let's kick of with some that are more known:
Saab has gone bankrupt recently. Not too many scale models of Saab have been done and this 1:72 scale Yat Ming is maybe one of the nicer ones done.

Yat Ming - Saab 9-3 convertible.
Pontiac is one of the brands fallen victim of the banking crisis that still affects many on the globe. The miniature made by Hot Wheels is rather fittingly from their Boulevard Series

Hot Wheels - Pontiac Fiero 2M4
A perhaps lesser known brand is Wolseley. Except for the island in between the Irish and North Sea, this brand was probably now widely known, though the commonwealth countries did get some of them.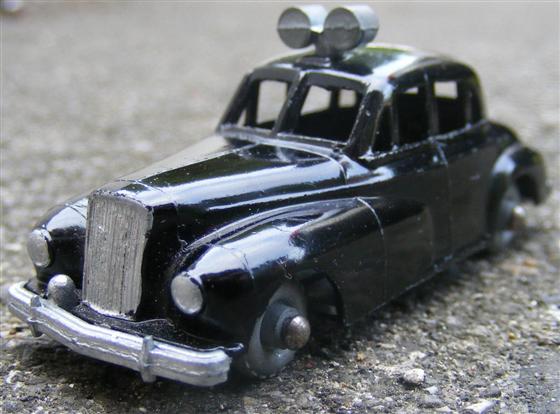 Budgie - Wolseley Six-Eighty
Wartburg is a brand unknown to most outside of central Europe. It was made in an ex-BMW factory, but used technology from DKW, which is another brand that dissapeared, though it kind of survives in modern Audi.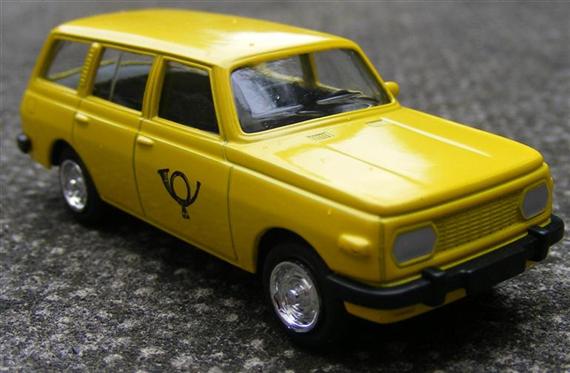 Grell - Wartburg 353 Tourist
Acandian was a brand solely used in Canada and that for less then twenty years. General Motors wanted their Pontiac and Buick dealers to have a car in the compact class and they decided to start this brand.

M2 Machines - Acadian Canso Sport Deluxe
Alvis is nowadays mostly known, if at all, as a military supplier, but they did made some interesting motor cars. Enough for Oxford Diecast to make this lovely 1:75 scale Speed 20.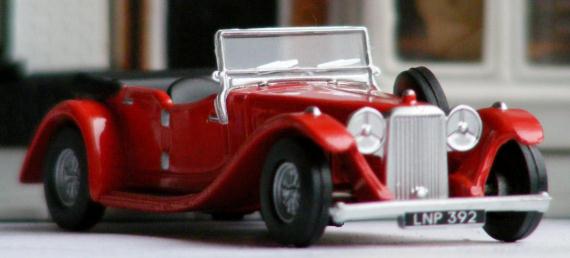 Oxford Diecast - Alvis Speed 20
Armstrong-Siddeley was formed out Armstrong-Withworth and Siddeley-Deasy. They had a hard time and in the 60 they stopped producing motor cars. This fine example is also made by Oxford Diecast.
Oxford Diecast - Armstrong-Siddeley Star Sapphire
Matra was a French airplane factory that started making motor cars. They are mostly known for their racing cars, especially their Formula 1 and Le Mans efforts in which Matra cars have enjoyed successes. This is the Bagheera, a sports car which was scaled down by Majorette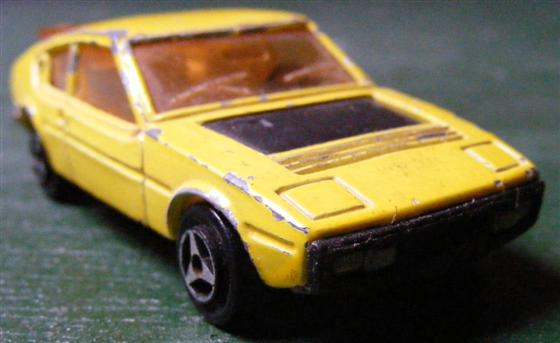 Majorette - Matra Bagheera
Plymouth was a Chrysler brand that stopped in 2001. In fact it marked the start of the end for many known American brands. It was setup to make slightly cheaper models to mate Chrysler and was known for some interesting cars at the end of the milennium. It was not enough to save the brand.

M2 Machines - Plymouth Belvedere
Hudson was one of the last small independants to fight the big three. It was absorded in AMC that in the end could not fight them either and was swalled up in Chrysler.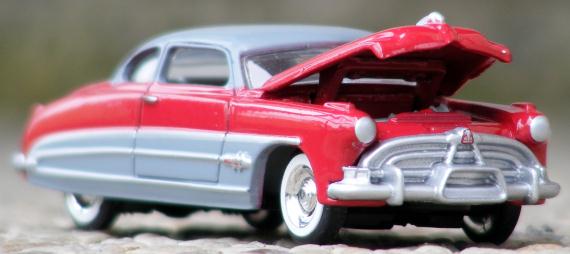 Johnny Lightning - Hudson Hornet
Reliant is known in my home country (the Netherlands) as a brand of three wheelers, so are they for the most part in their home country. Outside of (Western) Europe few people might have seen the Scimitar, an interesting four wheeled Shooting Break. It was instrumental in setting up a motoring industry in Israel, Turkye and to a lesser extend India. It also had connections with Greece.
Oxford Diecast - Reliant Scimitar GTE
Dixi was the predecessor of BMW no less, although at that time it made a licensed version of the Austin Seven. It was made in what was for some time Eastern Germany, so after the war the car production had to restart in Munich. The old factories of BMW used to make the Wartburg. Which is the name of a nearby castle. Interestingly, I think this is the only small scale diecast vehicle made in Eastern Germany - probably due to material cost - as all other small scale vehicles were made in plastic.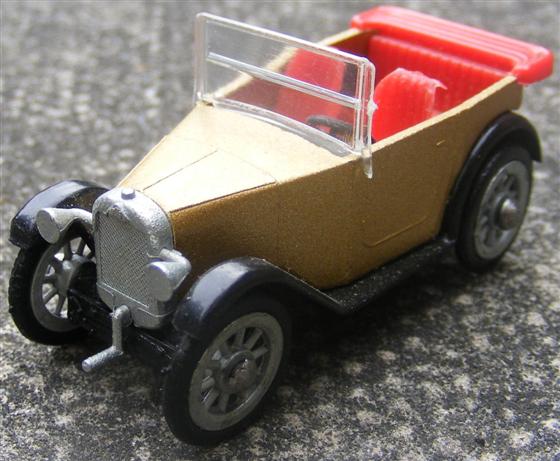 Espewe - Dixi 3/15 DA 1
Delahaye was one of a couple of French companies that made large touring cars. Others were Bugatti, Hotchkiss and Delage and they all stopped a couple of years after the Second World War as the French taxes killed these expensive cars off. Almost none of these vehicles have a small scale example made, except for Bugatti maybe. This particular one was made by Spanish Guisval in a small but delightfull series of classic cars. I hope I will once be able to find all.

Guisval - Delahaye 135M
Japan's motoring history seems to be one of only success, but that is not the entire story. Most of the Japanese car manufacturers, like Toyota, Nissan and Isuzu, started out before the Second World War, though some started before that before becoming extinct shortly after. Others started after the war to build cars for the KEI law, which limits the size of the car and it's engine. One of those was Tama, which evolved into Prince. Prince was taken over by Nissan. One of Prince's most iconic cars still lives on; the Skyline.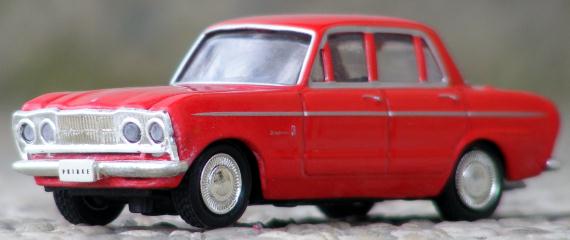 Targa - Prince Skyline 2000 GT-B
Autobianchi used to be called simply Bianchi and was one of the oldest car manufacturers of Italy when they were taken over by Fiat. The brand was used for a couple of experiments and the Autobianchi A112 is a good example of this. It would become the Lancia Ypsilon.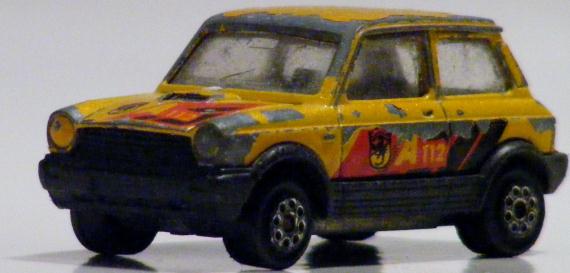 Majorette - Autobianchi A112
Hispano-Suiza was one of the most luxurious brands of cars in the 1920 and 1930's. It is now largely forgotten, though it used to be on par with the likes of Rolls-Royce. A Hispano-Suiza is made by Johnny Lightning, as it featured (shortly) in a James Bond film, whereas the shown example comes from Spain itself.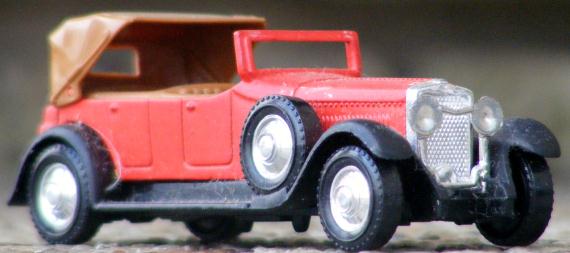 Guisval - Hispano Suiza H6B
Daewoo of South Korea came from a checkered history of predecessor companies, among them was General Motors Korea. Daewoo used these vehicles to start their own production and kept manufacturing for General Motors. The Pontiac Racer for example came from Korea. Daewoo became the biggest Korean victim of the Asian Crisis in the end of the nineties. This particular vehicle is actually made in license from Honda.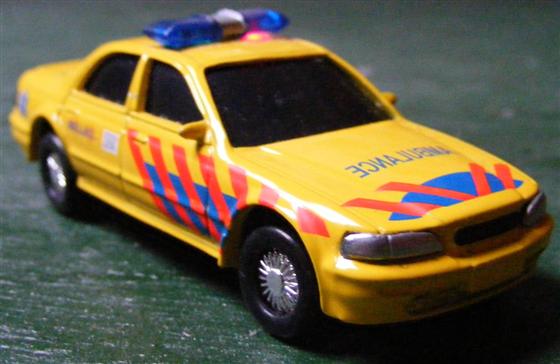 Tins Toys - Daewoo Arcadia
I could have entered many, many more makes, but maybe it's interesting what you can come up with?
Tags: Vehicles, Tales of Toy Cars
---