Some of the guns that I have in my collection.




From left to right: No 1201 Royal Artillery 18 pounder gun introduced into the Britains line in 1930. Next No 1292 Royal Artillery 6 inch howitzer introduced 1934. Small gun No 1263 could be the 13 pounder. Last is the Confederate Artillery that came in a set with two confederate gunners No 2038 and 2037 for the Union set. introduction into Britains was before 1930 although this gun was made again from 1951 and re numbered 2057 and 2058.




Britain's 4.5 inch Howitzer No 1725. This rubber tyre wheeled gun was introduced in 1939 and was available until 1967. Early guns had brass elevating adjuster knob and later replaced with die-cast one.




Gun on the left has a home made brass elevating adjuster knob.




Britains modern artillery. British Anti-Tank Gun 9720 released 1960's and 1981




Left 105 mm Pack Howitzer No 9724 released in 1960's




Right German field Gun PAK 38 No 9732 released 1974




Two pounder Light Anti Aircraft gun No 1715. If mounted on 4 wheeled trailer with swing out boom stabilizers it was No 1717 available from 1939-40 and 1946 to 1962,




In travelling position.




Set up for firing position.

18 inch Heavy Howitzer on tractor wheels. No 1265. has realistic breach loading mechanism and ammunition and shell incorporating spring loaded that firers the shell when breach is close triggering the release. Introduced about 1920 and had number changed to No 2107 in 1955. Production stopped around 1980
Below older version white metal or tin lead casting



Average play wear damage missing breach and the brackets plates.separating the trails and gun platform frame. Tried to make my own using a plaster mould. Alas hot metal usually doesn't like plaster and the consequences is that the hot metal spewed out leaving a nice hole in one of the plates.




Above later version in Zalmac casting although looks the same but different breach and elevation bracket underneath is on the side instead of barrel recoil housing and the barrel slides out which is a separate casting. The older version has the barrel moulded into the recoil housing.

Below showing the underneath elevation and the early type breach.




25 pounders.




1960,s 25 pounders No 9705 and the later version No 9704 released 1977.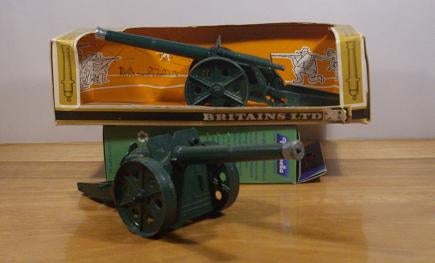 Above 1960's 4.7 Naval Gun No 970




On the left is No Rd 388707 first produced in the 1900's as the word Depose is written on the barrel indicating registration for sale and manufacture in France. This gun also had the enclosed trail covering the metal flat spring. In 1915 Patent was taken out and the new boxed trail had left the flat spring opened. Also on the side of the box trail one can see the Patent date. The in 1933 it was given a set number which included a naval officer No 1264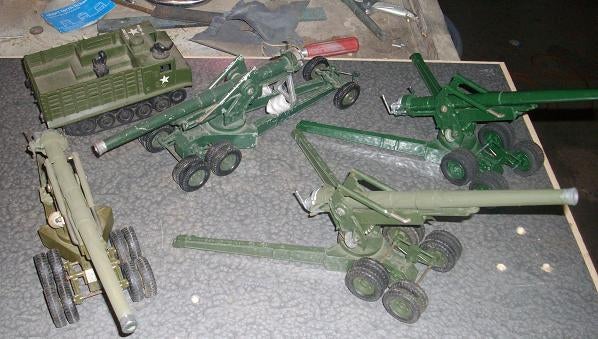 Collection of 155 mm guns No 2064 first introduced in 1953 and continued well into the 1966's

Some of these I have had to repair and make some spare breaches.
Tags: Military
---