BAYKO 10
(also available with bigger pictures and no adverts at - 2484.members.page4.me )
L'Hotel De Treville
The further fencing fables of Alice D'Artagnan'
Part 3 - 'The Taking of The King'
see also Bayko Baron 8,9,11 and 12
'Maison Saisir','L'Abbaye Ste Lavine','La Rochelle' and 'St Cecilia's Sisters of the Sacred Sibilance'

Nestling amid the Baroque palaces of the newly fashionable Faubourg St Germain, L'Hotel De Treville serves as the headquarters of the King's Musketeers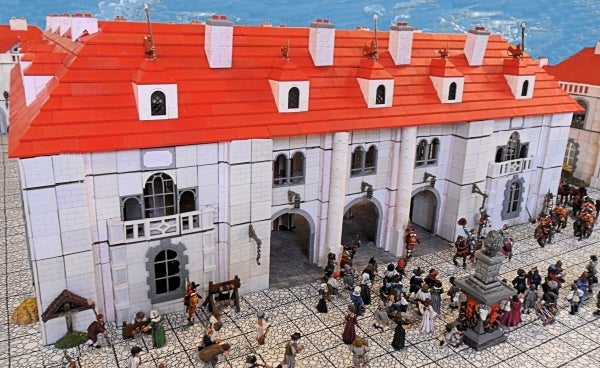 Today they are to recieve a royal visitation.

King Louis and Queen Anne indulge the citizenry

While the King's chief minister, Armand Duplessis, Cardinal Richelieu, a martyr to his anal fistula, arrives by coach.

The royal couple are welcomed by Monsieur De Treville and young Alice D'Artagnan, who is to be enlisted today.

D'Artagnan's companions, Bathos, Pathos and Chanel, along with his mistress, Constance Bonacieux, the Queen's dressmaker, lead the other musketeers and their ladies in raising a cheer.

D'Artagnan takes the oath and receives the covetted blue tabard and brass-bound matchlock from Queen Anne - along with permission to wear the red-heeled bucket boots - but he can get those for himself !!

Another cheer goes up - 'All for some and a few for another!' Now they are - The Several Musketeers.

But what's this? Under the walls of the Luxembourg itself a rascally rabble of renegade, rebellious, rapscalliony, riotous rogues is assembling (damn - could you pass me my teeth. Thankyou!) - it's the Huguenots!

And at their head, Guy Sansmenton, wayward heir of the baron with the puritanical reverend rabble rouser Deuteronomy Clapnose at his side. And at his side... Dribble the Doberman doing his best to cool things down as ever.

The rebels burst into the yard and a desperate melee ensues as non-combatants flee and gentlemen musketeers find themselves bizarrely standing shoulder to shoulder with the Cardinal's men

The air fills with a cacophonous din - the shrieks of ladies, snarl of combatants, groans of wounded, crack of matchlocks and ring o' steel on steel. No doubt the neighbours will be complaining !!

Betrayed by doubt Cardinal Richelieu summons his minions. Milady Lateautumn must reach the Place St Roch and order his coach round to the side entrance. Meanwhile Rochefort, the cardinal's living cheese, must take some guardsmen and clear the line of escape.

But the renegades have anticipated just such a ploy. Under the walls of the Canalavert Rochefort is taken at pistol point. The agent , unfortunately wearing royal blue today, is bundled into the coach by men who have never seen the King in the flesh.

Mission accomplished the rebels try to retreat, but the Cardinal's guards are close at their heels and corner a gang of them by the Guild House arcade. This is no moment for surrender.

King Louis takes his leave before L'Hopital, under the bust of his father, Henry IV, murdered by an assassin. Two of the Huguenot taken alive are shown to the king.This incident is the final proof that something must be done to curb their menace!
you can see an alternative photo-set at:
Tags: Bayko, Construction
---