Bayko 41
you can see a sharper photoset of this story at:
2484.members.page4.me (password 'waterloo')


1520 THE FESTIVAL OF PEACE
Nova Carpena , the Festival of Peace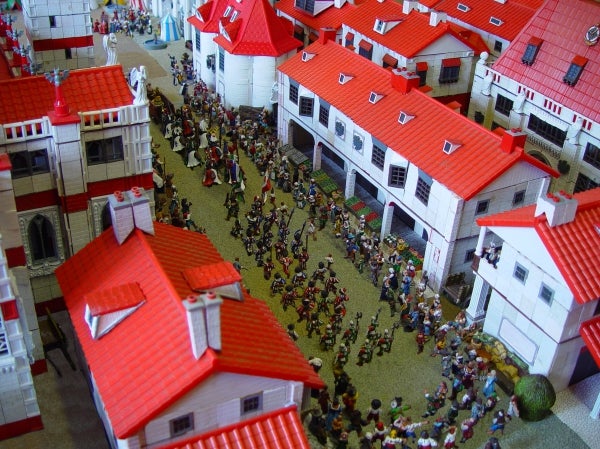 The parade moves up The Strada to the Piazza Signoria
At its head the image of the Redeemed Magdalena draws its usual adoration
While behind, the knights of the three nobles houses jostle to be her escort
At the Duomo Cardinal Strozzi waits to welcome her back for another year
On his left Bishop Alto, on his right, Arnolfo Carpi, the town's 'Capitano'
Exiled to the fringes, Don Dodjee and Don Schiffti, smoulder under the mockery of Boffo, Carpi's fool
With the Magdalena safe once more the celebrations can begin
As always the joust ends in a Carpi triumph, and the Don celebrates with a deafening blast from his new fangled 'gonne'
Determined not to be bested, Dom Schiffti's pop gun offers a feeble reply
While Don Dodgee's intended show-stealer turns out to be a humiliating damp squib
And now, with the noble metal-bashing over, it is time for lesser men to show their skills
Yet again the blue clad 'Dead Eye' Rizzi takes the prize
Just as it is Team Carpi who win the aptly named 'Bolt from the Blue' contest
and finally the archers, with Team Carpi given pride of place and loosing first
While Don Carpi consults triumphantly with his jester about what final message to send across the piazza
At which point something snaps and the men of House Dodjee and House Shiffti unite in a show of their own marksmanship
Time for an... adjustment. For the Carpi caballeros it's a ransom, for Don Carp himself - well, let's just say there's going to be a new Capitano next year.
But for Boffo?
Seems Signora Schiffti and Donna Dodjee have no sense of humour at all.
And so we leave Nova Carpena as the choir's 'pax vobiscum' rises to mark the end of yet another Festival of Peace - a special time that brings people together!
If you have a Bayko model you'd like to show or share, or simply want to chat, ask or discuss the construction set, there is now a public Facebook Group called 'Bayko Builders' - it's open to anyone, anyone can contribute
You can see the same story in sharper definition at
2484.members.page4.me
The Macellaria
The Congiari smokehouse
The Baptistry
The Michelozzo House
The Frontini Warehouse
The Grimaldi Bakery

The Signoria

The Palazzo Dodjee
The Palazzo Chiffti

Tags: Bayko, Construction , Figures and Toy Soldiers
---