BAYKO 38
also available with sharper resolution at: - 2484.members.page4.me - password 'waterloo'
for the full pirate saga visit 'Bayko Baron' 13, 14, 15, 16, 34, 37, 38, 40, 44, 45
'Lakjaw Manor', 'The Rescue of Calico Jack ','San Serif','Casa Lardo' ,
'Loom O'Shean', 'The Frantic Frog', 'Isla Isabella', 'Auto De Fe',' La Hachada',' Eldorado'
ISLA ISABELLE
A lesson in newtonian physics
Isla Isabelle - Sir Arnold Grasp's latest purchase. Once known as Snake Island, now renamed in honour of his daughter. Intended as a new 'Moustique' the hotel is now 'Casa Grasp' and big enough to accommodate all Sir Arnold and Lady Lavinia's entourage.
The Grasp Bunnies practice round the pool
Vesper Dream - late as ever
Team Grasp and the Triplettes (Lady Lavinia's Ladies) enjoy an impromptu drag race out on the runway
While up above Binky Twinge holds the Spad rigid as the Graspettes rehearse their latest show-stopper - it seems Fiachra has put on a few pounds!

Used for anti-submarine patrols during the war the islet boasts its own landing-strip, allowing Sir Arnold to fly direct. He pauses to brief the waiting press - brought with him for the purpose. First in line, as ever, is Desdemona Molewrench
Of course, a man like Sir Arnold doesn't just buy an exotic island for the sunshine or the privacy. There is, it seems, a matter of unfinished business concerning his wife's family.
It seems that James, 9th Lord Chinless, inherited an estate ruined by the Civil War. Restored to his father's throne Charles II could not also restore the fortunes of his supporters. In desperation, the young M'lord went West - and became 'Calico Jack Chinless', 'Scourge of the Spanish Main' - and none too popular in Hounslow either!
It also seems there was this Spanish treasure galleon, the SS Santissima, that ran into Calico Jack just off Snake Island.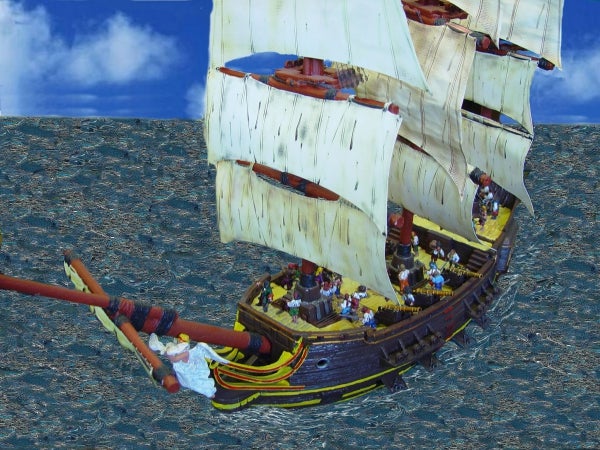 Out-gunned, outnumbered and with no advantage but speed, Calico Jack decided to attack - Bright! His plan was simple - to come in fast, swing for a single broadside at a range where his little 12's might do some good, then close and grapple, putting his trust in the power of harsh language and sharp objects. Simple!
Meanwhile, Admiral Ximenes (Knight-Commander of the Order of the Droopy Sheep, Preceptor of the Brotherhood of St Jim) also had a plan. Having just up-gunned from 24's and 32's to 48's on both decks he had the firepower to turn the pirate brig to nothing more than a memory, if she came close enough.
The Saucy Gladys swept in, sails aback as she came about at point blank range to let fly with her pop-guns
Almost simultaneously the Santissima replied with everything she had - and unwittingly gave a perfect demonstration of the newly discovered Newtonian physics ('to every action there is an equal and opposite reaction') as over eighty tons of timber and metal thundered explosively backwards and the big ship's centre of gravity shifted violently off the centre line.
Heeling dramatically the top heavy monster took water through her open off-side ports, her gunners unable to bring the tons of deadweight back against the cant of her decks. The rest was... gravity.
Stunned and relieved Calico Jack took the Saucy Gladys off in search of a dry dock and never came back. A few years later he went home, a millionaire several times over.
Never quite respectable though! It wasn't the piracy, that was just patriotism for profit. It was the wife he brought with him. Some commoner called Ethel Puttle. Good God! Had the man no sense of noblesse oblige at all!
Anyway, armed with ancestry and ownership, Sir Arnold has had his submersible, the Saucy G, systematically searching. Ironically it was barely a stone's-throw from Casa Grasp that something was found. A team of bottom-walkers, with a shark-cage for protection - the old methods are best for this sort of game - have brought up a trophy. It's bronze, unmistakeably Spanish, dated 1680 and a massive 48 pounder! Enough to make it worth hanging shark-nets between the buoys and starting some serious trea... marine archeaology.
Some weeks later, the final photo-shoot. Tricked out in his best suit with his acolytes doing their thing Sir Arnold films the final footage for the TV documentary (Ricky 'Dickey' Closeup directing) that will guarantee the international publicity and cover costs.
Meanwhile the men from the Turks and Caicos Government stand by to stake their claim

see also '2484.members.page4.me' - password 'waterloo' for a different photoset




Tags: Construction , Bayko
---