BAYKO 14
( a sharper photoset is available at  - 

2484.members.page4.me

 - password '

waterloo'

 )


'Baracudda'
28mm Pirates - Part 2: 'The Rescue of Calico Jack'
For the full pirate saga visit Bayko Baron 13, 14, 15, 16, 34, 37, 38, 40, 44, 45
'Lakjaw Manor', 'The Rescue of Calico Jack', 'San Serif', 'Casa Lardo', 'The Loom O' Shean', 'The Frantic Frog', 'Isla Isabella', 'Auto De Fe', 'La Hachada', 'Eldorado'
Execution day and the shackled pirate captains Violent Vinny Arbuthnot and Calico Jack Chinless (see BB 11) are led out from the cells beneath the courthouse to meet the jeers of the crowd. The militia's massed-formation musket-carrying team forms up around them to make sure there's no unsporting attempt to cheat the noose.
Along the quay the gin-palaces and grog-shops are deserted - no one wants to miss a good hanging!
The condemned men are led across to All Saints for a final dose of public hell-fire and damnation from the Reverend Drone
Meanwhile Chief Justice Flap and Trelawny A. Grasp, still nursing a damaged foot from his trip down the well (BB 11), take hot chocolate and listen to the sweet sounds of 'Johan Sebastian Clutterbuck and his hot string ensemble' to while away the moments till their revenge is complete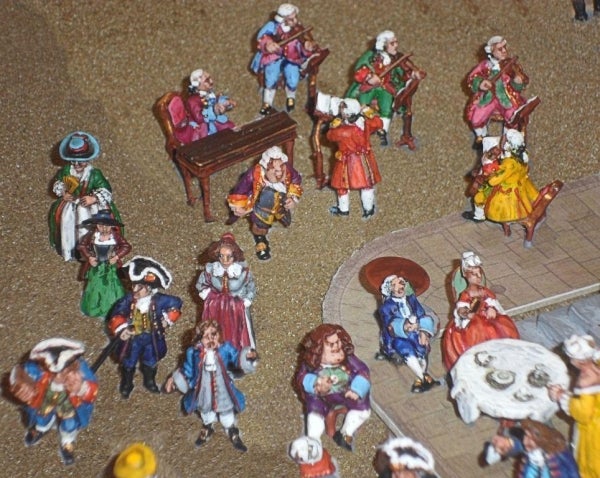 Elsewhere in town a clutch of Vinny's rascals meet outside Hubbersty's smoke house
While over in Shadbolt Street Calico Jack's old comrades have also convened - but no way either crew can outgun the militia
On Execution Dock, hard by the scaffold, two dangling cadavers serve as grim promise of the fate now looming for the two buccaneers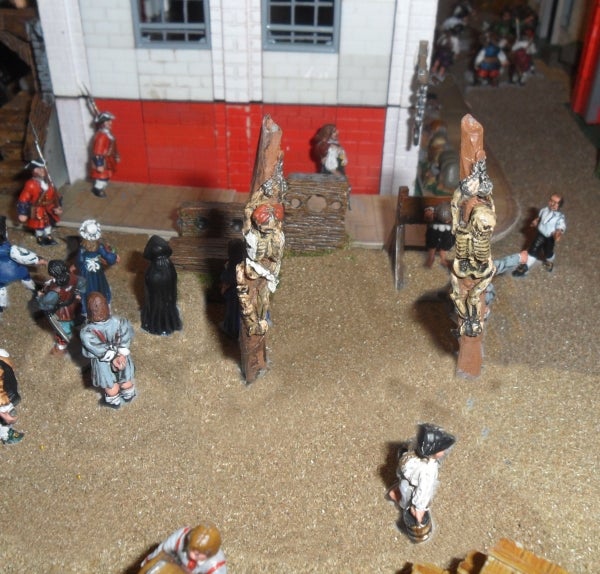 Meantime the pair are led to the scaffold where the town crier declares their doom as Obidiah Worm, Undertaker to the Court, stands by with his hearse in readiness and Jeremiah Glad, the hangman, beams down from the scaffold at his impending customers.
The human ear is a subtle thing, able to distinguish the jeers of the crowd from the sweetness of the clavichord.... yet still recognise the unique click of a flintlock. Obsessed with guarding their victims Judge Flap and Trelawny have neglected their own security. Now all those respectable citizens crowding round... are not quite so respectable.
And there, her blade a flicker at Trelawny's throat, is none other than Ethel Puttle - better known as 'Barracuda!'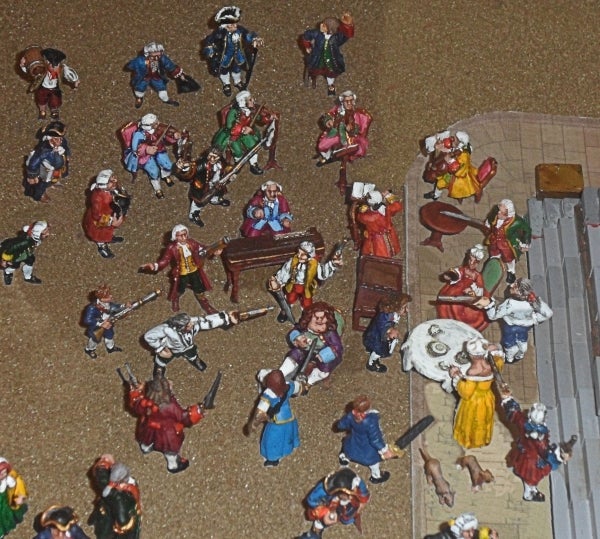 Naturally the Barracuda was never so foolish as to risk a Mexican stand-off. With the pirette comes her infamous brig - 'The Saucy Gladys Trusspott'.
As the brig slides in against the quay the militiamen find themselves staring down the muzzles of her long-toms
The militia stand by in scalding impotence as Trelawny A. Grasp is led off to explain his handling of accounts to his former shareholders...

......and the pirate chiefs, restored to their finery, turn to fleer one last time at the law-abiding citizenry
Meanwhile, J.S. Clutterbuck and the lads bang on till someone tells them to stop - while Dribble the Doberman offers a last critical comment on behalf of the Brethren of the Coast
you can see an alternative photo-set at:
2484.members.page4.me - password 'waterloo'
The Corn Exchange
The quayside
The Grammar school
Hubbersty's kipper sheds
Judge Flap's House

The 'Dutch Houses' - Dender's Coffee House and Velden's haberdashery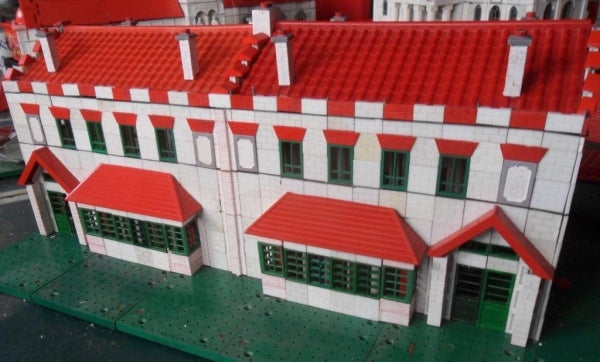 The 'Red Lion' tavern and the merchants' houses on Shadbolt Row
The Italianate twin campanile of All Saints managed to survive the Reformation
The new Guildhouse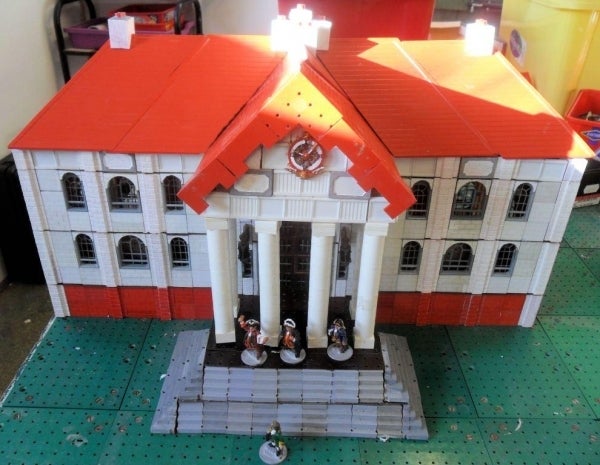 ---