BAYKO 19
( also available with bigger pictures and no adverts at - 2484.members.page4.me - password 'waterloo')
NEMANDIBLE HALL
Home of the Chinless dynasty since the 13th Century the present incarnation dates from the Victorian era, its predecessor having been destroyed in the nation's first insurance fire
Sir Arnold Grasp - plastic aerial millionaire, entrepreneur and local philanthropist but also proud husband to Lady Lavinia Grasp-Chinless and therefore Lord of the Manor. At his flank the ever-present Ms Thrash, his PA, sporting her trademark red boots. Rushing to serve his new master Umble - the under-sub-tween-neath-lower bootboy - attempts the trickey double handed fore-lock tug.
Sir Arnold casts a critical eye over his market garden. Ever the competitor the great man hopes to make his mark in the local community by sweeping the board at the annual Nemandible Parva Show - which his wife Lady Lavinia traditionally presides over
Augustus Proudknee, the Butler, still sporting the top-hat that he sees as essential when working outside the house, supervises the arrival of the equipment from 'Wotcha' magazine who care coming to do a photo-shoot at the Hall - the final proof that Sir Arnold has 'arrived'.
Lady Lavinia takes her morning dip, escorted by Seamus, another top-hat sporting member of the regiment of faithful old retainers that keep the Hall running. Like so many before and since Seamus' great grandfather came to plumb in the first water closet and never quite went away again.
A parting shot across the immaculately manicured front lawns - tended by Throb, the gardener, who inherited the job from 'Old Throb' his father who in turn.....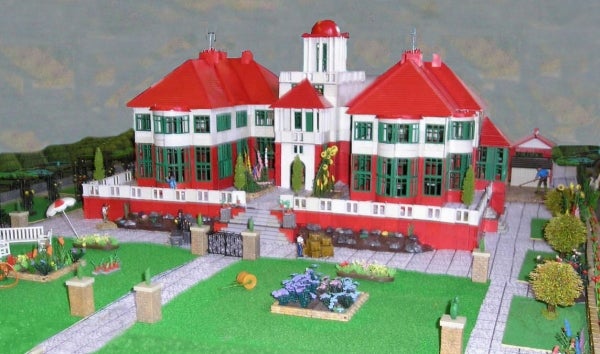 you can see an alternative photo-set at:
2484.members.page4.me - password 'waterloo'
Tags: Construction , Bayko
---