Vezelay En Lancre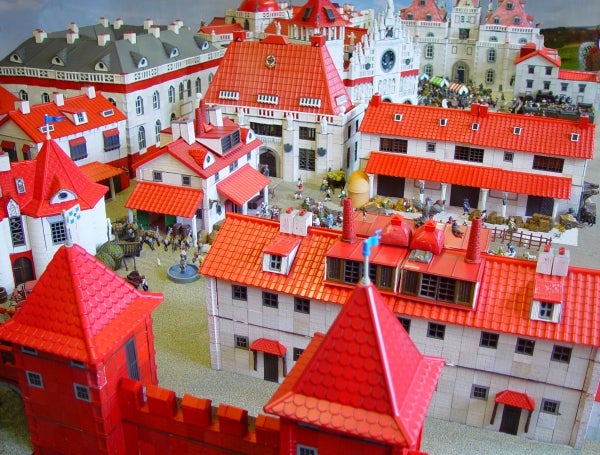 Vezelay a town divided, like many in King Louis' France, between Huguenot and Catholic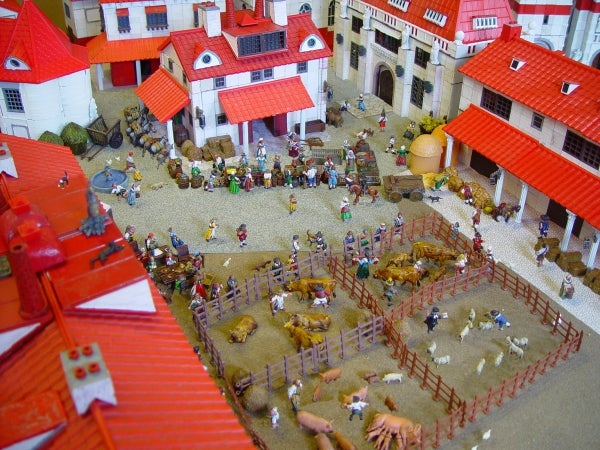 Today it is market day, a special occassion when rivalries can be temporarily set aside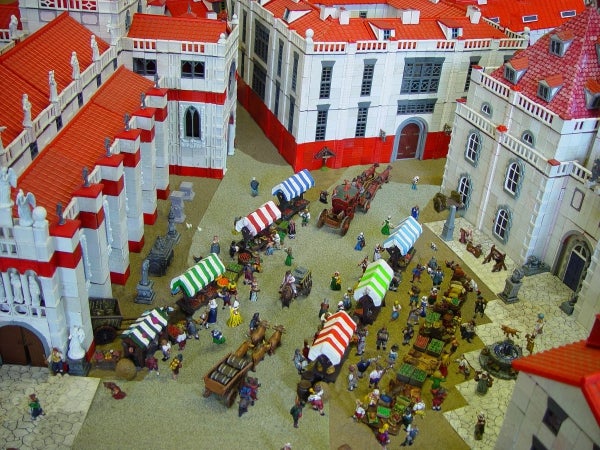 Outside St Etienne's the stall are already doing a brisk trade
Outside Florizel's some of the customers are already falling over the furniture
While across the way in Corporal Sanders Poultry Palace the proprietor is thinking of emigrating
In front of the chirch there's a witch-burning in progress, something everyone can enjoy. Today it's Gytha Ogg's turn, if she burns she is innocent, if not she's a witch!
Into this happy throng trots the Duke of Buckingham, come to plot with the Huguenots and loudly demanding 'Ou est Jean Marie Foucet?' - the man's a menace!
And his progress across France has not gone un-noticed, here at the other gate are D'Hussac and his thugs, come to arrest the buffoon and embarrass Her Majesty, Queen Anne, who is known to be the Duke's lover!
But not to worry, for here, as ever, come Bathos, Pathos, Chanel and D'Artagnan, sent by Queen Anne to save the day as usual
Meanwhile the Duke has caught up with Jean Marie, who turn out to be of the female persuasion - damn tricky these French names. Nor is she interested in starting a rebellion just to help the English! Poot!
D'Hussac meantime has run into trouble, finding the main street turned into a pig pen for the day he must continue afoot.
While the musketeers are also obstructed - by a wall of courtesy from Jean-Marie's Huguenot protectors
The good news is that with all this excitement in the offing they've decided to put Nanny Ogg on the back burner for the moment
Because here at last comes D'Hussac and his ruffians, bursting for trouble
Fortunately the disappointed Duke has already started for home
Leaving the musketeers to hold D'Hussac in play and give the crowd what they've come for - Ohh! Look at the punto reverso on that one!
And so we say au revoir to... What do you mean, what about Nanny Ogg?
Well, when the crowd got back it seems the good Granny had gone!
Well, according to Pierre, the moment the crowd turned away Ms Ogg simply stepped out of her ropes and snapped her fingers, whereupon a number of like minded women swept in and swept her up.
And with cries of 'Hi Ho Granny!' Were never seen again.
Of course you've got to remember that Pierre had been at Florizel's for some time before this happened
An so we can once more take our leave of Vezelay En Lancre
Though it's nice to think that Nanny Ogg, along with Magrat Garlick, Agnes Nitt and the inimitable Esme Weatherwax are still flying high somewhere! Not to mention Greebo, of course.



If you have a Bayko model you'd like to share or show to the wider world, or just want to ask or discuss anything to do with the construction set - there is now a Facebook Group called 'Bayko Builder' - it's open to the public, anyone can join, anyone can chip in.







Tags: Bayko, Construction , Other Stuff
---