story and images by Raed Ammari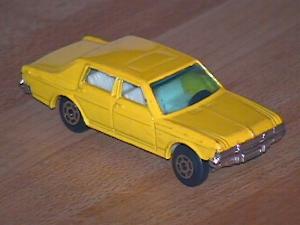 As a diecast collector, you tend to compare not just the models or the manufacturers, but you go all the way to the quality and the mistakes between like models. I have an older collection of Yat Ming models (about 70 cars in 1:64 scale) and could not help finding a few errors worth mentioning. Take for example, the two of blue Porsche 917 race cars , if you look closely at the photo, you will notice that the one on top has only 10 velocity stacks, unlike the one on the bottom with 12 ( go ahead and count them!).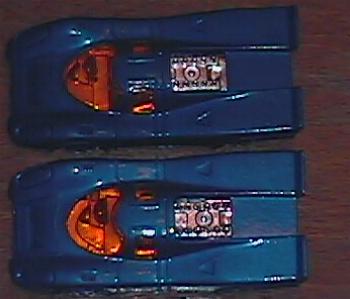 Yatming Porsche 917: Is the Porsche 917 a V10 or V12?
The Lamborghini Marzal is another interesting example, looking at the photo you will notice the deferent plastic widows colors , clear, light blue, blue. Take a closer look at the steering wheel and you will notice the different "position" of each wheel. I think a lot of manufacturing was done by hand.
Yatming Lamborghini Mazel: offers different window tints and steering wheel positions.
Making your own design is one thing but changing the original design is another thing, just take a look at the Porsche 911 Targa. You will notice a small window was added just behind the driver! This small window is only on the driver's side of the car. The right side is a pure targa design. The BMW 2800 has a big gap in the right fender, The Adams Probe has different types of wheels, front and rear (I believe some of the wheels are from Playart).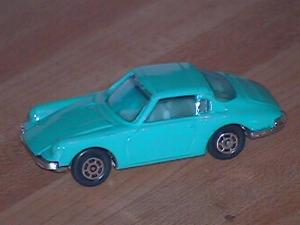 Yatming Porsche 911 Targa: The small window is only on the driver's side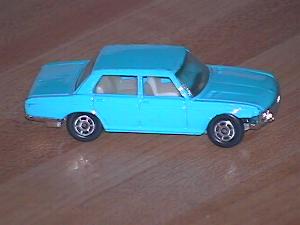 Yatming BMW 2800: offers a serious fender gap.
Yatming Adam's Probe: Not-Matching Wheels

On the brighter side (to be fair) there are some interesting models that I have not found any were else. The Opel Admiral , and the Datsun/Nissan Laurel 2000 SGX. As far as I know, only Tomica made this model. The Dodge Aspen and Volvo sedan are also rare examples of these cars. The 6-wheeled Elf Formula 1 race car was also done by Tomica and Polistil.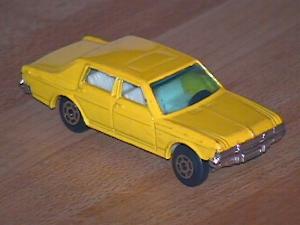 Yatming Opel Admiral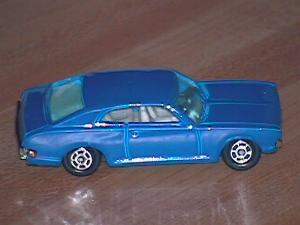 Yatming Nissan Laurel SGX: a Tomica copy?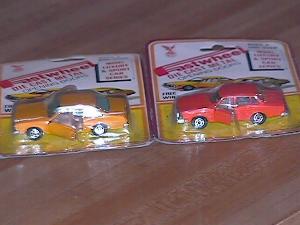 Yatming Dodge Aspen and Volvo Sedan: seldom seen in any scale
Yatming 6-wheeled F1: also a Tomica copy?

Some good quality models like the Maserati Bora and the Chevrolet Corvette show car (again with Playart wheels). The Jeep CJ also was nicely done in a lot of colors. Having all these errors in a relatively small collection makes you wonder is it bad or good having a collectable, one of a kind model? I believe it is up to you to make up your mind because lately I have seen some error cars sell for considerable amounts at online auctions. I would rather spend that money on expanding my collection and enjoy it as long as possible Of course, it is good to have some diecast cars that hold the or add to their value.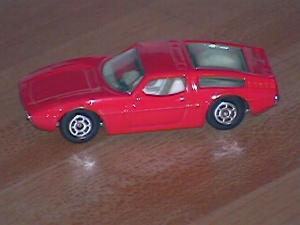 Yatming Maserati Bora: one of Yat Ming's best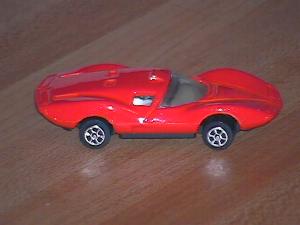 Yatming Corvette Aerovette: based on a Corvair platform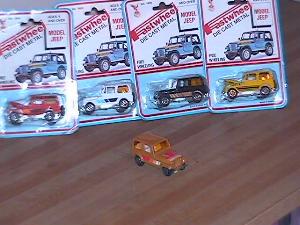 Yatming Jeep CJ5: plenty of variety

Tags: Vehicles, Tales of Toy Cars
---