The Airfix Tribute Forum is a fantastic place for Airfix fans and builders to connect and discuss Britain's favourite model kit brand and has grown in leaps and bounds under Richard Linnell, the man currently in charge. But as well as running this highly successful forum, Richard has a fascinating toy-related life story, as he, his father and his grandfather all worked for Mettoy in Northampton. We caught up with him and for a Q&A about Mettoy and the forum!
Your Mettoy-related family background is incredible - three generations worked there. Can you tell us about what your Grandfather, father and yourself did there?
My grandfather worked as a carpenter, which may sound strange for a toy factory, but he would have made and repaired temporary structures within the factory - pens for storage, partitions and display stands for the Toy Fairs. My father was Mould Shop Manager, responsible for the rotational moulding and related inflating rooms. From the age of about 14, I worked on Saturday mornings and  in the holidays, either cleaning, packing or general labouring. After attending College and working elsewhere, a  vacancy arose as Inflating Department Foreman. I was lucky enough to get that job. Later I was promoted to Mould Shop Manager and then following a retirement, was promoted to Production Planning Manager.
What was it like having a parent work for Mettoy - were there lots of free toys growing up?
It seemed like our house was full of toys. There were connections with other toy manufacturers and of course production of Corgi and Husky cars were based in Northampton before moving to  Swansea.  I had a Jouef train set because Mettoy  distributed them. Later there were connections with Palitoy and Mattel, so my own children always had a good variety of toys. Of course, the ready availability of them resulted in a blasé attitude, we never thought that the availability would stop  or that replacements for damaged toys would dry up.
Mettoy's most famous product!
What's your over-riding memory of Mettoy from the time you were associated with them? Does anything stand out about your time with the company?
One of my most powerful memories is of the smell of the factory. I realise now (under modern H&S laws) that it was mainly solvent based. Another  is of the literally thousands of people who worked there.  Almost 20 years after the factory closed, I still have good friends that worked with me at Mettoy.
When did you first get involved with The Airfix Tribute Forum? Had you been a keen builder before then?
Like many of my age, I built kits as a child, mainly Airfix, some Matchbox and the odd Aurora and maybe even a Revell or two. Then girls and marriage took my priorities for a while before I returned to modelling. I joined the Airfix Club and  regularly visited their site before its demise. Dave Coventry founded the Airfix Tribute Forum and asked me to become a Moderator on the site. He then promoted me to Administrator and then asked me to take ownership of the site when he was going through a major house move. I look on my  position as that of a Trustee, maintaining the standards and ethos that Dave set for the site.
How long has it been running and how many members/active members do you have at present?
Dave set up the ATF on 26-04-2006 and we now have over 3600  registered members of the site.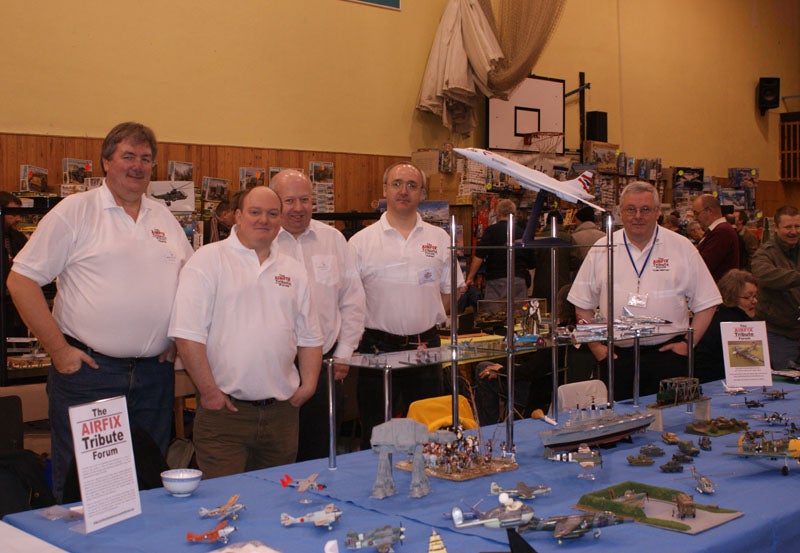 The Airfix Tribute Forum at Milton Keynes 2010 - Richard is on the left with (L to R) Stuart Carrier, Tim Jones, Adrian Cook & Colin Marrow.
How did the forum develop its relationship with Hornby/Airfix?
Dave, Brian Canell (another Administrator)  and I had  all made show samples for Andy Farmer. When Humbrol got into difficulty and the Airfix brand  was almost lost, we had to re-establish our contacts with the new Hornby team. Darrell Burge and Dale Luckhurst are always approachable and have kindly  provided new kits for ATF members to review. The toy industry has always had an element of secrecy about new products and when they're announced. There always is slippage in delivery for imported items, so modellers have always become frustrated by the lengthy lead times. Maybe my time in the trade has made me  more forgiving of these disappointments, and I think Airfix appreciate that we (at the ATF) respect their confidentialities.
Tell us a bit about how the forum works with Airfix - are you able to pass on suggestions for new models/re-issues, and do you get first looks at new models?
I know that several of the Airfix team look into the  ATF, and some participate in the chat. Adam Toomby (Graphic Artist) regularly contributed to the forum. We have an area where Most Wanted and Favourites are discussed, campaigns for the release of particular subjects are on-going. Given the lead time of conception to finished product (a minimum of 4 years for a totally new tool), I doubt we've had much  influence so far. But I know that Airfix monitor the wish lists as part of their market research. They have certainly re-tooled some of the older moulds that modellers were badgering for, replacing them with state-of-the-art moulds. Last year I had the pleasure of building HMS Illustrious and reviewing it for the Airfix Club Magazine. It was a rush build that I had to complete before Scale Model World at Telford, without instructions or decals, but I managed to deliver. I was pleased to see my build in the Trade Showroom at Margate earlier this year.
Airfix at this year's Nuremberg Toy Fair
Members also do builds for Airfix - tell us about that: do they ask for feedback before fettling the kit designs? And what happens to the built samples after the company gets them back for display?
Airfix have a group of builders. Test shots are generally made up by people involved in the design process (because they understand the limitations  and potential solutions in the manufacturing process). Any kits built for Airfix have to be finished to their criteria. Clean, out of the box,  colours and decals as per those advertised. Again, Airfix rely on a group of builders who can produce to their standard.  Models that 'do the rounds' on the show circuit and often suffer  fatigue from the constant handling; these are replaced. The kits provided for the ATF for review are kept by the builders and can often be seen adorning the tables  when the ATF/AMSIG display at shows.
What would you like to see Airfix doing more of? Do you have any particular favourite kits of theirs?
I build almost everything and anything. I love the variety and range of subjects that Airfix produce. I think its fantastic how Hornby have supported the re-tools as well as the new products. Over fifty new tools in four years (I think) proves Hornby's commitment to the Airfix brand.  It would be good to see some of the  80's  tooled 1/600 ships re-released, and I have a particular soft spot for the 54mm Napoleonic figures. I'd welcome a re-issue of the 1/12 Historic Figures too. AFV's and softskins have been rather neglected over the years, but the impending release of two Bedford QL's goes some way to redressing that. I guess Airfix must decide whether to stick with the 1/76 scale liked by wargamers or switch to 1/72 to match the popular aircraft scale.
Have you seen growth in the forum in terms of new users over the time you've been running it and how important do you think the internet is for the future of the hobby?
New members to the ATF have steadily increased from its conception - aside from the time when we published sprue shots of the Airfix Nimrod  for the first time and  there was an influx of 200 or so new members  overnight. The internet has opened new horizons for all modellers. A recent thread on this very subject revealed how (for many) it was a solitary hobby with little by way of support outside the local hobby shop or modelling magazine. The internet offers instant advice, genuinely helpful co-modellers, we all take inspiration from each other and sites like the ATF offer a  club atmosphere 24/7. A place where modellers from all over the globe meet and discuss. It has certainly widened my horizons.
Thanks Richard! And we can certainly recommend The Airfix Tribute Forum as a great place to visit!
- LaToya
Tags: Vehicles, Dream Toy Jobs, Kits
---