One of the most popular die-cast toy artillery hardware made during the 1950's and well into the 1970's was the 25 Pounder (pdr) Howitzer Gun. That had the capability of firing anything from matchsticks or manufactured envisaged shells that were initially provided with the toy by the manufacturer either made of lead or plastic included in the box or sold separately.

Crescent, Britains, Lone Star-DCMT, Benbros, Corgi and Dinky followed by Matchbox were the main manufactures within England, that endeavored to supply the world with these type of pull back spring loading apparatus, shooting toy missiles around the battlefield for children of all ages to enjoy.




Crescent really did capture the natural features of the 25 pdr howitzer developed during the Second World War, by having the turntable gun platform and included more detail on the protective shield and box trail than their competitors.




In comparison on the left in the above picture, Dinky also reproduced a very striking resemblance with their toy 25 pdr, although Dinky, never included any firing mechanism due to the small scale I suppose. In the middle is the Modern Military Series by Britains, while on the right is the Crescent 25 pounder.




The two versions by Britains.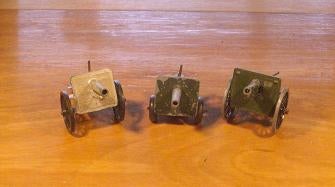 Above is the Lone Star on the left. DCMT-Lone Star in the middle while the Benbros is on the right. Lone Star and Benbros also made their 25 pounder with waggon type wheels as well as the rubber types.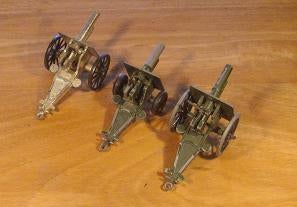 Very similar in design with box trail and the seating on each gun for the layer and breach loader on each side of the box trail has been included in these toys. Nearly identical, although with close inspection one can see slight differences with the individual modelling of these toys by their parent owners.




DCMT and Britains showing the difference in design of the box trail




Dinky 25 pounder was either sold separate or in a complete set.




Matchbox Super Kings No 116 and Corgi 25 pounder also came in a set complete with limber and Morris Quad for Corgi. Matchbox with a modern design tractor.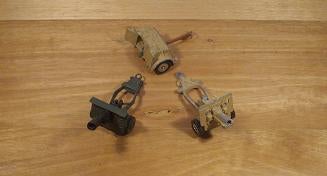 Eventhough Matchbox could represent any number of designed guns from that futuristic period, although one can only guess it was designed on the principles of the 25 pounder.




The Matchbox 1-75 series included the look alike 25 pounder No 32.


How we age with time. This picture was taken about 15 years ago at Dimboola. Now the gray hairs have taken over.

Notice that the 25 pounder hasn't got the muzzle break on the barrel end. The muzzle break was added on the end of the barrel in the 1950's.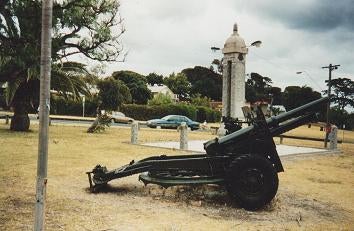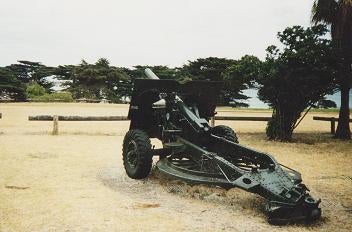 One thing is for sure any visitor to the land down under, would often bump into the 25 pounder in museums, memorial parks and often found in front of the Returned and Service League Sub-branches around Australia.
Tags: Military
---