Revell Peterbilt 352 Cabover Snap Tite

Written by
SuperDave
January 09, 2012 Hits: 2286
0.0
0.0

(

0

)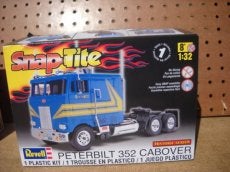 Product Reviews
| | |
| --- | --- |
| Manufacturer | Revell |
| Model Type | Vehicle - Truck or Lorry |
| Manufacturer's Reference Number | 85-1964 |
| Scale | 1:32 |
| Material | Plastic |
This one is geared more toward younger builders, but that's a good thing, because we need to get younger ones involved so that they'll stay in the hobby. It's a very simple kit, but looks good for a shelf model, especially with a trailer behind it.
The body is molded in what can best be described as a Petty Blue color. The side mirrors are molded with CB antennae in place, and there's a set of grab bars to assist a driver in getting in and out of his rig. Exhaust stacks are on the chrome tree. There are horns and clearance lights for the roof.
There is not much detail inside, but then again, it appears it would be hard to see inside anyway. A steering wheel, the shifter, that's it. Curiously, it looks as though there's more detail in the sleeper, with sleeping arrangements for two truckers.
It's a curbside kit, so there is no engine. The chassis has several parts, though. The tires are plastic parts, with no inner sidewalls at all. I don't' t hink it will be very noticeable, for the rears at least, since the hollow sides will face each other. Wheels are chrome parts, and while the front ones look good to me, I think the rears could be better. The tandem rear axles are molded as one part. The tanks which attach to the frame for fuel and air are chrome parts, molded in halves, and will leave a gap once assembled.
The decals are again, geared for younger builders, in a peel and stick type. There are body emblems, company graphics, side stripes, and warning decals for the fuel tanks. 
Member reviews
There are no member reviews for this listing.


To write a review please
register
or log in.