2010 Mustang GT

Written by
SuperDave
June 12, 2011 Hits: 785
0.0
0.0

(

0

)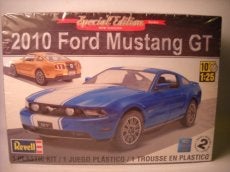 Product Reviews
| | |
| --- | --- |
| Manufacturer | Revell |
| Model Type | Vehicle - Passenger Car |
| Manufacturer's Reference Number | 85-4272 |
| Scale | 1:25 |
| Material | Plastic |
Revell has finally released this long anticipated kit. It's great! I'm ready to start on my own, in fact, to replicate how I'd want to have one look if I could order a new one.
The body, of course, captures the look of the newly restyled pony to a T.
All lenses and body glass are molded in clear, and the windsheild and backlight have frosted edges for ease in painting the border. There are chrome pieces for the front end, including a pony for the grille.
The interior has been properly revised to reflect changes to the real car. Inner b-pillar is included. The seats are separate, even the rear seat, and detail to the sun visor unit is first rate.
The engine is finely done, with all manner of separate parts. Engraving is excellent.
The chassis components are based on the previous 2005 Mustang versions, with updated engraving. There are a lot of parts, but careful detailing will yield excellent results. And as with the previous Mustang kits, the wheels attach to the axles with metal pins.
Decals include body emblems, a third brake light, three sets of license plates, and over-the-top stripes in three colors, which also include third brake light detail. For the dashboard, there are choices of instrumentation, depending which color you wish them to be. There are also speakers, steering wheel spokes, and nav system details. Decals for under the hood of the car are also provided.
The instruction sheet has been completely redone, with parts callouts on a separate page. Painting suggestions are shown next to the parts in the instructions, however. They appear to be clear and helpful in locating parts, and even suggesting referencing another step number to avoid mistakes (such as installing the rear emblem before adding a blackout decal between the taillights.) Kudos to you, Revell!
Member reviews
There are no member reviews for this listing.


To write a review please
register
or log in.