Collecting Matchbox Diecast Toys - The First Forty Years
Written by
RVREVO
December 20, 2008 Hits: 8865
0.0
4.8

(

1

)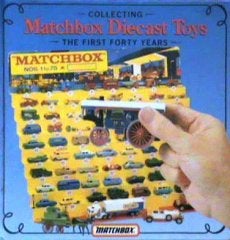 Book Reviews
| | |
| --- | --- |
| Author/s | Kevin McGimpsey, Stewart Orr, Nigel Cooper, Paul Carr, Wolfie Ginsburg |
| Type of Media | Hard Cover |
| No. of Pages | 288 |
| No. of Illustrations | hundreds |
| Publishing Date | 1989 |
| Publisher | Major Productions Limited |
| Language/s | English |
| ISBN-10 | 0951088513 |
In celebration of Matchbox turning 40 years this book details the complete history of Matchbox up to 1989 and adds loads of history predating its humble beginnings.
According to the COA with this book this First Edition was of a worldwide batch of 7200 published in May 1989. This highly detailed book was co-written by many famous collectors including Charlie Mack, Paul Carr, Ken Li.
Stewart Orr and Kevin McGimpsey describe Moko's Kohnstam connection (1875-1959). A Review of the company from 1947-1988, The early Lesney Toys. Details of the the production of Matchbox Toys. The Major Pack Range, Models of Yesteryear and other products plus information of clubs and other publications.
This is an invaluable source of information about the Matchbox franchise for fans and collectors. Whether they're still avidly seeking for new additions to their collection, or they're just reminiscing in between games on Poker.dk with a stacked set of shelves sitting right behind them, it remains a worthy read.
Nigel Cooper gives a detailed survey of the Matchbox regular wheel range from 1953-1969.
Paul Carr describes the Superfast range from 1969-1988 and Promotional Vehicles (1983-1988) such as the Long Haul trucks, Convoy, MB17 Bus and MB38 Model A Van ranges.
The chapter on King Size/Super King ranges was contributed and written by Wolfie Ginsburg.
Overall its a massive book that has helped me find my way through many of hours poring over my early collecting. It was a thrill to find another original colour variation and the book helped authenticate the find. In the time before the internet this book was a must have for any serious collector.
Every few pages has a fullpage photo of models on display. If a photo was lacking a description with history was provided.
Like any book there were a few errors, typo's and missing model variations. These can be forgiven considering the enormous undertaking of this book.
A quick Google-search shows the book exceeds its value with a minimum price of US$120-$195.
Kind Regards, Richard K
Member reviews
Average member rating from: 1 member(s)
To write a review please
register
or log in.
| | | |
| --- | --- | --- |
| Overall rating: | | 4.8 |
| Completeness: | | 5.0 (1) |
| Informative: | | 5.0 (1) |
| Good Images: | | 5.0 (1) |
| Presentation: | | 5.0 (1) |
| Value for Money: | | 4.0 (1) |
A book for collectors
| | | |
| --- | --- | --- |
| Overall rating: | | 4.8 |
| Completeness: | | 5.0 |
| Informative: | | 5.0 |
| Good Images: | | 5.0 |
| Presentation: | | 5.0 |
| Value for Money: | | 4.0 |
Reviewed by
RVREVO
January 06, 2009
Top 50 Reviewer
Comments (0)
View all my reviews
1 of 1 people found the following review helpful
It would've scored all fives if it wasn't for the enormous investment one has to make to afford this very limited book. Afterall its only the models up to 1988 and I don't think they were covered in this book.
This book is valuable on a historical venue only. The photo plates are superb. The history full and rich. You would be lucky to get this one well under its current value that by my reckoning will only increase with time.