About Me
Basic Information
About Me

Born in 1966, and have been collecting from a very young age. Wide range of interest in diecast, any plastic toy cars, pedal cars and raleigh chopper bikes.
Contact Information
City / Town

Country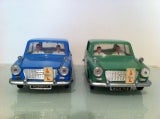 Andy66
Member since

Sunday, 22 September 2013 15:20

Last online

7 hours 16 minutes ago

Profile views

1,222 views
I am not attending any upcoming events.
This user has not contributed any entries yet.