The Futurmatic Airport by the Automatic Toy Company. Sometimes the boxes were almost as cool as the actual toys.
A couple of combined Barbie McDonald's playsets.
Tin litho car/track toys from Germany.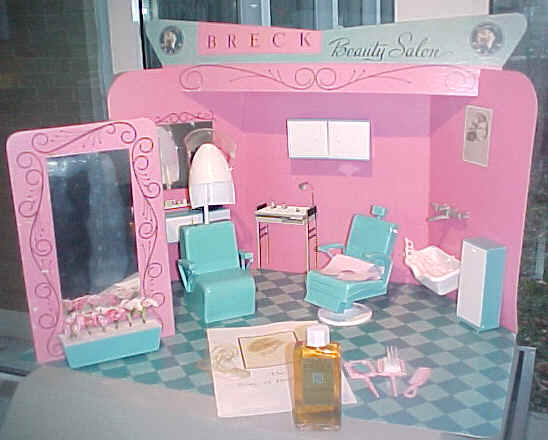 A Breck Beauty Salon from the 1950s.
1920's Campbells store cutout.
The Deluxe Service Station set from the Deluxe Game Corp.
The Disney Television Playhouse.
The Electronic Thruway tin playset with "Mysterious Action".
A German grocery store playset from the '50s by the Fuchs company.
The Uptown Service Center.
An IDEAL playset from the early 1950s, this one is a small village with an operating bridge.
A 1960s punchout Kroger grocery store and truck.
The Magnetic Village playset, a pre-cursor to Thimble City, probably from the late 1940s.
I couldn't resist this picture. How often do you see *two* Sears Store playsets in the same room.
And of course, here it is a bit more complete.
A 1930's airport set by Superior.
A fantastic little cardboard punch-out Nash Dealership playset from the 1950s.
A 1964-65 New York Worlds Fair punch out playset.
The Cragstan Overland Traffic Game.
The Beautiful Little Red Riding Hood playset by Peek-O Products.
The Superior gas station with diner.
The T.Cohn/Superior Royal Canadian Naval Base.
The Texaco Colonial Style gas station.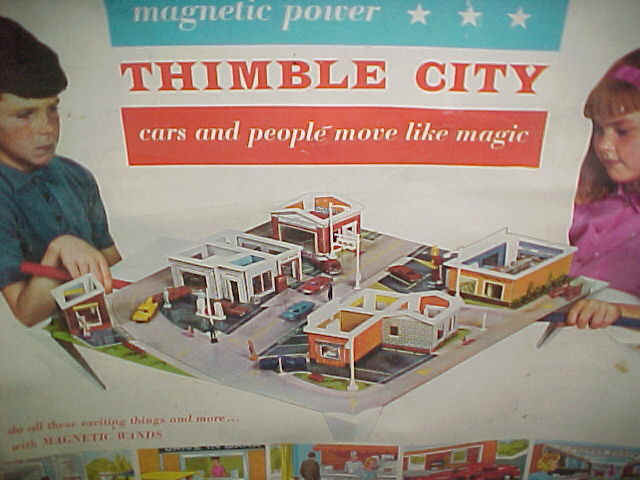 The Thimble City playset.
The Thimble City Gas station turnpike set.
The Thomas Playtime School playset.
This tintoy from the 1950s has some of the neatest graphics I've seen on a toy. It really captures the feel of the '50s in a very peaceful, idyllic sort of way.
The British 'Toyland Garage' cardboard set.
Beautiful tin litho set from the 1950s.
A 1930's airport set by Wyandotte.