Toy Car Profile - 1966 Buick Riviera GS
This article was initially published in December 2001 by Tiger Wheels.




The General Motors cars of the 1960's were some of the most impressive ever produced. After the success of the 1963-65 Riviera models, Buick had a tough act to follow. The second generation Riviera did more than follow, it jumped ahead. With handsome fast-back styling and 360 bhp, Buick sold 45,348 examples of their personal luxury coupe. While it shared a basic platform with the FWD Olds Toronado, the RWD Riviera was truly unique.

425 cid, 360 bhp V8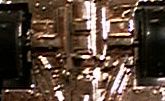 Visible from the underside only, Buick's 425 V8 was offered on the GS version of the Riviera. It provided 0-60 in 8.2 sec. and featured a dual-quad carburetor. The GS also provided heavy-duty suspension. Low-friction speed wheels are shown on this pre-production model while other options may be offered in future.

Tiger Wheels & Anson Recreate the Buick Riviera GS in 1:64 Scale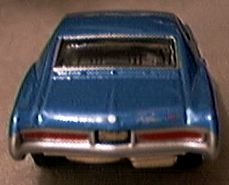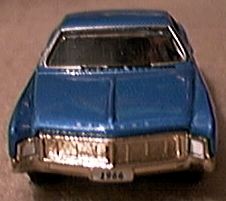 Tiger Wheels' Riviera GS is due out in January 2002 and represents the second series of TW cars built by Anson. The Riviera GS in the 'correct for 1966' blue mist iridescent paint shown here, sells for $3.99. Actual auto paint codes were used to match the right color. The Riviera GS script is photo-etched on the hood, trunk and sides. The front plate reads '1966' and tail and parking lights are painted. Window trim and wipers are also detailed. The weight of this all-diecast model reflects the origins of all Tiger Wheel models as gravity-track racers. The base and front grill are nicely done in bright, chromed metal. This is the first time the classic '66 Riviera has been done in 1:64 scale. Anson and Tiger Wheels have produced it in direct response to the request of collectors.

Styling by Bill Mitchell
Design Chief Bill Mitchell of GM had a special love for the Riviera models. His hand is clearly seen in the first three generations of Riviera models. Mitchell even drove special show versions of these cars for personal use. The creased fenders, sweeping fastback and long-nose, short-tail design cues were also seen on the Toronado and Eldorado models of the same period. Hidden headlights were also a Mitchell trademark. Anson has done a fine job re-creating the look of this beautiful coupe. With authentic paint colors, it look ready to drive.

Tiger Wheels are different
What these pictures cannot convey is how solid this model is. All Tiger Wheels are built for racing and weigh more than other diecast models. At just over 2 ounces, this model is twice the weight of regular diecast. Bodies are attached by screws and can be removed, unlike most other diecast cars. Anson also offers the Riviera in their 1:27 scale line. Tiger Wheels are the produced by Antonio Fadhal of Puerto Rico