Old Toy Soldier Auctions issues a call to muster for June 2-3 sale of major collections
PITTSBURGH – Armchair generals and commanders of upscale bathtub fleets worldwide will show their firepower over the weekend of June 2-3 during a very special Old Toy Soldier Auctions event containing 1,200+ lots from several choice collections. Headlining the auction are soldiers from the collection of the late K. Warren Mitchell, plus the Bob Bailey collection of prewar Britains, and other important properties from American and overseas consignors.
OTSA owner Ray Haradin described the headliner collections as "an excellent match-up, since each brings something distinctly different to the mix."
Bob Bailey, a Seattle collector who has been active in the toy soldier hobby his entire life, focused his efforts almost exclusively on early Britains. While working as a Pan Am flight attendant in the 1970s, Bailey wisely took advantage of his many layovers in London to scour the shops for Britains productions.
The late K. Warren "Mitch" Mitchell, who was from Warren, Ohio, was a respected veteran dealer and collector who began his buying and selling adventures in the 1970s. 
"Mitch sold actively at shows until about the last four or five years of his life. I know many collectors who bought their first set of soldiers from him, and his reputation in the hobby has created a lot of interest in this sale," said Haradin.
Day one of the June 2-3 auction comprises approximately 700 lots of toy soldiers made prior to 1970. Day two will cover the production period from 1970 to present day.
Among the opening sessions' many highlights from the Bailey collection is a circa-1920 Britains boxed set #102. The 33-piece assemblage includes Grenadier Guards, Scots Guards and Irish Guard and is presented in a set box emblazoned with a spiffy gold and black printer's label depicting the British Army. It is estimated at $3,000-$4,000.
Also from the Bailey collection, there are eight sets from Britains' 1940 Historical Series made expressly for FAO Schwarz. "Eleven sets were produced for the series. Basically, Britains designed them as samplers, choosing figures that were already included in other sets. To have eight of these sets in one collection is remarkable," said Haradin. The estimate range on the sets runs from $1,800 to $3,000.
One of the most exciting of the non-Britains sets is a Timpo Ivanhoe set #KN4. The coveted grouping of mounted figures includes Ivanhoe, Sir Brian De Bois Gilbert, and four others from the 12th-century Saxon warrior's inner circle. Haradin said he has only ever seen one other set, and it lacked the Ivanhoe figure. Estimate: $2,000-$2,500.
Another lot expected to draw widespread interest is the exceptionally rare Cherilea Baseball set that includes the entire team plus umpire, housed in the original box. Ironically, the set was produced in England, where bats are meant for cricket, not baseball. The Cherilea set could drive in a winning bid of $1,500-$2,000.
An ever-popular Buck Rogers set includes the spaceman's sidekicks and additional characters: Wilma, Ardala, Dr. Huer, the evil "Killer" Kane and robot Mekano Man. The appearance of a Buck Rogers set at auction always ignites a bidding war between Britains collectors and space toy enthusiasts. Estimate: $2,500-$3,500.
For collectors who like to show off their figures in settings, there are four Johillco for British Midwest Importers display sets. They depict, respectively: Cowboy Town, Indian Camp, Beachhead, and Crusaders with Castle. Each set comes with its correct figures – ranging from nine figures with the Old West Cowboy Town to 14 each for Beachhead and Crusaders – and is estimated at $800-$1,200.
"We've had a lot of calls about the Johillco sets based solely on our preview brochure," said Haradin. "These particular display sets are very rarely seen. Previously, I had only seen one such set. Collectors love when rarities come out of the woodwork. 
King & Country is a brand whose star keeps rising with collectors. In particular, buyers seem to favor glossy, pre-1990 examples. Fourteen sets of glossy figures will be sold on day one, with many additional King & Country lots earmarked for day two. 
German productions include the Heyde Fall of Troy set (partial), est. $2,000-$3,000; and circa-1905 large-scale US Gun Team at the Halt set, est. $3,500-$4,500. The opening session is rounded out with 20 mounted Lucotte French court figures, 20 Courtenay medieval knights and a nice sampling of Lou Steinberg dime store figures.
Sunday's 500+ lots are a virtual panorama of contemporary toy soldiers. Highlights include 60 Mignot Napoleonic sets and productions by Imperial, a New Zealand company that folded five years ago. Similarly, Zulu War sets by Welsh manufacturer Trophy are expected to find favor. Trophy's production has scaled down, and older, retired lines are becoming much more desirable.
Old Toy Soldier's June 2-3 auction is an absentee, phone and Internet live bidding event (through LiveAuctioneers.com) that will commence at 10 a.m. Eastern Time on both days. For additional information call 412-343-8733 or tollfree 800-349-8009. View the catalog online at www.OldToySoldiers.com or www.LiveAuctioneers.com.
Britains Set #102 Grenadier Guards, Scots Guards, Irish Guards display, prewar, 33 pieces, gold-and-black label box, est. $3,000-$4,000. OTSA image.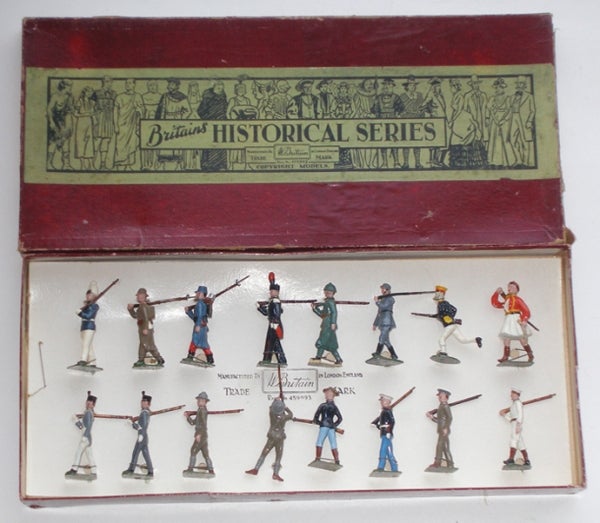 Britains Set #1870 Historical Series Collection, one of eight different boxed sets from this series to be auctioned. Extremely rare. Est. $2,000-$2,500. OTSA image.
Britains Set #2070, US Civil War boxed display set. Union and Confederate cavalry, infantry, artillery. Thirty pieces, est. $800-$1,200. OTSA image.
Cherilea Baseball Set #B/100, 11 figures tied in original box, est. $1,500-$2,000. OTSA image. OTSA image.
Britains prewar Buck Rogers set including figures of Buck with ray gun, Wilma, Ardala, Dr. Huer, 'Killer' Kane and seldom-seen Mekano Man robot. Est. $2,500-$3,500. OTSA image.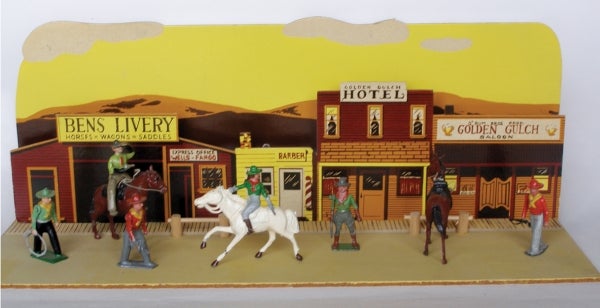 John Hill (Johillco) for British Mid West Importers Cowboy Town façade and baseboard, complete with mounted and standing cowboys and cowgirls. Est. $800-$1,200. OTSA image.
King & Country Afghanistan Humvee with captive SF03, 5-piece set with box, est. $150-$200. OTSA image.
Heyde Fall of Troy set (partial), with the Temple of Troy building and some key figures, est. $2,000-$3,000. OTSA image.